Railway Inspections in Bolivia
or
Always Expect the Unexpected

This is a trip diary prepared while on a railway safety assignment for CESO Servicios Internacionales in February 2002. It is not the safety report prepared for the Superintendencia de Transportes de Bolivia.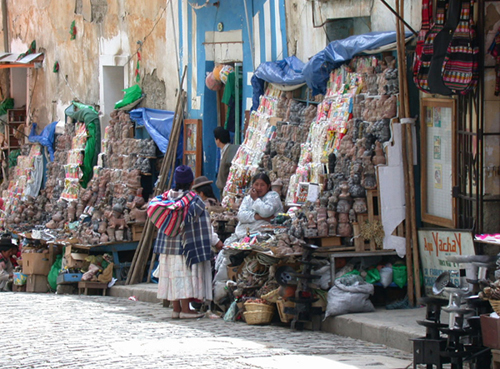 The Witches' Market in La Paz

La Paz is an interesting place to visit in itself and I particularly enjoy the Witches' Market. However, I was particularly fortunate to travel by railway track car to some out of the way places.

Andina Railway

The Andina Railway runs in the high, dry Altiplano:

La Paz to Oruro by bus


Oruro to Uyuni by track inspection car


Uyuni to Potosi over the highest railway in the world


Sucre, the carnaval and return to La Paz


Viacha to Comanche on the line towards Arica in Chile

Oriental Railway

The Oriental Railway is based in Santa Cruz and runs across the northern Chaco and through the jungle to Brazil at Puerto Quijarro and south to Argentina at Yacuiba.

Santa Cruz to Roboré


Roboré to Santa Cruz


Santa Cruz to Abapo and return
Click here for a map of the system. A bit crude but the best I can do at present.