Thursday 7th February 2002
Uyuni to Potosí


I used all four blankets last night and woke up feeling as if I had been sleeping in a printing press. We had a quick breakfast and went to the station in time to see the passenger train (Wara Wara) from Oruro leave for Villazón. It was packed.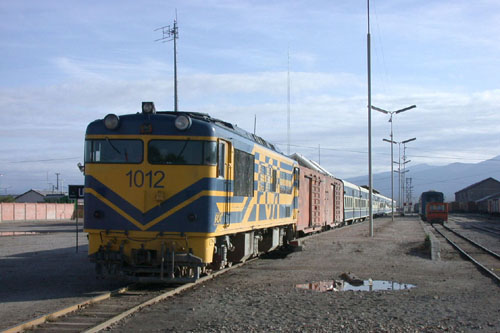 Railcar 237 had been turned and was ready to take us to Potosí but first we had to retrace our route as far as Rio Mulatto. It was still cold and we were all wearing several layers of clothing. The route to Rio Mulatto covers some great scenery. First, the salt flats with piles of glistening white salt ready to be taken away. Then rock formations show through the thin soil with many curved rock layers in a variety of colours – red, green, yellow, brown and black. The altiplano stretches away to the foothills of the snow covered Andes to the east.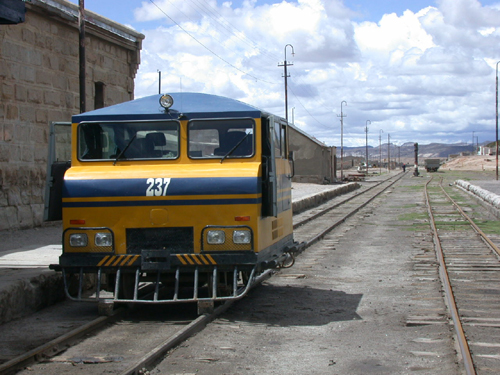 There was a short stop in Rio Mulato and then we turned east and headed directly at the mountains. In this section, the mountains are mostly smoothed and although the climbing is hard and continuous with a lot of cut and fill, there are no spectacular bridges or deep gorges. The sharp curves reduce visibility and one can expect to come unexpectedly upon a herd of sheep or some brightly ribboned llamas. In most cases they were attended by a small boy who would run and get them off the track.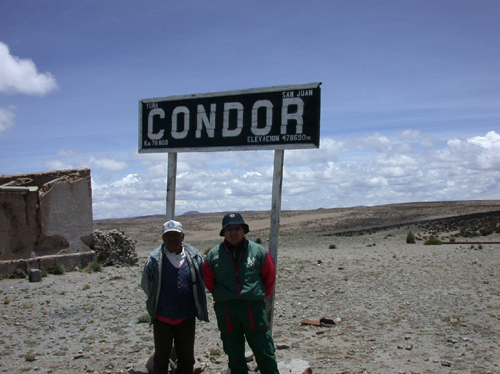 Two railway radio technicians with their Operation Lifesaver pins.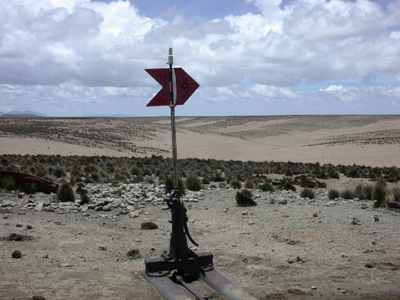 The highest railway switch stand in the world?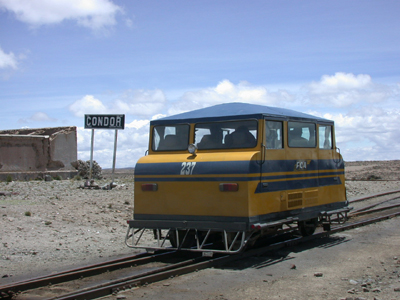 The summit of the line, Condor, is reached quite soon at km. 78.8. We got out to walk around at the highest railway summit in the world. This honour used to go to Peru but their line has now been abandoned. Two radio technicians appeared, they had come to maintain the radio transmitter. They mentioned the Operation Lifesaver pins and looked expectantly at me. It is amazing how news spreads ahead of this gringo who has some neat pins! I gave them pins on condition that I could take their photo. They were delighted when I showed them their picture on the digital camera. I took a couple of moments to reflect in this quiet, lonely, cold, windy and sunny place and then it was back into car 237 for the continuation of the run into Potosí.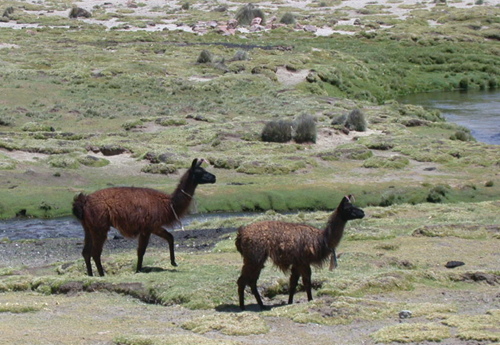 We ran downhill, avoiding llama, sheep, goats and donkeys, through high valleys and into an area which became gradually more inhabited. The operated part of the line continues a few kilometres beyond Potosí to the smelter at Don Diego which provides most of the traffic, sending freight for export through Chile. We finished the inspection at Potosí, where a freight train with locomotive 965 was ready to leave.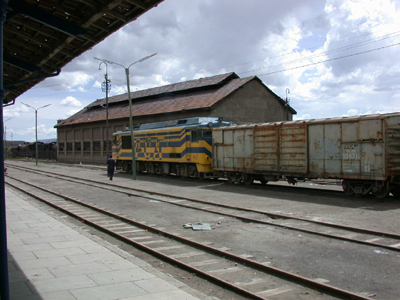 At one time, Potosí was the largest city in the world, so strong was the Spanish need for silver. Having been surpassed in size many years ago, it may still be the highest city in the world. Even though the sun was shining, it was cold in the thin air. We had a meal and took a hair-raising two-hour taxi ride to Sucre which has an airport. It is fortunate that the road is good. I spent most of the time pretending to sleep so that I couldn't see what was happening. A group of campesinos were starting to block the road but they let us pass.
I looked at my water bottle at the hotel in Sucre. It was seriously pressed in which is a good indication that Sucre is a good deal lower, just over 2,000 metres and has plenty of oxygen (also plenty of automobile fumes). It was good to go to bed feeling warm and cozy.

Go to Previous Day Go to Next Day