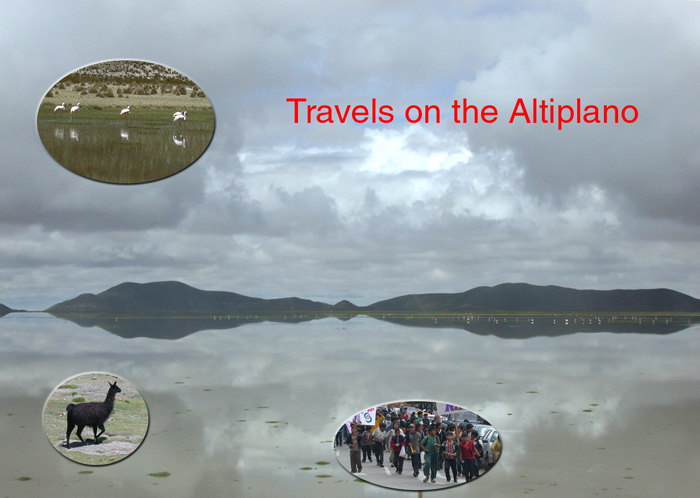 Wednesday 6th February 2002
Oruro (km. 246.1) to Uyuni (km 559) by rail inspection car.

I slept fitfully, waking up to feel the great weight of the bed clothes pressing down on me. And this is supposed to be summer!
Rail inspection car 237 was waiting for us at the station but we could not leave immediately because there was a freight train coming north at Machacamarca (km 269.45). This gave us an opportunity to look at the rail yard and see light locomotives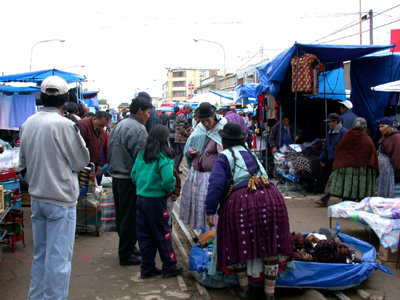 . .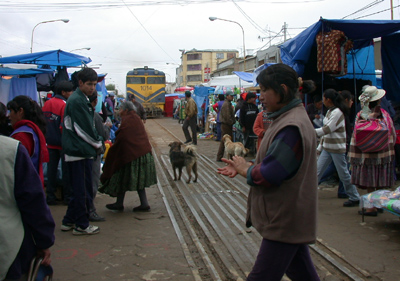 1014 and 962 come into the yard from San Pedro to the north through the market. The stalls are pitched very close to the rails on both sides and trains have to whistle a lot to give people time to get their things out of the way. It is a safety nightmare, particularly bearing in mind that trains cannot stop quickly. However, they seem to be able to work things out without incident. The Oruro carnaval is held in this section and presumably train running is suspended.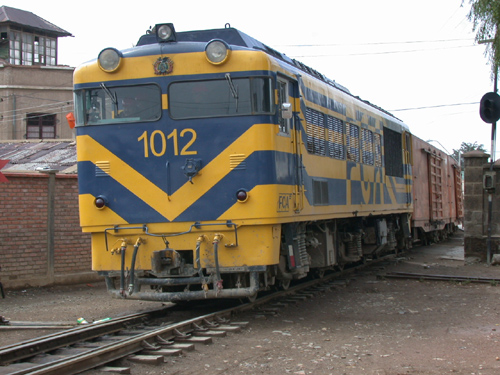 The freight train arrived behind Andina locomotive no 1012 and we were given authority to travel all the way to Rio Mulatto, some 210 km. south. The four wheel track inspection cars feel every imperfection in the track and taking notes is difficult. Running at speeds up to about 75 kmph. the ride can be quite lively. The altiplano runs north-south with the Andes on either side. It is dry and flat and becomes drier as we went south. By Poopo, we were traversing an area of many lakes. This time of year they are the home of thousands of flamingoes which make a wonderful sight, especially when they take off en masse, exposing their red plumage. Several of the lakes were steaming in the morning sun. There are llama all along this line, many of them with bright ribbons attached to their ears for identification. The driver had to slow down frequently to ensure they could get out of the way.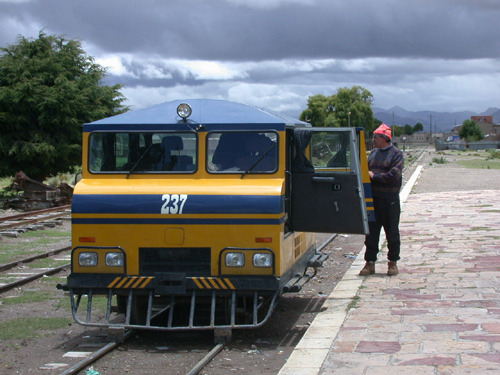 We had a break at Challapata, km. 356, for lunch. This consisted of sandwiches made from a loaf of sliced bread and a packet of luncheon meat, with bottles of soda followed by yogurt.
Resuming our travels, we reached Condo, km. 389.54 where we saw several vicuña, a relative of the llama and alpaca but smaller. These beautiful light brown creatures live only in the wild and are prized for their wool which is finer than alpaca. We also saw a ñandu and five babies. These south American ostriches are quite rare in this area.
Rio Mulatto, km. 454, is in the desert and is the junction for the branch line to Potosí which we will be traversing tomorrow. The station is quite large and there is a small yard and maintenance shop. We stretched our legs and shook hands with the station staff, many of whom remembered me, and my Operation Lifesaver pins, from my previous visit.
Passing through large flocks of small birds which flew up in yellow clouds, we came to Chita, km. 511 where we unexpectedly came across a gang transshipping a load of borax from one boxcar to another which they had parked on the main line. For us to get past they had to move the boxcar down the main line, past the switch then push it back on to the siding clear of the main. Getting it past the switch was easy as the track was on a gentle down grade but moving it back was a different matter. I helped push, but if the truth were known, because of the altitude, I was doing little more than leaning on the car. It was some time before the line was clear for us to proceed.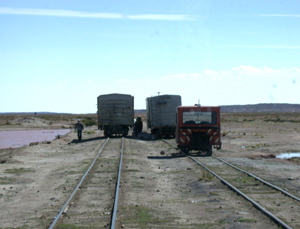 ..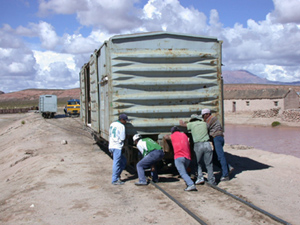 Just when it seemed we would have a clear run into Uyuni we were stopped at a crossing in the town for a funeral to pass. The body was carried on a black draped pickup truck and this was followed by black clad mourners, a band and most of the town. All the public service vehicles followed in the procession with their sirens blaring.
Uyuni is a desert town with wide dusty streets. It has grown in recent years as a result of the tourists who visit the nearby salt flats (Salare de Uyuni). This is still a backpackers destination and the facilities reflect this. The town is very proud of its railway heritage and there are several pieces of equipment and monuments on display.
Although it gets hot during the day, the evenings quickly cool down and it is then that the town comes to life. Everyone comes out and walks around. The Entel telephone office and the internet cafes do a roaring business. We had the dinner special at the 16 de Julio Restaurante which comprised chicken noodle soup, a sort of beef stew and rice. This with two mates de coca and a tip came to $2.60.