In which I continue work as a Management Trainee on British Railways.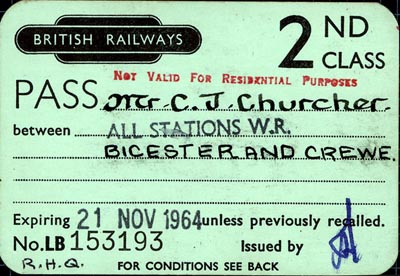 Since Christmas I have been attached to the Research Department at Paddington. I am working on the "Bus Stop" schemes for the Henley branch and the Berks and Hants line - very interesting indeed. I have been doing a reasonable amount of getting up early in order to get down to the stations I needed to visit - Hungerford, Kintbury, Thatcham and Bedwyn. getting up early does have advantages in that there is time to do things in the aftewards. One afternoon I had a trip on the North London line from Broad Street to Richmond. This is very interesting indeed as it goes over, or close to, all of the railways in north London. It starts "above" Liverpool Street (GER)and then goes over the GN, Midland, L&NW, GC&Mey and GW lines. from Richmond I took a train to Staines Central and then came back to Reading over the Staines West branch which is under threat of closure.
I have found some interesting old relics at some of the stations on the Berks and Hants line. The Petty Cash book at Kintbury, which is still in use, wasstarted in 1875. Even more interesting is the Ticket issue book (not still in use) at Bedwyn which, although printed in 1862, was not started until 1881. Daily takings seemed to range from 16/- to £2! Mr. Ham, the Stationmaster at Bedwyn, gave me these two old MSWJ items.