In which
I continue my studies at Reading University, explore the remains of the Basingstoke and Alton Light Railway and the Wantage Tramway, walk along the Darent valley through Lullingstone, and hitch hike to Bristol, Newport, Cardiff, the Wye Valley and the Forest of Dean
Wednesday 1 February
This evening we had the first practice of the Maori war dance which is being put on bt Dave Wright (New Zealander) for the Eisteddfod. It it quite a laugh, especially as I don't understand the words.

Saturday 4 February
Went down to Reading General station with Johnny Marsh after geography this morning. There were many more 2-8-0s than usual (90865, 4706 and 2860). Also seen was a Manor, No. 7806 and a Drummond 0-6-0 No. 30693.
Sunday 5 February
Had an early breakfast, met Johnny Marsh at 09.15 and started hitching along Southampton Street. We soon got a lift in a van righ through to our destinatin, Alton. We were dropped at where the road crosses the curve where the Basingstoke and Alton Light Railway which we intended to follow . The lone was csed completely in 1936. It is easy to trace in some parts but in others it has been oblitereted by ploughing. The first part is well defined as it is enther in cuttings or embankments. There are the remains of a crossing gate at GR 684412*. The first station, Lasham and Bentworth, is at GR 669417* and is now used by a firm of coal merchants. A little further on, the track has been used for constructing a better road. had dinner at a pub in Herriard. Herriard station is at GR 666518*, it is very overgrown and is not used for anything. At Herriard and Lasham and Bentham there was a siding. The ballast was small flints and is still very effective after 25 years. The biggest station on the line, although one platform, Herriard had two with a passing loop, was at Cliddesden GR 638491*. There is an ex-LSW water tank built at Wimbledon in 1897, The last mile or so still has track as it serves some industrial sidings. Got a lift from basingstoke right back to Reading.
* OS 1" 7th series sheet 169.
Wednesday 8 February
I went to play rugger for the 3rd XV against Old Cassiofrians but they didn't tuen up so we played a game of sevens instead. I had quite a good game, finding two fairly good touches, making two breaks and I also scored a try having run about 20 yards, although In only had to beat one man.
Saturday 11 February
Went down to Reading General station with Johnny Marsh after geography this morning. The latest diesel from Swindon works is D832, "Onslaught", which is the last of the first production series, it is different from the others in that it employs a different type of motor. The Oxford train terminating at platform 9 was hauled unusually by a Grange, No. 6803. The up train from Hereford was late and it held up the Mayflower (diesel-hauled) as they both use the same platform road. The driver of the diesel was very annoyed.
Played for the 4th XV against Abbey A XV at Palmer Park this afternoon. Unfortunately we were short of a prop so I had to go in the scrum instead of playing at centre. I still had a very good game. We lost 9-3. I found I had quite a bit to do, especially falling on the ball, consequently I was knocked about a fair amount. there is a bruise on my chest and I have skin missing from two places on my right hand.
Sunday 12 February
I decided to go out on a bike ride today. Left home at 10.10 and went up Oxford Road through Tilehurst and Pangbourne to Streatley where I branched off on to the Wantage Road. At Brewsford I turned north and finished up at Didcot where I had a look at the station and engine shed. I then carried on the Harwell where I had dinner in a pub (packed). Harwell is a very nice village with many old thatched cottages. The Atomic Energy Research Establishment is some way from the village. I carried on to Wantage Road station where is preserved the 0-4-0 tank loco "Shannon". This was built in 1857 by George England & Co. for the Sandy and Potton Railway and came via Crewe to the Wantage Tramway Co. in the 1880s. The tramway, which ran from the station to the town along the east side of the road, was closed in 1946 and the engine, W.T. Co. No. 5, was preserved by the GWR. According to the locals in a nearby pub, there were three locomotives, No. 5, No. 7 and a tram loco. No. 5 was nicknamed "Jane" and never carried the name "Shannon" on the W.T. Co. There was a tale about a blacksmith who built a horse powered "loco" which raced the tramway loco - and won! There is nothing to see of the tramway now - except "Shannon".
Poem about the Wantage Tram
A curious race has come to pass,
Between an engine and an ass,
The Wantage tram, all steam and smoke,
Was beat by Arthur Hiscock's moke.
Wednesday 15 February
Had lunch at 1245 and at 130 went by coach to play rugger for the 3rd XV against 3rd Training Batalion R.E.M.E. at Arborfiekd which is a pleasant village about 6 miles from Reading. After wandering around the camp and pulling rude faces at the sentries, we found the changing room and got out on to the field. I played on the wing and didn't really have much to do. We lost 25-6 but the game was much closer than the score suggests. Had tea in the canteen, one sausage per person, and arrived back about 6.00.
Friday 17 February
Had an early breakfast and went up to Whiteknights for the psychology lecture after which I went back to the library and eventually Davids. Met Dave Cameron and at 1200 started to hitch hike home. The first wait was the longest. We waited 20 minutes before a student from Cambridge took us to Odiham. We waited there five minutes and got a lift in a "Rentaset" van to the outskirts of Farnham. We then started to walk to the Guildford road but were picked up by a Meux Brewery articulated lorry which took us to Guildford. We then rather made a blunder by going down the Horsham road instead of going direct to Albury. However, two short lifts in quick succession brought us first to Shalford and then just a little down the road to an excellent place for hitching. After five minutes we were picked up by an insurance salesman who took us to Redhill. Five minutes later we got a lift to Godstone and after five minutes we were taken right through to Riverhead. I phoned home giving my ETA and after another five minutes we were given a lift in a lorry to right across from the bank
(home)
. Incredible luck and nine lifts.
Saturday 18 February
The camp bed half collapsed last night with the result that I got very little sleep indeed. The canvas has split right down the middle and one of the legs is broken. Caught the 7.22 train from Cray to Bromley South and met Dad outside the Little Theatre. We saw the comedy "Sailor Beware". Although I have seen it several times before I enjoyed it very much. It was a very good production. During the evening I met Roy Bennett, Chas. Smith, Del Straub, barry Bird and a bloke from the rugger club.
Sunday 19 February
We got up late this morning and by the time breakfast was over the weather had brightened up and it had the makings of a fine day. Dave Cameron and I went out for a walk. We took the 477 bus to Crockenhill and walked via Halberry to Eynsford. We ate our sandwiches in The Malt Shovel where we were given some beer mats, including one in Welsh, and I had a pint of mild and bitter.
We walked past the roman villa which, at this time of year, is all blanketed over for the winter. We were lucky enough to see the Colonel who passed by in his car. He gave us permission to go through Lullingstone Park and we walked alongside the river, through a hop field and by the river again, to Shoreham. I have at last counted the number of pubs in Shoreham, it is six (E&OE!). We then went on to Polhill, Halstead and eventually to Green Street Green and caught a 51 bus home.
Monday 20 February
Had to get up very early this morning in order to catch the 830 fast train from Orpington. We had to change at London Bridge and had quite a job getting into a train for Charing Cross. Dave and I then went to the YHA shop in John Adam Street where I enrolled Johnny Marsh as a member and bought several oddments including an IYHF badge for my rucsack.
We then walked over Hungerford Bridge and caught the 1026 to Reading which arrived at 1140 giving me 20 minutes to get up to Whiteknights for the Political Economy seminar. Dave lent me his bike and I just made it.
After geography we did our usual jaunt around the town. It seems it is possible to get boots fort 55/- fitted with Commando soles.
Tuesday 21 February
Went into Davids for a haka practice this evening. We have made our skirts out of raffia. I look quite becoming in mine.
Friday 24 February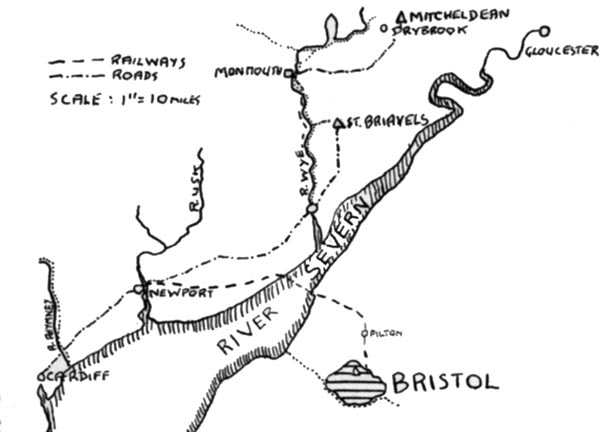 Had an early breakfast and went to Psychology. Have heard that my change of lodgings has been confirmed so I have told Mrs. Beech. Met Johnny Marsh at 10.30 and we started to hitch to Bristol at 11.45 (?). The 4th car we hitched stopped and took us right to Bristol. At Chipenham the exhaust fell off so we had to by-pass Bristol, for fear of the police. We were dropped at Filton and had dinner in a pub. Caught a bus into the centre and went on to Temple Meads station where we stayed until 5.00. Caught a bus to Cheltenham Road Arches and eventually found the hostel. It isn't much. Had a look around the place and went into the Students' Union. It is a very good place, much better than Reading. Have played table tennis.
Saturday 25 February
Left the hostel just after 09.00 and caught a bus to the town centre. Walked to Temple Meads station and caught the 10.25 to Newport High Street. We then went to the outskirts of the town and hitched a lift straight away to Cardiff where we had a look at General station. After looking round the Civic Centre, we decided to hitch back to Chepstow. We got to Chepstow in two lifts, the first one taking us to Newport. Chepstow is a very pleasant place by the River Wye. The river has cut a gorge in this area and there are excellent examples of synclines and anticlines in the rocks. There is an iron bridge across the river which was built in 1816. After walking for a bit, we caught a bus to St. Briavels. The hostel is a converted 12th century castle. It is very interesting but our dormitory is very damp and musty. Went down to a local pub in the evening with a teacher from the hostel. The ride up to St. Briavels is very pleasant indeed. To the east is the Severn while to the west is the Wye gorge.
Sunday 26 February
Walked down into the Wye valley and down the railway track to Redbrook. The Wye is about 20 yards wide at this point and is stained mud red. Managed to hitch a lift for the last mile or so into Monmouth where we had lunch in a very good cafe. It started to rain soon after leaving the hostel and rained continuously until about16.45. We decided to make for Mitcheldean hostel and started to walk along the road but a bloke with a van stopped (without thumbing!) and took us right to Mitcheldean which meant that we now had 3 hours to wait for the hostel to open. Left our rucsacks at an inn and went for a walk around Drybrook. We found the track of an abandoned railway which must have been built by the GWR because of the notices, and also the track of a narrow gauge railway which ran close by it. In spite of the rain, the walk through the Forest of Dean was very interesting. There is a great deal of derelict workings - coal and quarrying. There are many abandoned railways. The hostel is a converted coaching inn.
Monday 27 February
Left Mitcheldean hostel at 07.55, without breakfast, and caught the 08.04 bus to Gloucester. Arrived at Central station with 25 minutes to wait for the 09.15 train to Reading. The train was brought into the station by a 5700 class tank but we were hauled into Swindon by a Castle class engine in rather dirty condition. At Swindon the Castle was replaced by a "Warship" diesel No. D818. The difference was remarkable. Starting from stations was very smooth compared with the jerking of the steam locomotive which corresponds with the puffs. Acceleration was much better and we achieved higher speeds. I thought I smelt a faint whiff of diesel exhaust just after Swindon, I was in the second coach behind he engine. This may have been because the diesel was cold or it may have been purely imaginary. Saw an old 1361 class 0-6-0 saddle tank and also two diesel rail busses at Swindon. Reached Reading at 11.35 and had to dash in the rain to Whiteknights for the seminar.
Tuesday 28 February
Haka practice this evening. Its coming on quite well - dress rehersal on Thursday. It comes first on the programme and should provide a startling start to the Eisteddfod.