In which I continue my studies at Reading University and hitch hike to the Isle of Wight.
Thursday 2 March
Had the dress rehersal for the Eisteddfod. It didn't go too badly. It only lasted a few minutes.
Saturday 4 March
I had to play rugger over at Sonning against Reading Colts. I had to play on the wing and had a miserable game. We lost 17-9.
Monday 6 March

It was the Eisteddfod this evening. Our haka dance was first on the programme and didn't come off too badly. We were all painted brown and had a tattoo design on our faces. What with this and the grass skirts it went off quite well.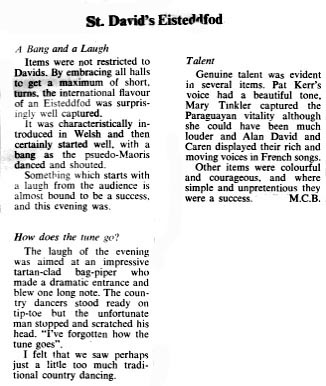 Thursday 16 March
I went with Edna (
from Ossett
) to the concert in the town hall this evening. It was given by the London Philharmonic Orchestra under Sir Adrian Boult. The three items played were:
Overture "Oberon" by Weber.
Piano concerto in A minor by Schumann, soloist Peter Clement
Symphony No. 7, the Great C Major, by Schubert.
On the whole I think it was very good and I enjoyed it very much. I think they played the overture the best.


Monday 20 March
Mum and Dad enclosed £1 in their letter this morning, it was certainly very handy as I only had 12/1½d left to last me until the end of term.
This isn't as bad as it might sound as the end of term was Thursday 23 March.
Monday 27 March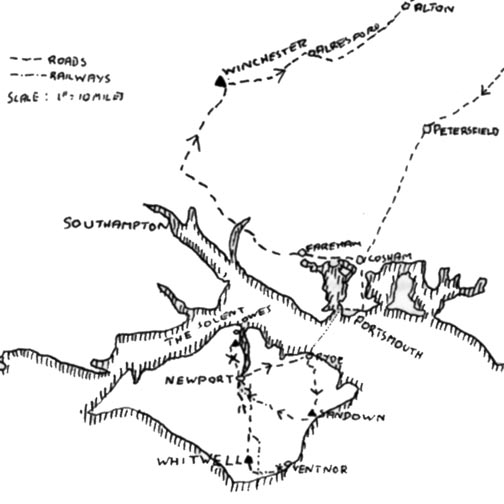 I met Dave Waywell just before 10.00 and we started to hitch, making for Portsmouth. Our first lift took us from Bat and Ball station to Riverhead then we were given successive lifts to Dorking, Guildford, Hindhead and Portsmouth, arriving at 13.05 - pretty good! Caught the ferry over to Ryde. The crossing was very calm, there was very little indication that we were on a boat at all. Ryde is practically deserted at this time of year, all the holiday shops are closed. We walked to Sandown and checked in at the hostel at 17.30. The walk throught the outskirts of both towns is very pleasant but the country in spring is very nice. The primroses are out early this year. The hostel is well equipped and has a good warden even though he has a strong Lancashire accent! Sandown at this time of year is dead - we had the whole beach to ourselves. It was so quiet that we wanted to roll a dustbin down the High Street.
Tuesday 28 March
Whitwell hostel is closed this evening so we have had to go to Cowes hostel instead. We started off down the road past the airport, down a bride path and eventually to the River Yar. The river is only a small stream about 6 feet wide butit is very deep and we had some difficulty in crossing. I found a stretch of rapids where the water was shallower. The water was really cold and my feet went numb before I was half way across. After recuperating we walked along the deserted railway line to Blackwater. the track ballast was entirely of small gravel. We had diner in a field close to Blackwater and then walked into Newport and out to the hostel which is 1½ miles south of Cowes, overlooking the River Medina. We spent sometime sitting in a hedgerow and checked into the hostel at 17.15. Went to the local pub (Horseshoe Inn) in the evening and had a game of darts with some locals.
Wednesday 29 March
We decided to look at Ventnor today so we left Cowes early. We hitched through to Godshill in three lifts - to Newport, Blackwater and Godshill. We then followed the old railway track to the outskirts of Ventnor. This line, which ran from Newport to Ventnor, has been closed since 1952 (according to the notice on the old St. Lawrence station, near Ventnor) and the grass which has overgrown it makes the going easy. Although there were one or two bad places, the drainage is still extremely good. We walked through a tunnel (about ½ mile) which goes through the chalk ridge separating the interior from the coast. It is straight for most of the way and the light shines in for almost ¼ mile but there is a curve which makes one section pitch black. We came off the railway soon after St. Lawrence station and walked along the cliff path to Ventnor where we stayed until 16.15 when we caught the bus to Whitwell. W26 in Ventnor station is in very good condition.
Thursday 30 March
We decided to make for the mainland today. We got a lift to Newport and then two more took us to Ryde where we caught the 11.30 boat. The crossing was calm but not as smooth as the one over. We caught a bus out of Portsmouth to Cosham and were picked up almost immediately by a lorry driver and take to the junction of the Southampton Ring Road and the Winchester Road. After having diner, we hitched to Winchester and decided to stay at Winchester hostel. We passed the hostel and found out that there were only four vacancies for men so we came back 1½ hours later and waited ½ an hour in order to be sure of a bed. We did get in alright although we had to have dinner in a fish and chip shop. The hostel is the city water mill which is kept up by the National Trust. It is built over the River Itchen and the mill race goes through the men's wash. There isn't a sq. in. of floor in the place.
Friday 31 March
Having laid the tables for supper we were able to leave the hostel at 09.15 and walked out along the A31 - making for home. Being Good Friday there was very little traffic and most of those cars that did pass us were families in full up cars. We were eventually given a lift after 25 mins, to Alresford, about 6 miles. We walked about 100 yards when we stopped a car with a caravan. The driver said he was going to "Marystone" - it took several seconds before we realised that he was going to Maidstone! He was a bus driver from Herne Bay and very amusing. This lift took us to Riverhead and we were given a lift from there to my house and Dave to his place.