Tuesday 3 January
I went up the road (
High Street
) this afternoon to buy Mum her silver thimble. I promised to buy one with my first weeks wages. We found one at Bernharts.


Thursday 12 January
Reaturned to Reading from Orpington today. I took a bus to the station and caught the 12.19 train up to Waterloo where I arrived just in time to see the Reading train just leaving platform 20 which meant half an hour to wait. Both the London and the Reading trains go at 30 minute intervals but they are such that one leaves at the same time that the other arrives. The journey to Reading was rether uneventful. Saw three S15 4-6-0s and a saddle tank shunting in the Huntley and Palmers biscuit factory yard. I shall have to investigate that
(see 6 November 1961)
. It is black and is numbered One.
Saturday 14 January
At Reading General station the 11.30 from Oxford didn't come in at all and the 11.35 arrival, 11.45 departure from Cheltenham had a Hall 4-6-0 instead of the normal Warship class diesel. It was ten minutes late arriving but they cut the station stop by five minutes. There were quite a few Southern engines in the Western station including two S15 4-6-0s and a 700 0-6-0.
Monday 16 January
Had quite a surprise cycling to the university this morning. Instead of the normal 0-6-0 tender engine shunting in the Central Goods yard, there was a 2-6-0 No. 6324 which frequently does station pilot duties at General station. This is the first time I have observed an engine of this class doing this duty, although I have observed a Hall 4-6-0.
Wednesday 18 January
At 1245 we joind the coach for the rugger fixture against King Alfreds College Winchester. The sun was shining brightly and it was a very pleasant journey through ground I haven't seen before. We went via Basingstoke. The game was very good indeed although I had to play in the left front row instead of the right.
(who won?
After tea we went to a pub with the opposing team and after a couple of hours we went to another pub, which ran out of bitter, and stayed there until closing time- 1000, then back over the Berkshire border to a pub which closed at 1030
Saturday 21 January
At Reading General station this morning there were several interesting things of note. One of the diesel multiple units was of the original W500xx series, a type which I haven't seen at Reading before. There were three special trains for Newbury Races, at least two hauled by Castles of the 70xx series. Several new diesels were in evidence, from a single coach unit W55028 to new Warships D842 from North British loco. and D830 running in from Swindon on the 11.35 (5 mins late) arrival to London (with at least ten people on board the locomotive).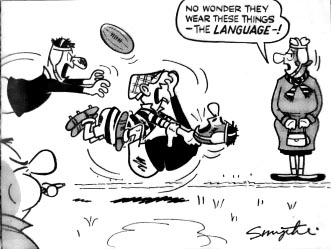 I played for the 4th XV this afternoon against Royal Aircraft Establishment Farnborough. I had to play on the wing, the first time I have played outside the scrum in my life. I quite enjoyed it although it was rather tame. There was a great deal of waiting around and I got a bit cold. We lost 3-8.
Wednesday 25 January
Had a game of rugger this afternoon. I played for the 3rd XV against 5th Training Regiment R.E.M.E. They were very fast and very fit and when they scored a try under the posts in the first minute I thought we were in for a slaughtering. At half time the score was 13-6 to them and they could have anihilated us at any time. But we really pulled our fingers out in the second half and the final score was 13-11. A very good and hard game which I enjoyed very much indeed.
Sunday 29 January
Had an early breakfast and cycled over to Johnny Marsh's digs and then hitch hiked to Oxford in two lifts, one to Wallingford and the other right to Oxford. After that we got a lift to the little village of Woodstock, 8 miles to the north of Oxford. It is a pleasant village which has been virtually unspoiled. The houses are all of the same honey yellow stone. All new building has been blended in well with the old. We followed the course of the old branch from Woodstock to the main line, it has been closed for some time and the track has been lifted. We found some very good fossils in a cutting. Close to the main line we found a GWR notice attached to a gate. Walked on and eventually finished up at Kidlington where we caught a bus to Oxford and, after a little delay, another bus to Reading (it took 1 hour 40 minutes). Had something to eat at Johnny's place and then came home. It has been a very enjoyable day, even though it rained all the time.
Tuesday 31 January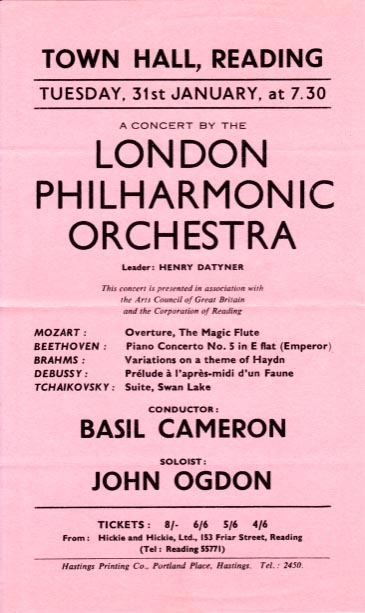 I went to this concert this evening. Basil Cameron was very good and seemed to enjoy conducting. It was a good programme with a wide range of composers. For me the "meat" came at the beginning and trailed off although the waltz from Swan lake was very good indeed.