In which I continue at Eltham College


Sunday 1 May
I went on a coach outing to the bulb fields around Spalding today. We went up on the Cambridge road and had coffee at Cambridge. Engineering work was in progress at Bishops Stortford and there was an electrification train hauled by a Sulzer diesel and a 4-6-0 at Harlow. From Cambridge the land became flatter until it was proper fen land. We hit the bulb fields at Cowbit. At Crowland there is a very interesting "three pronged" pack horse bridge. We had dinner at Ramsey. The bulb fields were very disappointing as there was not the splash of colour that I had been expecting. Apart from the bulbs there is very little to see as the land is flat as far as one can see except to the north-west of Spalding where the Lincoln Wolds are just discernable to the west. We came home via Peterborough, Huntingdon and Hertford. We reached Orpington just before 23.00. A very interesting and enjoyable day in which we covered over 300 miles.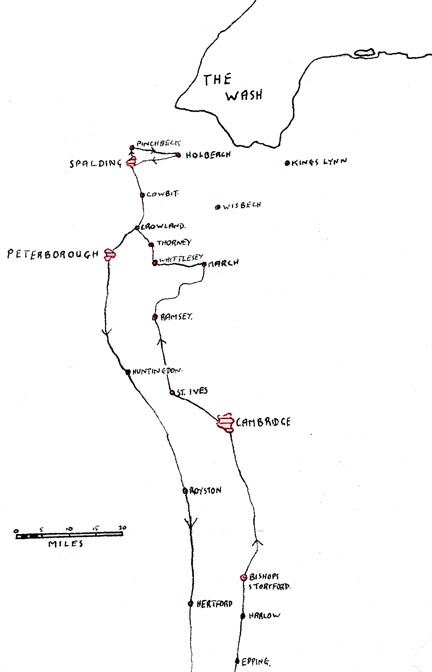 Tuesday 3 May
I have seen something today that I have never seen before and never will again. It rained quite heavily this afternoon and Peter Gregory was worried because he hadn't brought his cycle cape. Dave Wright jokingly offered him his prefect's gown which Peter accepted. We saw him cycling therough Mottingham village with this gown on back to front to keep the rain from his chest and inside out to keep the outside clean.
Mum has got a job, light housework one morning a week. She says the money will help a great deal.
Friday 6 May
Princess Margaret was married today and we all had a holiday. I went on a cycle ride with several others. We started out an hour late because Peter Gregory had a puncture before we reached Green Street Green. We had dinner at a pub (The Windmill) at Weald - the beer wasn't much. After dinner we went on to Tonbridge and took out some boats, I was with John and Dave Waywell. The weather was really marvellous. The sun shone all day. We didn't leave Tonbridge until 6.30. On the way back we stopped at the White Hart (Ind Coope) at the top of River Hill. I had a brown and a port pie. The beer was one of the best I have tasted. I arrived home at about 8.30, very tired.
Tuesday 17 May
Heard the surprising news today that one of the prefects (CD) has been de-gowned for not going to chapel on Sunday - he took a girl out instead. There was a notice on the Head's notice board which simply stated "-- has ceased to be a prefect". We don't like this at all and all day we have been working out how to voice our opinion. We want to vote him the Bayard Prize. The Head is certainly very unpopular at the moment.
In the evening I heard a symphony concert on the Home Service - Elgar, Introduction and Allegro for Strings; Mozart, Bassoon Concerto; Britten, Variations and Fugue on a Theme of Purcell.