In which I continue at Eltham College. While taking my A level exams I manage to get away on a short cycle trip.


Friday 3 June
Half term. The holiday started after morning school. I stayed to dinner, dave waywell was coming up to London with me but McIver kept the science form in. This has been the hottest day so far this year. I took the train to Waterloo and walked across the river to the YHA shop in John Adam street. I bought a sheet sleeping bag and a "dri pac" to dry out wet shoes. I also bought a Kent badge for my rucsack.
There are some alterations being made at Hither Green motive power depot, possibly extending the diesel depot. I saw two of the new Birmingham Railway Carriage and Wagon dieselsNos. D6501 and D6506. There were also several of the Doncaster built electric locomotives (E50xx series) in the yard. Steam was still very much in evidence. 31692 on empty carriages at Grove Park.
Monday 6 June
Went by bus to Gravesend for the day. We had our dinner on the Pilot Boat pier, arriving there just after high tide. Saw four of the new diesel powered Sun tugs (Sun XIX-XXII) The Serbiston (Frank C. Strick & Co.) wasmoored just downstream. I don't know what it was doing there, probably just waiting for the next tide. In the afternoon I went across on the ancient ferry to Tilbury while Mum and dad walked along the promenade. The area around Tilbury is very bleak. The station was practically deserted exceptfor an 0-4-0 diesel mechanical station pilot (D2225). There were two Metro Cammel two car diesel units in one of the overgrown sidings. Nothin much interesting in the shed, 2-6-4Ts (LMS and BR design and WD 2-8-0s - no other types of engine. The coaching stock is very drab also - a very dirty brown-maroon. I don't think much of the LT&S section. I passed the electrification storage depot which was piled high with ready-made track waiting to be laid. The overhead wires have been put up along part of the Southend line.
A little over a year later I was firing steam engines on this line!
It started to rain at about 16.00 and we came home as quickly as possible.
Wednesday 22 June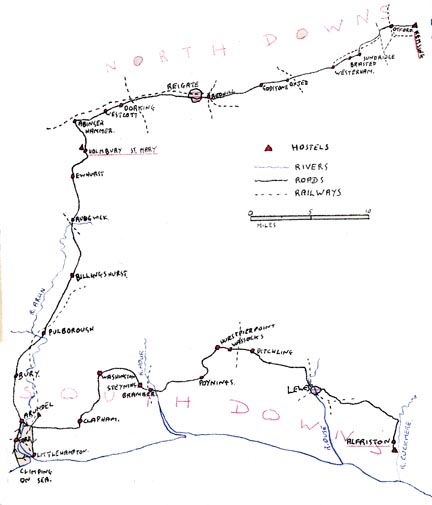 I spent most of the morning packing my saddlebag ready for meeting Dave Waywell at 17.00. He was 40 minutes late due to a burst tyre. We cycled to the hostel at Kemsing via Chelsfield, Shoreham, where we had tea, and Otford. The hostel is a Victorian manor house with a wonderful view over the Vale of Holmsdale. There were four American boys in the hostel - three from Colorado and one from Detroit. This evening Dave and I went for a walk around Kemsing village.
Thursday 23 June
Kemsing - Westerham - Godshill - Redhill - Dorking - Holmbury St. Mary
There was a terriffic thunderstorm before we left the hostel. The Americans came part of the way with us, one came to the hostel at Holmbury. This is a hostel that has been built for the purpose. It is set in wonderful wooded country (pine and oak) about amile from the centre of the village. The church is set on the side of Holmbury Hill, an Iron Age fort which has been planted with pine trees. We went into the village local where we talked to some of the local people. The publican had a 3½ pint glass.
Friday 24 June
Holmbury St. Mary - Ewhurst - Rudgwick -Billingshurst - Pulborough - Arundel - Climping - Arundel
We left the hostel early and made quickly for the coast. Just before Arundel, Dave hit the kerb, came off and buckled the front wheel. He went into Arundel on my bike to buy a new wheel while I took the old one off. Afterwards we cycled through Arundel to the sea at Climping via Littlehampton. We had a swim and went back to the hostel via Ford. The warden is a very jolly Yorkshireman. We had a sing song in the games room afterwards.
Saturday 25 June
Arundel - Clapham - Washington - Steyning - Poynings - Hurstpierpoint - Ditchling - Lewes - Alfriston
Rather a dull diay. Bought our dinner at Steyning. The ride was uneventful until just after Ditchling where Dave's back axle gave out. He took it back to a shop in Dirchling where he found out that it had been broken in the crash yesterday. The weather brightened up after dinner and it was quite pleasant cycling through Lewes and on to the hostel. There are more people at this hostel, mainly out for the weekend, although there are two who are going round the world - this is their first day, and it does not seem so friendly as the others. we went down to the village and had a drink at The Star, a Trust House. Outside there is a three hundred year old figurehead taken from a wrecked ship.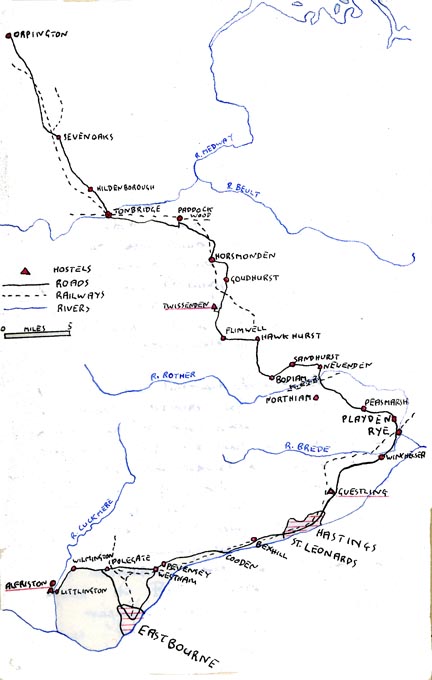 Sunday 26 June
Alfriston - Eastbourne - Cooden - Hastings - Guestling
Dave's back axle is still playing up and as it is a Sunday we have not been able to go to a cycle shop so we have been cycing slowly all day. I left Dave at Polegate to go to Eastbourne to buy a pair of swimming trunks. I met him at Pevensy station and we stayed on the beach at Cooden until about 16.30. I was terribly sunburnt. Today has been really sunny. Between Pevensy and Cooden we saw a P class 0-6-0T painted in original colours and numbered 323 on the tank in large numerals.
(This was being delivered to the embryonic Bluebell line).
Went for a walk and finished up at the White Hart.
Monday 27 June
Guestling - Rye - peasmarsh - Newenden - Bodiam - Hawkhurst - Goudhurst
Left Guestling at 09.00 and cycled to Rye where Dave took his bike to a shop. We had to wait 1½ hours to have the bike repaired. Rye has many cobbled streets, one of which was under repair. The town is set on a hill which rises out of the marshes. Although there are many old buildings there is much new construction. We cycled to Bodiam castle which has a magnificent moat covered in water lillies. From there we cycled to the hostel at Twyssenden Manor, arriving at 17.00. The part where we slept was 500 years old although some parts are only 300 years old. There are many dark passages and oak beams. As well as a Common Room there is also a Quiet Common Room with panelled walls and a huge fireplace. We looked for a secret passage - without success. There is a whipping post in the Members Kitchen. We went for a walk in the evening.
Tuesday 28 June
Goudhurst - Horsmonden - Tonbridge - Sevenoaks - Orpington
We left the hostel at 09.30. Goudhurst is a very pretty village with a pond. At Horsmonden I went to the station and asked for a platform ticket. The booking clerk gave me a Southern Railway one and stamped it with the station stamp, an iron one which is over 100 years old. There was also a signal post with two arms facing in opposite directions. Had dinner close to River Hill and arrived home at about 15.00 - just before a heavy downpour.
We were amazed at the number of foreigners we have met. Altogether we met 4 Americans; 2 South Africans; 1 Swede; 3 Germans; 1 Austrian and 2 Italians.