Wednesday 3 February
I think Bernie must be blind. I pinned a fake 10/- note to the floor by his desk, he walked past it without noticing it. I turned out for a rugger practice this evening, the first for about a fortnight. Luckily we didn't do any interval running but played a game of five-a-side rugger - I was the one man scrum. Had a card from Combe this morning. I am playing for the Colts II XV versus H.M. President 1st XV on Saturday at Thames Ditton.
This evening I have been doing some school work but I turned on the TV to watch Sportsview. In an FA cup replay Spurs beat Crewe 13-2, also the MCC toruing team beat the West Indies by about 250 runs.
Thursday 4 February
The Head didn't turn up for his period with us so I have had five PSs in a row today. I have been doing maths mainly. In music today we heard pieces by Sibelius and part of Dohnanyi's Nursery Variations. I quite liked it.
After school we played the last house match against Livingstone. It was a massacre, we won 27-0 (4 tries, 3 tries). Livingstone only fielded 12 men but even so we were far superior. I am rather sorry that this week's game should end my career in Carey house.
This evening I went up to the hospital, Dad was pleased to see me and may be coming out on Monday or Tuesday. Afterwards I did some revision.
Friday 5 February
According to members of the choir the Head has been practising walking into chapel, timing himself with a stopwatch. This is in preparation for the service which is to be televised next Sunday. The chapel is full of scaffolding and there are a couple of large ATV vans outside. For our current affairs lecture we had a talk from the South African Government on "The Policy of Apartheid". It was quite interesting and although we only had 20 minutes there wasn't enough time for questions. After school I had a tea which consisted of half a loaf of bread, half a swiss roll and some cakes. I ate this at school and afterwards went to the Film Society's meeting which was a talk by a film director Lindsey Anderson illustrated with some of his films. It wasn't very interesting and I think it was a waste of time and money.
Saturday 6 February
I had a late breakfast and an early dinner so I could catch the 12.22 train to Waterloo. Then I went with the rest of the Combe Colts II to Old Paulines ground at Thames Ditton, Hampton Court to play H.M. President 1st XV. This was a team of RNVR people, mostly 35-40, who were only concerned with hitting us hard. They didn't have the least idea of the rules and we were slightly lucky to hold them to a pointless (in more than one way) draw. Afterwards we had a hilarious journey back to London bringing some souvenirs, an Old Paulines notice and a flag from their flagpole. I reached home about eight o'clock.
Mum saw Dad this afternoon. He is very well and looking forward to coming out some time next week.
Wales beat Scotland 8-0 at Cardiff Arms Park.
Sunday 7 February
I watched the service from the school on TV. It was quite good although it was very difficult to recognize some of the people. The sermon was very good. Mr. Cooper spoke about St. Paul's letters to Timothy.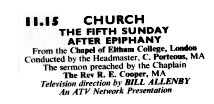 After an early dinner we went to see Dad, there was just Mum and myself. He is very cheerful and is making a yacht table lamp. He thinks he may be coming home Monday or Tuesday. The rest of the day I have been revising for the mock exams which start on Monday. I have had hardly any time to do revision. Auntie Win and Uncle Alf came down this evening.
Thursday 11 February
Had another surprise this morning. I came top in geography with 62%, at least this is a good start but I don't think I have done so well in maths. Neither the head nor Musgrave turned up for their periods so the only period I have had today is music when we heard parts of Brahms' Violin Concerto and Mozart's 39th Symphony.
After school I played in a practice game for the match on Saturday which is against Colfe's Grammar School. The game was just a mess around really but at least it was good training because I was quite tired afterwards.
Saturday 13 February
Played my last match for the 1st XV today. It was at Colfe's playing field, near Lee station, in the morning. Chris gave me a lift there and back. It was a very muddy game which we lost 0-10 although we fought back well in the second half. The conditions were very bad, there were no oranges, the hot water ran out and we were left with no water at all, the floors were concrete and very cold and there was no heating. As well we were were given nothing to eat aftewards.
In the afternoon Peter Gregory came down to watch the rugby international on TV between England and Ireland.
Wednesday 17 February
After first period today Peter Jones came up an congratulated me, when I asked him what for he told me to look at the notice board. I have been awarded my first fifteen colours which entitles me to wear a special tie and blazer. I am very surprised because I haven't played very welll this season.
In art today we were shown some prints of pictures that were in an art gallery in Moscow. Some of them were alright but most of them were dull.
This evening Auntie Pat and Uncle Reg came down. I have started a rug which we are making for the hearth.
Friday 19 February
It was half term today and school finished at 12.25. This afternoon I have been with the Geographical Society on a visit to Ford Motor Works at Dagenham, Essex. We saw all the stages of automobile construction. The old plant refines the iron ore, castings are made and also tractors are assembled there. At the new plant we saw the bodies of the cars being pressed out of sheet metal and cars constructed. All the Ford cars are made here including the new Anglia. The works are very large and impressive although they are not very pleasant because of the continuous whinings and screechings from welders, cutters, presses and many other types of machinery needed in motor car construction. In some parts the fumes are overpowering. What struck me the most was the scale on which the cars are being produced, about one car every three minutes off each assembly line.
The tea we were given was not too bad and altogether I had a most enjoyable and interesting visit. We arrived back at school at about 17.30 after having a good sing song in the coach.
Saturday 20 February
I have heard from the other two universities that I applied to. I have been turned down by Nottingham but accepted provisionally by Reading.
There is great excitement in todays papers because the Queen had a son yesterday.
This morning we went up the road (High Street) to get a pair of shoes for every day wear.
This afternoon I played for Combe second Colts XV against Old Beckhamians extra A. We lost 5-8 but it was a very good game which we really deserved to draw. I have a bruise just under my left eye.
Saturday 27 February
Nice bright morning although it was quite windy. I haven't done much this morning except clean my boots and cut some wood. This afternoon I played for Combe second Colts XV against Streatham second Colts. We won 3-0 after a close game which I enjoyed very much. I seem to enjoy the club games much more than the normal 1st XV games. We stopped quite late afterwards talking in general. I helped wash up. David came back to my house and stayed until about 9.30. Have been watching film of the rugger internationals.