Saturday 1 August
Went up to Roy Bennett's to give him his map. In the afternoon I went to Frisbys and bought a pait of rugger boots and have been for a run in them, they are quite comfy.
Sunday 2 August
I went with Uncle Reg, Richard and Tony to London Airport by bus. The bus driver got lost many times. We stayed the day in the Queens from which we had a good view.
Monday 3 August
August Bank Holiday today. Dad is home. We have been putting the finishing touches to the cabinets. Saw wrestling in the afternoon. Very good.


Tuesday 4 August
Went down to the dig (Lullingstone) today. We did trowelling in the morning but heavy pickaxing in the afternoon - very hard work. Uncle Jim and Auntie Edie came down in the evening.
Wednesday 5 August
Went down to Lulingstone again, we have been opening up a new grid - 52 extension. I found a Tizer bottle about a foot down.
Thursday 6 August
We started trowelling properly on the new grid, found many pieces of pottery and some bones. I found a nice pot base.
Friday 7 August
Continued with the trowelling at Lullingstone. John found a bronze pin with some decoration on it. I found a horse's skull. The Colonel was quite pleased because they are quite rare.
Saturday 8 August
First day of our holiday at Lancing. The place we are staying at is very nice. The weather is wonderful and I have been in swimming twice. Walked into Worthing this evening.
Sunday 9 August
It was very warm and sunny today and we have spent the day on the beach, I have been in swimming four times. This evening we went out with Mr. White (our landlord) and laid a line at low tide.
Monday 10 August
It was raining this morning and we went out to find that we had caught nothing. We relaid the line. Went to Shoreham and Southwick in the afternoon. At low tide this evening we had caught a sole and an eel.
Tuesday 11 August
I went down this morning to bait the line. It has been dull with occasional showers. Have stayed around all day. Went out in the evening and had caught a sole and a bream. I went swimming at 9 pm.
Wednesday 12 August
We walked over the Downs to Steyning arriving at 13.30. We had a snack at The Chequers and I had my first lager and lime. We saw the market in the afternoon and came back by train (No. 31530). I went swimming at about 7.30 pm.
Thursday 13 August
Went into Chichester by train and saw the museum and cathedral. The train didn't stop at Lancing coming back and took us on to Shoreham. I saw the Lancing Carriage Works shunter.
Friday 14 August
Our last complete day at Lancing. We have spent most of the day on the beach. I have been in twice. The second time was the best of the holiday, the water was very warm and there were high waves.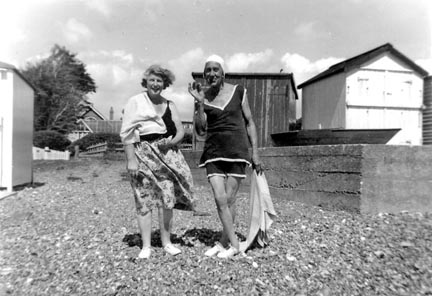 Mr.and Mrs. White


| | |
| --- | --- |
| Mum with the White's cat | Mr. White with Dad in the background |
Saturday 15 August
Very sorry to come home, went for a last dip in the morning. It was very sunny but there was a high wind.
Saw the following during the week - D2082, 31308, 32348, 31276, 31787, 32489, 32350, 30547, 42089, 31530.
Sunday 16 August
Phoned up Mrs Tyler to make the final arrangements for Wednesday. Weather very sunny. Auntie Win and Uncle Alf came down. I have been making the partitions for the record drawer and cabinet
Monday 17 August
I have been painting the interior of my record cabinet. It looks quite good. Uncle Reg etc. came down in the evening, it is the last time that I shall see Tony.
Tuesday 18 August
I have reserved my seat to Whitley Bay. Am packing my rucsack for tomorrow. Auntie Edie and Uncle Jim came down in the evening.
Wednesday 19 August - Carlisle
Caght the 10.00 from Euston to Carlisle pulled by 46144. The hostel is quite good. We have been in swimming in the River Eden.
Thursday 20 August - Once Brewed (6 miles)
Caught the train from Carlisle to Haltwhistle, walked along by the Tyne and had a swim
(I think this is where we found out that David could not swim)
. The hostel is quite good and the cooking is going quite well.
Friday 21 August - Once Brewed (10 miles)
Went up Hadrians Wall today. Had a look at the fort at Halsteads which is near the Broomlee Lough where we had a swim.
Saturday 22 August - Allendale (10 miles)
We had a really marvellous walk up the Allen Valley. It is a deep gorge with trees on either side. I managed to get in one swim and a dip.
Sunday 23 August - Dirt Pot (10 miles)
Had a leisurely walk along to the hostel which is a converted chapel. We were the only people there and had a good time playing table tennis.

Monday 24 August - Barnard Castle (18 miles)
We had a really hard slog of 18 miles to Middleton followed by a bus to Barnard Castle. We climbed to 1926 feet between Allen and Wear Dales and just 2000 feet between Wear and Tees Dales.
Tuesday 25 August - Barnard Castle
I took a train with David Rhys-Tyler into Darlington. We met up with some boys who were going around the works and shed and we went around with them.
Wenesday 26 August - Keld (18 miles)
Had a very hard walk (18 miles) over past Tanthill to Keld. Very good hostel. There have been practically no clouds at all today.
Thursday 27 August - Keld (1 mile)
Lazed all day at Kisdon Force about ¼ mile from the hostel. We had maximum sunshine. Went swimming in the pool in the Force
Friday 28 August - Keld (6 miles)
Walked up East Gill Beck and down Swimmergill Beck. We visited Swimmergill Kirk which is a huge cave behind a waterfall.
Saturday 29 August - Aysgarth (12½ miles)
We walked to Aysgarth over the top via Askrigg. The hostel is not much. The falls are practically dry because of the lack of rain.
Sunday 30 August - Kettlewell (11 miles)
We walked up the valley of the Walden Beck and over the top into Kettlewell, a hard walk.
Monday 31 August - Malham (10½ miles)
Having learned about it in geography we have, at last seen Malham Tarn. Didn't think much of it. We got lost on the top so we had to search for the lake. Dad sent me 10/-.