CTV News 7 June 2023

VIA Rail rerouting trains around Cornwall, Ont. after truck falls over the tracks

VIA Rail is rerouting trains around Cornwall, Ont. on Wednesday after a semi-truck fell left Hwy. 401 and landed on the CN Rail tracks just outside of the city.
Ontario Provincial Police say one lane on Hwy. 401 westbound is closed between Boundary Road and County Road 27 near Cornwall following a collision.
A video on Twitter shows a transport truck partially off the road at the CN Rail line.
Police say a man driving an unloaded tractor-trailer eastbound on Hwy. 401 struck the guard rail, enter the centre median and drove over the bridge/underpass. The truck landed on the CN Rail tracks.
The driver was treated for minor injuries.
The collision has forced VIA Rail to reroute trains around Cornwall because the tracks are impassable.
"A semitruck fell over CN tracks just east of Cornwall and the tracks are currently impassable. No trains were involved in the incident," VIA Rail said in a statement. "We are directly informing impacted passengers and will provide more updates as the situation evolves."
VIA Rail says trains 60, 61, 62 and 63 will not be stopping at Cornwall station and will be rerouted through Ottawa. Trains on the Toronto-Montreal line are expected to see at least a one-hour delay.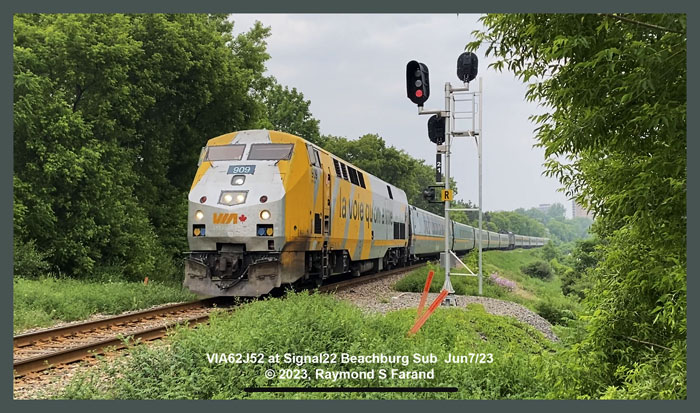 Raymond Farand took this picture of one of the diverted trains at Pleasant Park Road Ottawa.