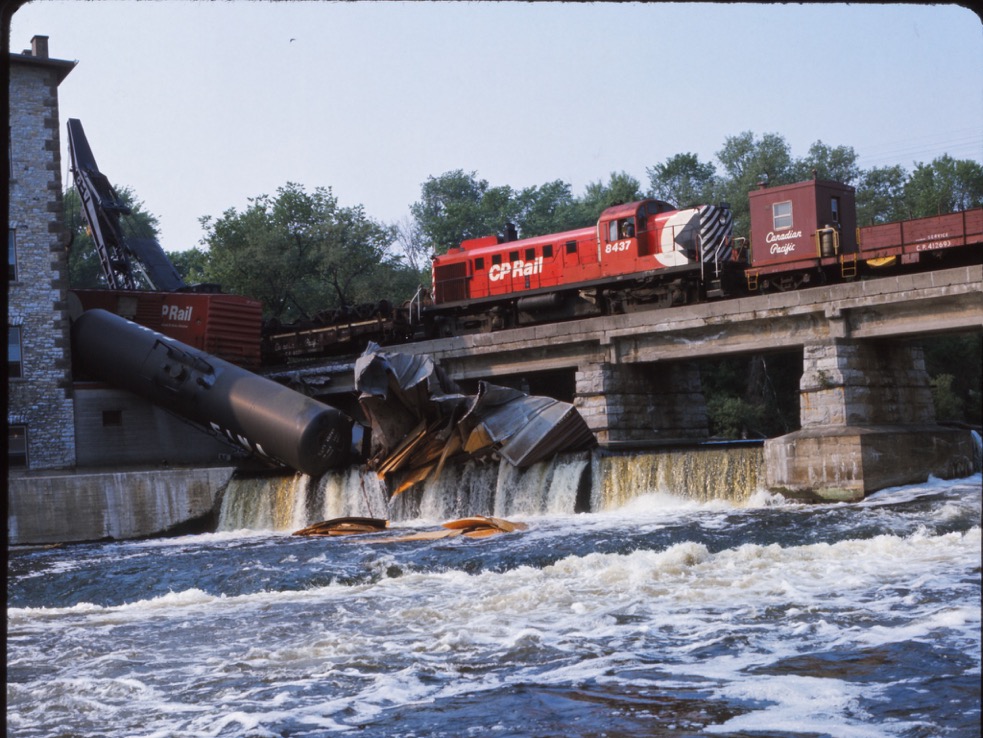 Photo by

Richard Carnegie




Ottawa Citizen 5 June 1974



With picture
ALMONTE (Staff) The last 16 cars of a CP Rail freight train jumped the track while crossing a bridge and smashed into a flour warehouse here early today.
The derailment caused extensive damage but no injuries.
The end of the 73-car north-bound train swung off the track at 3.35 a.m. walloping a warehouse adjacent to the Almonte Flour Company mill.
Two empty tank cars tumbled into the Mississippi River. Few of the derailed cars were carrying freight, a CP Rail spokesman said.
The wayward train uprooted more than 800 feet of track and blocked Highway 44, the town's main traffic artery. The highway remains closed today as work crews struggle to clear away the wreckage.
The warehouse, constructed in 1820, is a local landmark near the centre of town. It was vacant when the accident occurred.
Mill manager Jack Harris described the accident as spectacular. "Incredibly, no one was hurt," he said.
The train was making its regular run between Chalk River and Smiths Falls. The two CP trains scheduled to pass through Almonte today will be rerouted over CN tracks, the CP spokesman said.
CP Rail is investigating the derailment but has not yet determined the cause. Damage has not been estimated.

From Bruce Chapman:
I was working as a train order operator at Renfrew, 30 miles up the line from Almonte that night working the 4-12 shift
I hooped up his orders to the head and tsil end, as went by there a few minutes to midnight. My rellief was there, so I took off down highway 17 and got to Arnprior before he got there and watched him go by.
The next morning, turned on the radio and saw that he'd derailed at Almonte. A rapid burnoff, so I got no brownies.



From Tony Humphrey
That is the Smiths Falls hook, I was on the wayfreight and we were pulling cars when they were rerailed and putting them in the old siding. I remember that car of chip board falling apart on the lift and chip board heading down stream. Also there was a gon missing and they didn't think it was on the train. When they lifted the gon that's under that chip car the missing gon was directly under it.