Details of Railway Accidents in the Ottawa Area

1955, April 27 - Crossing Accident near Renfrew, CNR Renfrew sub., 4 dead, 2 injured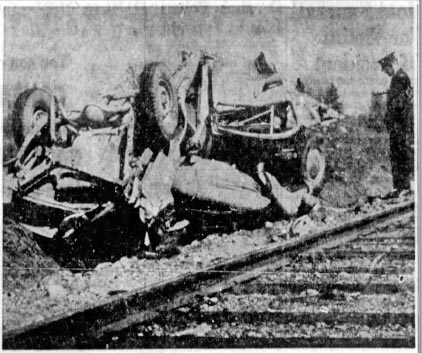 Scene Of Tragedy Shown above is the battered vehicle in which four men were killed and two others seriously injured in a car-train collision nine miles east of Renfrew yesterday afternoon. Two men were pinned beneath the upturned vehicle. It is believed they died instantly. The car collided with the Barry's Bay-Ottawa passenger train. Looking over the wreck shortly after the accident Is Constable William Freeth of the Renfrew detachment of the OPP.

Photo by McKinnon


From the Ottawa Citizen 28 April 1955

4 Persons Killed In Smash
RENFREW (Special) Four men are dead and two others in hospital as the result of a car-train collision nine miles east of here on Highway 17 and the CNR line yesterday afternoon.


The Victims


The dead are: Viateur Dumas, 27, believed to be the driver of the vehicle; Harvey Dumas, either brother or cousin; Marcel Deschenes and Louis Desjardins.
Injured and in Renfrew Victoria Hospital are Jean Paul Desjardins, son of the dead man, whose condition is reported as "fair", and Rheal Desjardins, suffering from concussion and shock. The latter's fatheris Eugene Desjardins of Ste. Rita, Que.
All passengers of the vehicle are believed to be from the Riviere du Loup area. The six men were headed west on a level stretch of highway when the accident occurred shortly after 2 p.m. Although there were no witnesses, it appeared as though the men failed to see the train.
The car was truck (sic) in midsection by the engine. A slight risei in the ground adjacent to the tracks partially blocks the vision of a driver for some 50 to 60 feet from the crossing.


Ottawa Train


It was a passenger train running from Barry'a Bay to Ottawa that hit the car. The train was due in Ottawa at 4.50 D.S.T. yesterday afternoon. Engineer was M. J. Gaffney and the fireman was E. Proulx, both of Ottawa.
Completely demolished, the car was tossed into the north ditch of the railway about 60 feet from the point of impact. Two 'of the victims were pinned beneath the overturned vehicle. The other passengers in the car were thrown clear.
The two men pinned under the car apparently were killed outright and a third died before an ambulance arrived at the scene. The fourth victim, taken to hospital by a passing motorist, was pronounced dead on arrival.
Personal belongings and luggage of the occupants of the car were strewn for 50 yards along the right of way.
The investigation is being directed by Cpl. William Milton of the Renfrew detachment of the Ontario Provincial Police.



Return to Main Page of Railway Accidents
Updated 2 November 1955