Details of Railway Accidents in the Ottawa Area

1954, June 26 - Sixteen freight cars derailed at Pembroke, CNR Beachburg sub. No injuries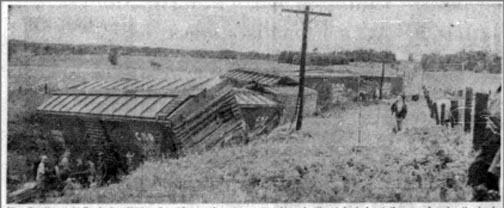 Mass Derailment At Pembroke- No less than 18 cars of a west-hound transcontinental freight train jumped the tracks near Pembroke at 9 o'clock Saturday night No one was injured. A sudden cloudburst washed out the ground under the tracks about 3 miles east of Pembroke causing the accident. The cars were sandwiched into a 100 yard track length. Photo by Montaigne



From the Ottawa Citizen Monday 28 June 1954

CNR Freight Derailed At Pembroke
PEMBROKE (Staff) Railroad wrecking crewa worked in windy, rainy weather all day Sunday, clearing the transcontinental line of the Canadian National Railways blocked since late Saturday night when an east-bound freight train was derailed.
A total of 16 cars of the extra freight left the tracks about three miles east of Pembroke, but no injuries resulted from the derailment.
Passenger and freight traffic was flowing normally through here Sunday however, with trains being rerouted. some on the Canadian Pacific Railway lines and some on another; CNR line which goes from Pembroke to Golden Lake, there joining the line to Ottawa.
The engine and front end of the train did not leave the track but the 16 cars and tank cars were strewn along the right of way.
Creates Pond
The derailment occurred in cut with high embankments on each side. The derailed box cars apparently blocked the passage of torrent of water and converted the derailment area practically into a pond.
Mobile gasoline powered pumps were brought to the scene to pump the water out of the depression and speed clearing up operations.
Wrecking crews from Ottawa and Brent were sent to the scene and with huge cranes working from each end of the derailment, cars were being replaced on the tracks at each end Sunday afternoon.
Officials at the scene gave no cause for the derailment but it was felt that the heavy rains and high winds of Saturday night's storm may have caused a washout. Several small washouts were reported along the track inside Pembroke.
Pembroke and district residents attracted to the scene drove as far as possible in a farm yard and then trekked through a muddy field to reach the acene of clearing operations.


Return to Main Page of Railway Accidents
Updated 27 October 2019