Details of Railway Accidents in the Ottawa Area

1953, May 28 - Fast Freight Runs Into A Wayfreight At Woodlawn, CNR Beachburg sub., one injury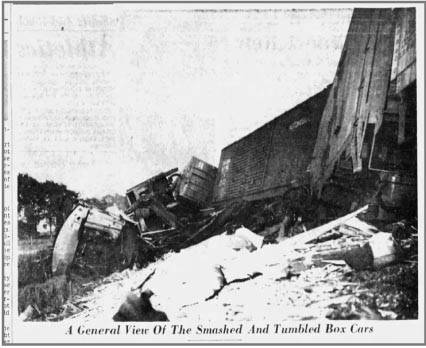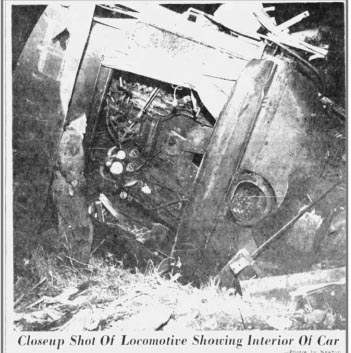 From the Ottawa Citizen Friday May 29, 1953

Ottawa Man Injured, Damage heavy As Two Freight Trains In Collision
WOODLAWN A fast CNR freight train late yesterday afternoon plowed into the rear of another freight train here, injuring one train crew member from Ottawa. Woodlawn is 28 miles northwest of Ottawa.
Injured was James A. Mur-dock of 73 Delaware Avenue, engineer of the fast freight. He was taken to Civic Hospital with scalp wounds and possibly other injuries. Other members of the crew, Walter Lardon and F. T. Johnston, both of Ottawa, were suffering from shock.
An eye-witness, R. A Vance of Woodlawn. described the accident as follows:
"We were standing on the platform in front of my general store here and saw the fast freight coming a half - mile back. The way-freight was stopped out front here while the engine was shunting cars onto a siding.
"One of the crew of the way-freight saw the other train coming. He lit up a flare and started running up the track waving it. The fast freight slowed up some, but didn't stop. That fellow was sure trying hard to warn them. I don't think they were expecting the fast freight.
"It plowed through them like match wood. There were splinters flying all over.
"The engine of the fart freight let go from the other cars and turned over on its side and slid down Into a 10-foot ditch."
About 10 cars were damaged and derailed. Damage to contents of the freight cars will add considerably to loss, the CNR stated.
Time of the accident was 5 25 p.m. (E.S.T.)
The identity of the crew member who tried to warn the approaching train was not known. Two crew members of the way-train were: W. J. Hammell of 279 Bell Street. Ottawa, engineer; and a conductor, J.D. Cameron of Madawaska, Ont.
The speeding freight train was hauled by engine No. 5291. It was train No. 16.
CNR officials expected to have the track cleared for traffic this morning at 4 a.m. Meanwhile, two trains scheduled to use the line had to be detoured this morning. One was the Western Canada bound No. 1 passenger train, and the other was the No. 103 express. The trains detoured via Pembroke on CPR tracks.


Return to Main Page of Railway Accidents
Updated 20 October 2019