Tid Bits by Duncan H. du Fresne
Death and Disaster on the Castor Grade
(This article is a reprint, with some embellishment, from an original article written by the author in May 1982)


Castor grade was the railroader's name for a part of the long grade on Canadian Pacific's Maniwaki subdivision which began at a point approximately one half to three quarters of a mile north of the railway's Gracefield, Quebec, station, at mile 57.8. The grade was several miles long and contained a number of left and right hand curves, with a steep embankment on the east side for most of its length. It is hard to believe that the Maniwaki sub. is nothing but a memory north of Wakefield now, but back in 1953, the time of our story, it was still quite a busy pike, and steam power and wooden consist passenger trains still reigned.
Let's go back to October 10, 1953, and a bit of background information. It's a Saturday afternoon and the regular passenger engine crew that brought the daily, except Sunday, train No. 534 down from Maniwaki have "booked off after their 11:05 A.M. arrival at Ottawa Union Station (CD) and after having brought their engine back to Ottawa West shop. This was the regular crew's normal practice at the time for it gave them their only chance to sleep in their own beds for two nights out of the week and have what remained of Saturday, and all of Sunday at home. All other nights were spent in the company's Maniwaki bunkhouse. This crew would "book on" again sometime late on Sunday so that they could go out on their regular assignment, train No. 535, on Monday afternoon.
This arrangement meant that a spare engine crew had to be called to take the Saturday afternoon passenger train, No. 539, on the return trip back to Maniwaki. In those days, the Saturday afternoon return trip departed Ottawa (CD) earlier than the regular Monday-Friday schedule (2:20 P.M. instead of 4:15 P.M.), and would more likely than not, for the reasons stated, have a spare list engine crew assigned. There was also a Sunday morning passenger train scheduled out of Ottawa and this job would also be worked by a spare list crew. It left CD at 9:15 A.M. as train No. 537. The crew that went north on Saturday came back to Ottawa on Sunday evening on train No. 538, departing Maniwaki at 5:50 P.M. Similarly, the crew that went north on Sunday morning came back to Ottawa on Monday morning, on the regular schedule of train No. 534, departing Maniwaki at 7:40 A.M., arriving at CD at 11:05 A.M.
In addition to these passenger movements there were two way freight jobs on the sub. which operated daily, except Sunday, as trains No. 79 and 80, often with a spare list crew on the weekend. This job left Ottawa West yard (UY) for Maniwaki early in the morning, arriving in Maniwaki in the late afternoon-early evening period. The northbound Saturday morning crew on this job had the pleasure of spending their weekend at C.P.'s little "resort" bunkroom in Maniwaki until Monday morning. Their Monday morning departure for Ottawa West was after the departure of No. 534. Lots of freight extras were operating on the pike at that time, as well as the odd passenger extra, but we'll not be concerned with them here.
On the weekend of October 10-11, 1953, train No. 79 left UY on Saturday morning, as per usual, with a spare engine crew. The engineer was "Sergeant-Major" Lou Brunet, and the fireman was Ray Higgins, quite a good friend of mine. In the afternoon of that day the Saturday only passenger train, No. 539, left CD with light Pacific No. 2221 on the head end of a train consisting of a wooden bodied baggage car and two wooden coaches. As usual there was a spare engine crew on board the 2221 with Richard (Dick) McNally as engineer and C. Kenneth Learmonth as fireman on the hand-fired coal burning 2221. Fireman Learmonth was a Smiths Falls "north end" fireman who had been "cut off the list" (laid off) in Smiths Falls and had come over to Ottawa West to exercise his seniority and work, rather than sit around Smiths Falls until he was once again assigned to the spare list there. This was to be Learmonth's first trip over the Maniwaki sub. Dick McNally was an "A" list spare passenger engineer who knew the branch (Maniwaki sub.) extremely well. By Saturday evening the engine crews of 539 and 79 were both in the Maniwaki bunkhouse and there they spent the night. At 12:35 P.M. on Sunday, train No. 537 arrived in town. I no longer recall who her crew was, but now there were three engine crews in the Maniwaki bunkhouse. As stated earlier, the crew off 537 would spend the night in Maniwaki and leave for Ottawa Union Station on train 534 on Monday morning.
The Plot Thickens
Sometime after 537's arrival it was decided by some, or all, of the three crews now in the bunkhouse to have a beer. Normally this would have resulted in the boys walking the short distance over to the main street and frequenting one of the several drinking/dining establishments. But for some reason or other it was decided to get some beer and bring it back to the bunkhouse. My friend, Ray Higgins, allegedly went over to town, got the beer, and brought it back. I have no idea how much was consumed, but some was. In any event at 5:50 P.M. it was time for train No. 538 to depart with McNally and Learmonth on the 2221, hauling three cars. They left town and headed south for Ottawa. It was to be their last trip!
The Castor Grade.
At about mileage 60, approximately two miles north of Gracefield, the train got rolling down the grade at too high a rate of speed for the curvature when, suddenly, the 2221 left the rails, plunged down the steep east embankment and rolled over on her left side. The tender jack-knifed, ending up on its left side, at about a 60 degree angle to the 2221, spilling out her 7,000 gallons of water and 10 tons of coal in the process. The baggage car followed the engine and tender down the embankment and lost both its trucks along the way. Nevertheless the baggage car's body remained upright, almost touching the back of 2221's tender and the front of the wrecked engine. The three pieces of equipment formed a sort of triangle where they lay. The leading coach left the rails and rolled almost completely over on her right side but, along with the second coach, which remained upright, remained on the right of way. By the time Conductor D.H. McDiarmid made his way to the head end to review the situation and get his portable 'phone set up on the dispatcher's wires, both McNally and Learmonth had climbed out of the wreckage and had made their way back to the embankment. Both had been burned and scalded badly and were writhing in pain, but they were alive. McDiarmid made contact with the dispatcher and briefed him on the situation, and I'm sure his description of what had happened was vastly different to the one that got out to the public.
Somehow or other the whole thing got blown out of all proportion. I was at home in Ottawa that evening and what I heard on the radio was that there had been a train wreck near Gracefield, Quebec, that it was a "major disaster" and that C.P. was assembling a "mercy train" at Ottawa West station to take "anybody who could help" up to the wreck site. Two Ottawa hospitals took action to get nurses and internes just coming off duty to the "mercy train". They alerted operating room teams, called in their blood bank staff, drew donor lists from files, notified local wholesale houses of the possible need for extra cots, mattresses and stretchers and sent out a "code A" radio alert. While all this was going on two ambulances were "racing" up Quebec highway 11 (now 105) to Gracefield. It wouldn't be much of a race on that road as it is now, let alone as it was in 1953. As it turned out the "mercy train" was cancelled when more accurate information became available and cooler heads prevailed, however, the two ambulances got to Gracefield, still several miles from the remote location of the wreck. In the meantime both McNally and Learmonth had been brought down to Gracefield by a section man's track-motor "speeder" to await the arrival of the ambulances. They received some emergency treatment by Doctors Ren6 Lafreniere and Arthur Desjardins of Gracefield and were subsequently taken to the Ottawa General Hospital by a St. John Ambulance Brigade crew, alive, only to die 20 and 23 hours later respectively. Three of the passengers, out of a total of 35, required hospital treatment for leg and ankle injuries. All of the other passengers were somewhat shaken up and a few suffered minor cuts, bruises and shock, mostly from broken glass and luggage flying around when the first coach rolled over. It was not a major disaster in the normal sense, but it certainly was for Dick McNally and Ken. Learmonth.
As in such cases a C.P.R. investigation was held, as was a Coroner's Inquest. There was some debate about the location of the Coroner's Inquest inasmuch as the accident happened in Quebec, but the two deaths occurred in Ontario. Autopsies were carried out in Ottawa and copies of the report were turned over to Quebec authorities to deal with near the scene of the derailment.
Canadian Pacific's investigation into the events that led up to the tragedy was thorough. Their investigation team comprised the following officials: Mr. T.E. Wheeler, Superintendent, Smiths Falls Division; Mr. G.E. Pielow, Assistant Superintendent, Ottawa; Mr. G.E. Mayne, General Manager, Eastern Region, Toronto; and Mr. F.A. Pouliot, Quebec District General Superintendent, Montreal. Their investigation resulted, basically, in putting the blame on certain employees for the consumption of beer and the violation of rule "G" by the engine crew before going on duty. The way freight engine crew of Brunei and Higgins were fired for the same rule "G" violation as it was, allegedly, either one or both of them who brought, and consumed, alcohol on the company's premises. 537's engine crew was exonerated. Rule "G", by the way, in the 1951 Uniform Code of Operating Rules (UCOR), stated: "The use of intoxicants or narcotics by employees subject to duty, or their possession or use while on duty, is prohibited". But, was this really the only cause?
The Brotherhood of Locomotive Engineers and the Brotherhood of Locomotive Firemen and Enginemen argued that a mechanical fault on the 2221, and fireman's Learmonth's total lack of familiarity with the branch were the causes. How?, Why? The 2221 was one of the Gl light Pacific's with an Elesco boiler feedwater pump in her tender. Water from that pump, under high pressure, made its way to the boiler through a flexible pipe connector between the tender and the engine known as a "Barco" connector. That particular connector had been leaking badly just prior to the accident, and this had been documented. Both of the Brotherhoods took the position that Learmonth was carrying the water low in the boiler, and as he didn't know the road was not aware that they were about to descend a long grade and that the water should have been up high just before the long descent. Furthermore, and to compound Learmonth's problem, it was early evening, dark, and it was raining. As the train rolled over the top of the down grade the boiler water ran ahead in the boiler and disappeared from sight in the water glass. Learmonth opened up on the water pump throttle to recover the water but due to the leakage at the Barco joint it was taking too long for the water to rise in the boiler. Dick McNally in the meantime, becoming aware of Learmonth's problem, started work to get the right side Hancock non-lifting injector in operation to get some vital'water into that boiler. While he was working at this his concentration on running the engine was broken and his exact position on the grade was lost. During this process the train gathered too much speed, and very quickly got out of control. A few seconds later the 2221 hit a right hand curve, left the rails, and plunged down the embankment.
Dick McNally, 57, and Ken. Learmonth, 36, were dead. The beer drinking incident, regardless of how little (or how much) might have been consumed prior to the start of that fateful trip, was strictly against the rules. The Brotherhood's position, however plausible, and there was documented evidence to support the leaking Barco joint argument, was still only speculation. Brunet and Higgins never got their jobs back. Both Learmonth and Higgins had young families. I'm not sure what happened to Brunet, but Ray Higgins went into retail sales and got back on his feet. Dick McNally was survived by his wife, Grace, two brothers and one sister.
I worked with Dick McNally on the branch and main lines. Dick was a character, but a pleasant guy to work with and one who knew what he was doing. My most vivid memory of Dick occurred on a trip on the main line from Ottawa to Montreal one day on a Royal Hudson. We were roaring along at high speed with one of those heavy western passenger trains and Dick was having a bad time getting the throttle to stay "latched". Each time he would set the thing where he wanted it, it would slip out of place and begin to close. Dick tried to jam it in position by sticking a wad of cotton waste between the latch and the lever, but to no avail. I can still see him on that seat, with both arms raised holding the throttle open, with his "trade mark" red bandana around his neck flying in the breeze, and yelling over the roar of the Hudson to me: "mate, it's like trying to hang onto a mad bull". Dick was missed by us all.
Serious railway accidents, like all accidents, really strike home when you are intimately involved. I had been the fireman on the 2221, on that job, at that time, for that engineer. I might have been on 538 that night just as easily as Learmonth. Would it have been my last trip? Many of us at that time asked that question. Railroading, for all the interest and pleasure the fans get from it, is a serious business. For those who earn, or have earned their livings from it see it as a very unforgiving "game" if played carelessly. One has to be fully aware of what's going on about you, especially when handling steam power, if you are to survive. It's a sound message for BRS members who enjoy it as a hobby. Let's keep our accident free safety record intact by practising "heads up" railroading.
Postscript
The 2221 was mortally wounded that night. With the aid of the Ottawa West auxiliary, DIG 4-6-0 #1059, a Lidgerwood winch and a crew of men, the 2221 was dragged back up to the right of way and subsequently put back on the rails. It was towed to Ottawa West where it stood on the rip-track for disposal for a short time. Some time later she went to Angus (shops) in Montreal and was scrapped. For those of us who had to deal with the 2221, we were glad to see her go for she was a pain in the neck. This engine had gained a reputation on the Division for not being a very good "steamer", that is to say it was impossible to keep her "hot" (maintain maximum boiler pressure). This was unusual for the Gls were really good engines and all the others steamed quite well. Getting rid of her was no loss, but two of our Brothers were dead and two others had their lives put in a turmoil, a bad situation.
Post, Postscript
I'm not finished with the 2221 just yet. In the next issue of Branchline I'm going to write about one of those Pilgrimage trains that we got from time to time out of Ottawa (and Hull), and a trip I had on a Pilgrimage train with that same 2221 only months before the Castor Grade accident. Stay with me!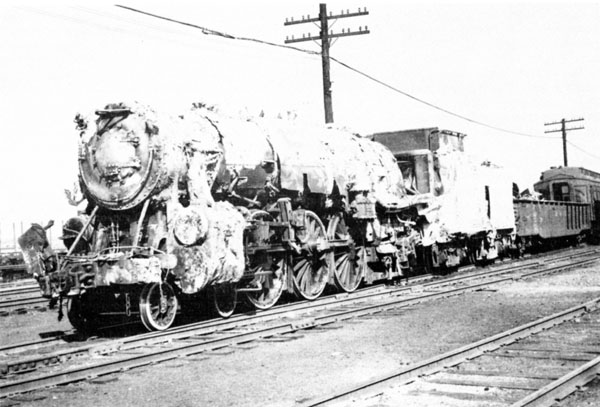 This is how CP 4-6-2 2221 looked after her arrival on the Ottawa West rip track. She was no where near this bad after her fatal plunge on Thanksgiving weekend 1953, but her recovery resulted in just about wrecking her. Note the missing door panel on the left side of the tender, the location of the Elesco feed pump. Photo by Addison Schwalm.



Bytown Railway Society,

, Branchline, March 1997, pages 18-19.

Tidbits by Duncan H. Dufresne.

TRAGEDY ON CASTOR GRADE: Still, another memory, a very unpleasant one, comes to mind. On the evening of October 11,1953, a news flash came over the local radio stations in Ottawa that a terrible passenger train wreck had just occurred on the Castor grade north of Gracefield, Quebec. It was a Sunday evening so the engine crew would be the spare crew which went north on Saturday. In any event an appeal for medical help was being broadcast and for a time it seemed that there was a great loss of life and many injuries. This, however, was not the case and for reasons I no longer recall the radio people, and perhaps others, had badly overreacted. The fact of the matter was that the engine on train 538, powered by G1 class light Pacific No. 2221, had left the rails on a curve on the downgrade, rolled over on her left side down the steep embankment, quite a distance from the tracks. The wood bodied baggage/express car followed the 2221, lost both its trucks in its plunge, and ended sitting upright in a position 90 degrees to 2221's tender which, itself, was 90 degrees to the 2221 and lying on its left hand side. Its forward truck was missing. The engine, tender, and baggage/express car sort of formed a strange looking triangle at the foot of the embankment. The first of the two all wood coaches left the track, rolled over to an extreme angle to its right, but remained on the right of way. The other coach, also remaining on the right of way, rolled over to an angle of only about 15 degrees. Only 3 of the 35 passengers reported on the train were seriously hurt. The most serious injury was a broken ankle, but everyone, at the very least, was given a good shaking up, together with cuts and bruises. No doubt it scared the living daylights out of all of them.

THE REAL INJURIES: Yeah, there were others in more serious condition. The engineer, Dick McNally, and the fireman, Ken Learmonth, both survived the wreck, but they had been badly scalded. They in fact had climbed off the overturned 2221, crawled up the embankment, and were ultimately taken to hospital in Ottawa where both succumbed to their injuries. Dick McNally was a local Ottawa West engineer working on the spare "A" list. Learmonth, on the other hand, was a "north end" (working out of Smiths Falls) fireman who had recently been "cut off" the spare list there and had come over to Ottawa where he "stood" for work. The trip up the Gatineau was in fact his first trip over the Maniwaki sub and, unfortunately, his last. The 2221, the only G1 class engine in Ottawa that nobody was too fond of (it wouldn't steam worth a damn), was hauled out of there, and sent to Angus Shops in Montreal where it was scrapped. (People like me did not shed a tear over that).

A big investigation followed this accident and you can be sure the cause was attributed to human error. The BLE (Brotherhood of Locomotive Engineers) and the BLF&E (Brotherhood of Locomotive Firemen & Enginemen) didn't agree with the findings, and with some very good reasons, but there was no denying there was human error. The circumstances leading up to the accident, the accident itself, the fallout from it and most important, the people involved in it, is a story itself and has appeared in other issues of Branchline.

And lest you wonder in those days before train radio how the word of the accident got out so quickly from the wilderness, it goes like this. Parallel to the railway were the telegraph lines that linked the station operators together with the dispatcher. The train's conductor, Harvey McDiarmid, went over to the line, hooked up his portable 'phone to the dispatcher's "pair" (of wires) on the cross arms and presto, he was talking to the Smiths Falls dispatcher's office. Space age communication it ain't, but it worked!
Next month I will write about the various jobs (trains) that ran on the Maniwaki sub.. What working on them was like, or more precisely, what earning a living on them was like toward the end of the steam era, the branch line era, and the branch line passenger train era, wooden cars and all!



Bytown Railway Society,, Branchline, January 2005, pages 12-13.



From the Ottawa Journal Wednesday 28 October 1953



A coroner's jury last night decided that engineer Richard McNally, fatally injured in a CPR train wreck near Gracefield October 11, "approached a down-grade sharp curve at an unsafe rate of speed" causing derailment of the train and death to himself and his fireman, C. Kenneth Learmonth.
McNally and Learmonth both died at General Hospital the day following the derailment.
Dr. Desmond Magner chief pathologist at General Hospital testified that the engineer died of extreme shock brought on by burns to one third of his body and by severe chest injuries.
He suffered six broken ribs and a fractured breast bone
Noticed Speed Swaying
Three passengers on the train, Norma NcCaffrey, Benoite Joly and Douglas Blair all of Ottawa said they noticed the train was travelling very fast and swaying from side to side seconds before it leaped from the rails into the dense swamp and bush
"The speed was such that I knew something was going to happen", Blalr said. "I first noticed the swaying about 20 second before the crash."
Blair said he had been travelling that stretch of the CPR line nearly every Sunday evening for two years.
"I dont think the train had ever gone at that speed in those two years", he testified. Misjudged Stops.
The three passengers also drew to the attention of the inquest that the train had gone slightly past the station platform when it arrived at both Messines and Blue Sea stations.
Miss McCaffrey said that at Messines the passengers had to leave the platform and walk across the grass to get to the coaches.
The train's conductor, D.H. McDiarmid, 117 O'Connor street, said the engineeer had apparently misjudged the stop at Blue Sea and had to back up to the water tank.
He said he had been "on lots of trains which have misjudged the water tank".
Realised Somethlng Wrong
Both conductor McDiarmid and baggageman G. Smallshaw said that a few seconds before the derailment they realized something was wrong amd had reached for the emergency cord to stop the train.
In both cases the crash came just as the trainmen grasped the cord.
Kirk Martineau, section foreman of the CPR line between Wakefield and Maniwakl, testified that he had checked the track the day before the fatality and had found it in "good condition".
He said he checked the line again shortly after the accident and found that the only section of track out of place was the piece under the over turned baggage car. He said the break was caused by the derailment.
Should Be Warning.
In its verdict the coroner's jury said it hoped that "the publicity of this verdict will serve as a special warning to drivers of every form of transportation to operate their conveyances at. the. proper speed to avoid accidents and thereby reduce the unfortunate loss of humsn life"



From the Ottawa Citizen 28 October 1953



"Unsafe rate of speed" blamed in fatal crash
A coroner's jury las! night blamed "an unsafe rate of speed" for a train wreck near Gracefield, Que. on Oct. 11 which took the lives of an engineer and fireman.
The inquest was into the death of Engineer Richard McNally, 57, of 173 Holland Avenue. Kenneth Learmonth, 37, of Smiths Falls, fireman, was the .other victim. The inquiry was held in the No. 1 Police Station.
The jury's verdict included a rider expressing the hope that the verdict would serve as a warning to other drivers to operate their vehicles at proper speeds to avoid accidents.
Text Of Verdict
The complete text of the jury's verdict follows:
"We find that Richard McNally died in the Ottawa General Hospital on October 12, 1953, at approximately 2.45 p.m. from chest injuries and extreme shock sustained as a result of scalds he received from escaping steam of a CPR passenger locomotive which left the track about two miles north of Gracefield, Quebec, on Sunday, October 11, 1953.
"From the evidence suhmitted it is the opinion of this jury that McNally, the engineer, approached a down-grade sharp curve at an unsafe rate of speed, which resulted in the derailment of the locomotive, baggage car, two passenger cars, causing fatal injuries to himself, his fireman, and serious injuries to a number of passengers.
"This jury hopes that the publicity of this verdict will serve as a special warning to drivers of every form of transportation to operate their conveyances at the proper speed to avoid accidents like this and thereby reduce the unfortunate loss of human life."
Several Injured
The derailment of the Maniwaki-Ottawa CPR passenger train resulted in painful injuries to several passengers, in addition to fatal injuries to the engineer and fireman. Both of the burned and injured CPR train employes died in General Hospital less than 24 hours afler the train wreck.
Coroner Dr. J. S. Cross presided at the inquest, which heard testimony from 10 witnesses, mostly CPR employes and train passengers.
Dr. Desmond Magner, local pathologist, testified that Mr. McNally died of shock from chest injuries and burns.
Dr. J. B. Ewing, surgeon, testified concerning treatment he gave the injured engineer.
Several passengers gave evidence of what they considered to be the train's unusually high speed just before the curve was reached.
Difference Of Opinion
There was some difference of opinion among train employes and passengers testifying on whether the train overshot two scheduled stops on the short run.
Douglas Blair, a passenger, told the hearing he had "a premonition" that something was going to happen and braced himself just before the train left the rails. He was unhurt.
Two train employes. Conductor D. II. McDiarmid and Trainman Gerald Smallshaw, testified that the unusual speed of the train prior to the accident made them decide to pull the emergency cord.
The conductor, however, said he did not have time to pu!l the cord before the accident happened and the trainman could not remember whether he pulled it or not.
None of the witnesses who had seen or spoken to the engineer before the derailment had noticed anythirjg unusual ahout his demeanor, they testified.
Haldane Howe, assistant crown attorney, questioned the witnesses.

From Bruce Chapman 17 November 2019

I dug out the train register book, and here's what went on.

Sunday, October 11th, 1953; G-1 light Pacific 2218 with conductor Don Gaw and engineer Doug McPherson left at 1938, called SAP at 1915 with the Ottawa West flimsy auxiliary.

Monday, October 12th, 1953, D-10 1059 with conductor Joe Hussey and Engineer Doug McElroy left at 0055 with the road repair car.

They got a track through during the night, and #538's engine 2927, the 4-4-4 F-2, engineer Bill Cherry, arrived at Ottawa West shop at 1125 with the Waltham passenger engine D-4 450 off #542 with engineer Stan Patterson.

That afternoon, #537's engine left Ottawa West for Ottawa Union at 1521 with the 2927 again and engineer W. Creighton.

Wednesday October 14th, 1953, D-10 1059 arrived at Ottawa West at 2055 as it needed coal and water.

Thursday October 15th, 1953, D-10 1025 with conductor Joe Hussey and engineer Sam Thompson ran light to Gracefield, leaving at 0510.

Same day, 2218 and 1025 doubleheaded arrived at Ottawa West at 1640 with the wrecked train and locomotive.

L B C