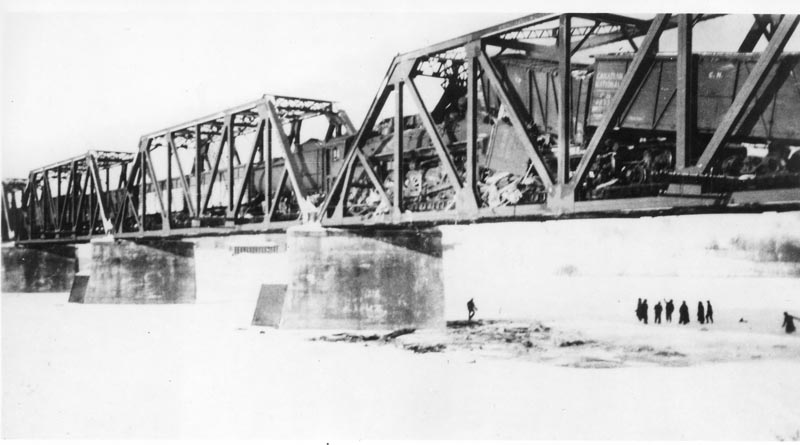 No. 6218 in a rear end collision with another freight train Extra 2609 East
This picture was taken from the east side of the river and the train is traveling towards Coteau.
The locomotive is Canadian National No. 6218, which later became well known as an excursion locomotive after the end of regular steam. There were no injuries or deaths in this accident which is a surprise as the caboose of the train that was rear-ended has been completely destroyed.
Note the two cattle cars right behind No. 6218.
Cattle cars were easily identified by the whitewash that was applied to the lower portion of the car – it hid the signs and smell of the cattle.
The cattle must have had a rough shunt!
The Ottawa Citizen December 22 1944.
No one hurt in C.N.R. collision near Casselman.
The caboose and two cars of a C.N.R. freight train were destroyed by fire about 2.18 p.m. yesterday after a second freight train had crashed into them. The accident occurred on a bridge located about a quarter of a mile west of Casselman, Ont. No one was injured in the collision. Casselman is located about 31 miles southwest of Ottawa. Traffic on the main C.N.R. line was disrupted due to the accident.
According to witnesses, the one freight train had stopped near the bridge. The second freight plowed into the rear three cars of it, badly wrecking them and setting them on fire. the engine of the second freight was said to be slightly damaged. Both trains were east bound.
None derailed.
None of the cars on either train was derailed. C.N.R. officials last night could give no immediate cause for the accident. They stated an immediate investigation would be made. Late last night men were still working to clear the main line. It was stated normal traffic would be resumed about midnight.
Ottawa Journal December 21 1944
Freight Cars Go Off Track Near Casselman
5 O'clock Edition Service.
Two cars of an eastbound C.N, R. freight train went off the track near Casselman, 31 miles east of Ottawa, about 2.30 this afternoon, blocking traffic on the line. Railway officials said no member of the train crew was injured, but one of the cars had caught fire. It was not expected the traffic delay would be serious.
Glengarry News December 22 1944
Freights In Collision At Casselman
Traffic on the Montreal-Ottawa Division of the CNR was disrupted yesterday, when two freight rtains were in a rear end collision at Casselman. It is reported no members of the train crew were injured though members of a work gang riding in the caboose of the first train had to jump to safety.
Carl Riff has provided a copy of the statement from engineer Findley of No. 6218.
This gives a good account of winter railroading at a time when there were no roller bearing axleboxes, before Walkley yard and before the installation of Centralized Traffic Control (CTC):
"Our train was ordered at Ottawa for 12:45 P.M. I reported for duty at 12noon. Engine was off the shop track on time. Engine was moved to Bank St. for train, and we left the yard at 1:23 P.M. and passed the outer switch, located just east of Bank St. yard office at 1:50 P.M. Account train being frozen up we were assisted out of yard by yard engine as far as Main St. At Bank St. I received a terminal clearance and running order, and at Riverside a terminal clearance along with a form "W". The order at Riverside was delivered on a hoop and our train passed Riverside No additional train orders were delivered, we proceeded at a speed of about 25 M.P.H. – the train having been frozen up in the yard, was pulling hard. I had planned going to Alexandria for water, and when about one mile west of Casselman and running at a speed of 37 or 38 M.P.H. I made a service application of the brakes in order to bring the train under control rounding the curve, and to permit a good view of the train order signal. There is a down grade towards the bridge. Immediately I made the service application of the brake I heard the sound of two torpedoes exploding and saw Flagman about 3 poles east of where the torpedoes exploded. The Flagman had a red flag and was giving me a stop signal. The flagman was located 7 poles west of the bridge and standing on a farm crossing. Immediately the torpedoes exploded and I saw the Flagman, I threw my brake valve into emergency and train slowed down to a point where I thought my train would stop before reaching caboose, which I saw when my engine was about west end of the bridge. My train was not moving more than 5 M.P.H. at time of impact, but it seemed to me the weight of the train kept shoving ahead." about 1:40 P.M.