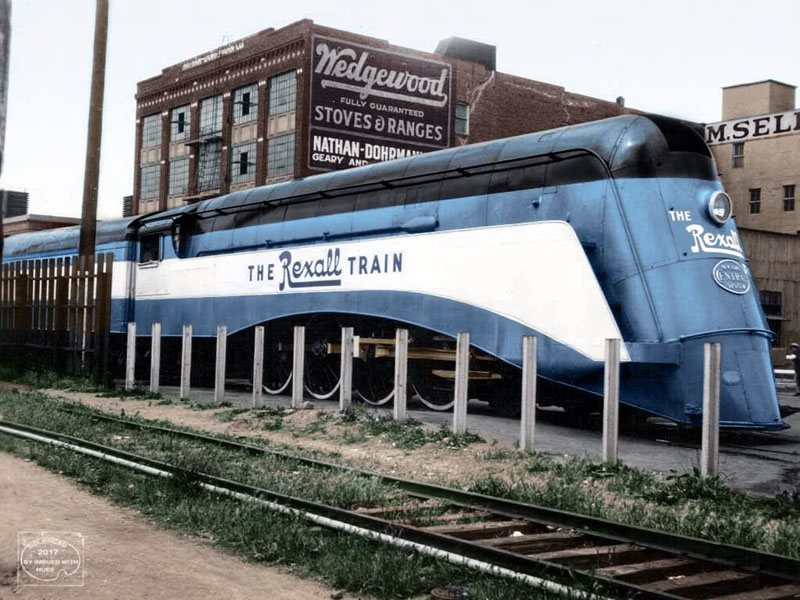 Colour photography was not available in 1936 but this colorized picture, provided by Doug Wilson, gives an indication of how it mioght have looked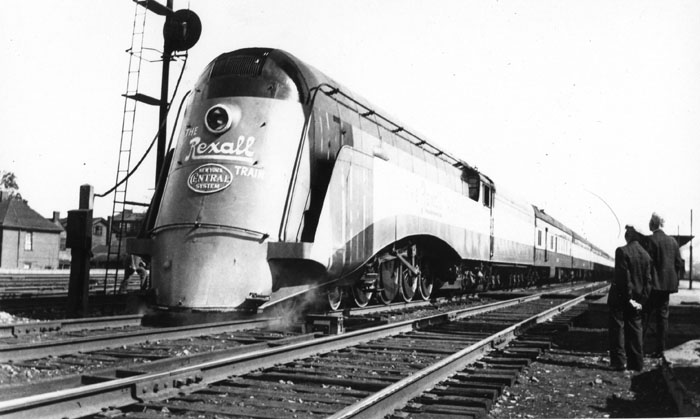 This picture of the Rexall train at Green Bay WI was taken on 3 July 1936 Matt-2276


Kingston Whig Standard 26 July 1936

ITS COMING TO TOWN FOLKS
Did You Ever See A 12-Car Streamlined Train?
Just Imagine a train stretching all the way from Earl to West St. That's a big passenger train in itself but when it contains all the newest streamlined features and besides you will be privileged to go through it - then we are sure it is going to be a real thrill and treat to everyone in Kingston and district. The MILLION DOLLAR REXALL CONVENTION TRAIN will be in Kingston Monday August 17th. It will only stop four places in Canada and Kingston is privileged to be one of them. No - we are not going to let you know any more of the secret right now but watch this paper next week for further details about how you can get a pass to view this beautiful streamlined train.
When In Need of Drugs "QUICKLY" - Phone

Kingston Whig Standard 1 August 1936

This Giant On Wheels Comes To Town
(poor picture of front of locomotive)
No wonder the circus lot is always so far from the edge of the city. It is so difficult to find a place to put up the big tent. But here is the MILLION DOLLAR STREAMLINED REXALL CONVENTION TRAIN, 1080 feet long and with a locomotive weighing 350 ton, and 12 cars long - far bigger than the biggest circus you ever saw and it will be parked right in the heart of our city - on the CANADIAN NATIONAL RAILWAYS Siding on ONTARIO ST,. between Earl and West.
We invite you one and all to come and visit this train on its visit to Kingston Monday August 17th. Obtain your tickets FREE by asking at our stores. Join in the big TWENTY-FIVE DOLLAR GUESSING CONTEST. Prizes will be awarded to those who can guess the nearest number of persons passing through the train on this day. Nothing to buy nothing to sell. Obtain your guessing blanks, figure it all out and deposit in a box in our stores. You may be one of the lucky winners.
When In Need of Drugs "QUICKLY" Phone

Kingston Whig Standard 11 August 1936

500 DRUGGISTS WILL MEET HERE FOR CONVENTION
Will Gather on Streamlined Train - Public Is Also Invited

About 500 druggists of the Rexall chain in the district from Cobourg to Cornwall and north to Ottawa will gather in Kingston on Monday next to hold a convention on the 12-car Rexall streamlined convention train which will be in the city that day.
This train which has already covered the first half of a 29,000 mile journey, will make only four stops in Canada: London, Toronto, Kingston and Montreal. Charles Peacock of Jury and Peacock is primarily responsible for the train stopping in Kingston and he is doing his utmost to make the convention in this city a big success.
The Rexall Train is travelling solely on a goodwill mission, its objective thus serving a two-fold purpose. The United Drug Co., through this magnificently equipped train is bringing its conventions to the agents instead of asking the agents to travel to its conventions. Also during the convention layovers the beautifully designed and appointed exhibition cars are opened and the public is invited to inspect their attractive displays. No attempt is made to sell merchandise, the United Drug Co., in fact, particularly emphasizing the absence on board of anything resembling a sales order.
Vying with the exhibition cars in the public's interest is the powerful automotive giant which hauls ths 12-car Rexall Train throughout its journey. Streamlined according to the latest researches of aero-dynamic science this 350-ton engine attracts wide-spread attention wherever it goes. It is an oil-burning steam type locomotive specially built by the New York Central Railroad to cover the 29,000 mile journey without relief locomotives, an unprecedented idea in railroading history especially since it must travel on 52 different railroads in all sections of the country to complete its demanding task.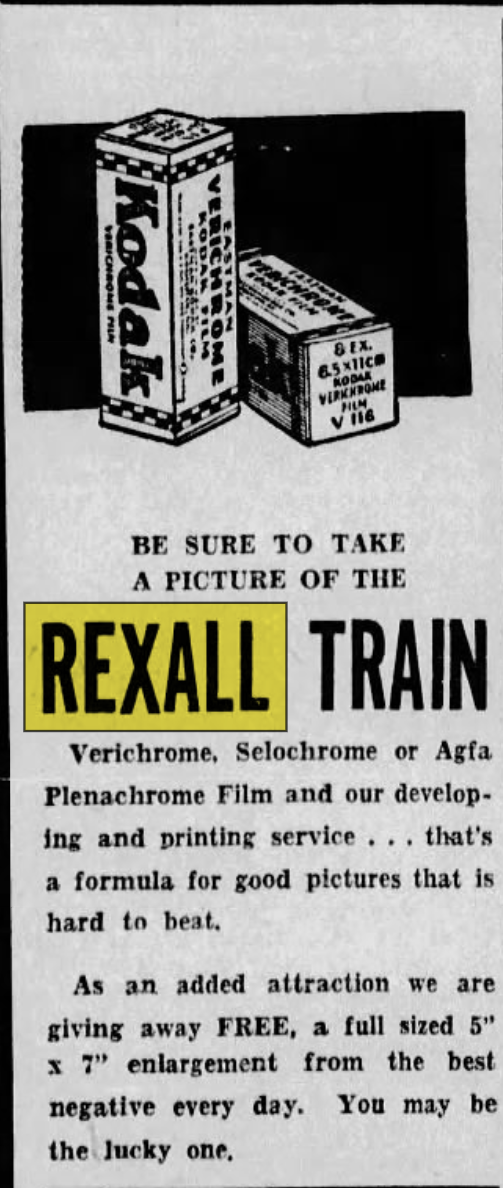 Kingston Whig Standard 12 August 1936


Kingston Whig Standard 14 August 1936

Pygmy Laboratory Is Only One Feature On the Rexall Train
Louis K Liggett President of United Drug Co to Be Here

The world's first convention train and first streamlined train ever to stop at Kingston will be in this city Monday Aug 17 all day and will be parked on the siding on Ontario Street near the Locomotive Company plant.
The train is known as the Rexall Train and is sponsored by the United Drug Company The company conceived the idea of sending a big convention train all over the continent which could accommodate regional conventions of Rexall druggists rather than have the druggists gather at some one city The convention part of the scheme was a success and so also was another feature which the United Drug Company had not counted on - the interest of the general public all over the continent in the streamlined train and the exhibits carried on board. It was decided in view of this interest to allow the public to inspect the train and the local Rexall drug stores have been giving out free tickets to visit the train for sevaral days now and more are still available at Jury and Peacock's Mahood Drug Store and all other Rexall stores in the district. A guessing contest on the number of people who will actually visit the train while here and be counted by the magic eye is likewise being sponsored locally.


Druggists Coming


Rexall druggists from Coburg to Cornwall with their wivs and families will be preeent to hear the lectures and take part in the regional convention on board the train.
The streamlined engine pulling thia train is capable of 100 miles an hour speed but needless to say does not travel at any such rate on its trip with the Rexall train. The engine is of the oil burning steam type and it is 97 feet long 15 feet high and weighs 697,000 pounds.


Doll House Laboratory


A myriad of dainty test tubes the size of a pin and indlviduals no taller than a match, will be found in the pygmy model of the United Drug Company's chemical laboratory which is included in four cars of exhibits carried by the million-dollar Rexall Convention Train.
The model la practically a doll house reproduction of the company's $500,000 Boston research laboratory in action. The cutaway reproduction reveals 3,000 glass test tubes, flagons and funnels; 56 tiny figures of laboratory executives, chemists and office workers and 443 pieces of office furniture including typewriters, refrigerators, ovens, telephones, Venetian binds and even cuspidores.



Kingston Whig Standard Monday 17 August 1936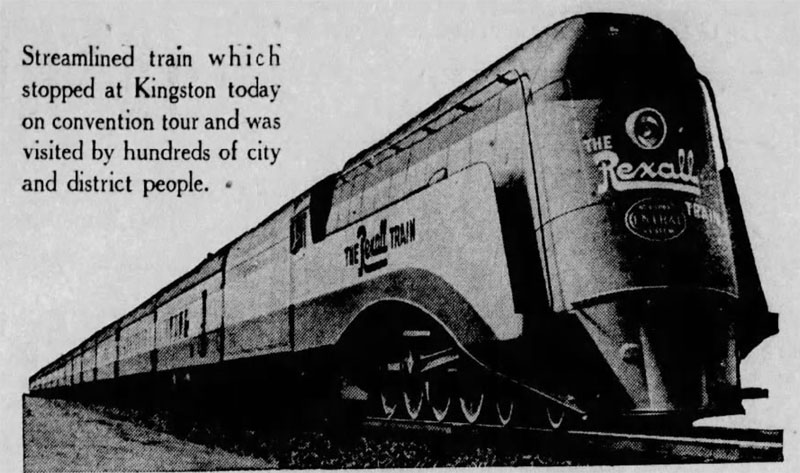 CROWDS THRONG STREAMLINED REXALL TRAIN
Kingston Chosen as Stopping Place Because of Good Record
Crowds of Kingston and District people began to throng to the Rexall streamlined train, which is parked on the Ontario Street siding here today, shortly after ten o'clock this morning and the numbers increased with each succeeding hour. The response by the general public in Canada has been greater even than that received in the United States and the one-day attendance and the four-day attendance records were both broken during the stop in Toronto. The electric eye counted 18,600 people on the train in Toronto yesterday and a total of over 63,000 for the visit.
The train is composed of a stream-lined engine and twelve cars. There are four display cars open to the general public; one power car, which supplies the electricity and air-conditioning for the train; buffet dining car; lounge car, Pullman sleeper and Pullman compartment car; two convention cars, and, Lewis K. Liggett's private car. The locomotive weighs 350 tons and is from the New York Central Railway. The entire train is royal blue with a white stripe starting at the locomotive and continuing on every car.
Mr. Liggett, one of the most widely known businessmen on this continent, is in Kingston with the train in addition to a number of the chief executives of the United Drug Company. He is said to hold more presidences than any other man in the United States.


Drugists Convention


Rexall drugists from all over eastern Ontario gathered at the train today for a convention and were addressed by many prominent United Drug Company executives including John R. Kennedy, President of the United Drug Company; John M. Considine, assistant general sales manager; Bruce D. Ross of Toronto, vice president and secretary; Prof. George A. Evans, chairman of the board and chief chemist, Toronto; and at 4.45 p.m.. by Louis K Liggett. The convention started at 10 a.m. and continued throughout the morning and afternoon, a buffet lunch being served on the train to the delegates. A buffet supper will also be served.
Why Kingston Picked
Asked why Kingston had been selected as one of only four cities in Canada where the Rexall train stopped, an executive of the company said: "we picked Kingston because it is a good Rexall town and a good general town. The train is an expensive proposition and we want to stop places where we feel we will get the best public response to our advertising efforts. Kingston has a good record with our company as being the shopping center for a wide area and for that reason we thought that your paper would be able to draw a good crowd for us. You have certainly succeeded. You people in Kingston have a lot of advantages of location as the center of a splendid territory."
The train is visiting London, Toronto, Kingston and Montreal.
The Civic reception to the Rexall train, Lewis K. Liggett and his staff took place at one o'clock before the assembled convention. Mayor George Hanson expressed on behalf of the citizens a hearty welcome to Kingston and presented Mr. Liggett with the key to the city. Chief of Police R. J. Robinson added words of welcome and made Mr. Liggett an honary sergeant of police, presenting him with the gold badge of office. T. A. Kidd, M.L.A., was the next speaker and he in turn conveyed greetings and a welcome to the delegates and train officials. Mr. Liggett responded to these various speeches and expressed his appreciation of the welcome and the gifts that had been given to him.



Kingston Whig Standard Tuesday 18 August 1936



A large concourse of people gathered at the C.N.R. depot and railway yards on Sunday night to view the passing through of the million dollar Rexall train. The majority of parked cars had their lights on while the train was passing through Napanee and the citizens had a fine view of train which slowed down to about five miles an hour.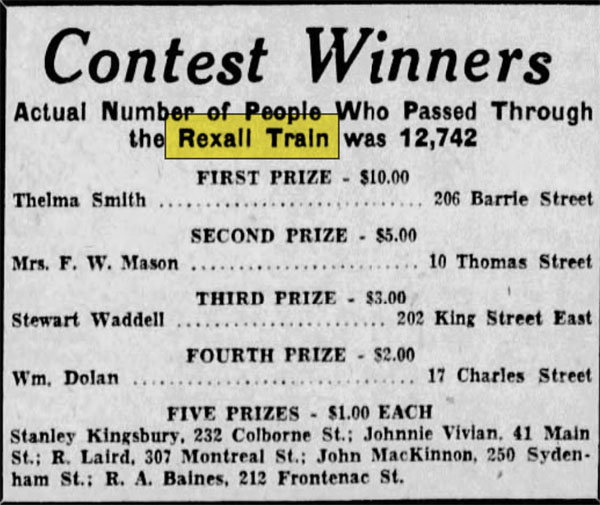 Kingston Whig Standard 19 August 1936