Bruce Chapman wrote:

"Talking about Glen Tay; while I was dispatching in Smiths Falls back in the last century, several guys brought up the subject at this time of a wreck at Glen Tay back in steam days. Apparently a westbound passenger train was sitting at the station at the end of double track from Smiths Falls waiting for an eastbound passenger train, and the eastbound ran through the interlocking on a red while the switches were still lined for the westbound and hit him head-on."

These pictures were obtained by Bill Sanderson.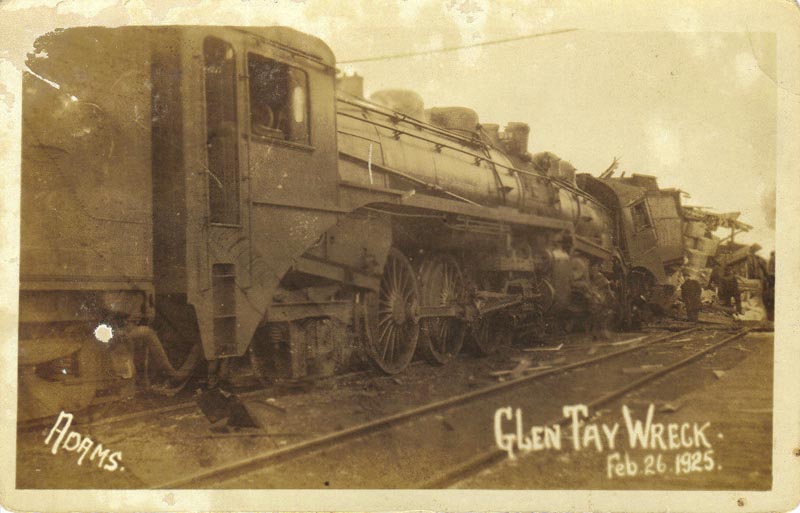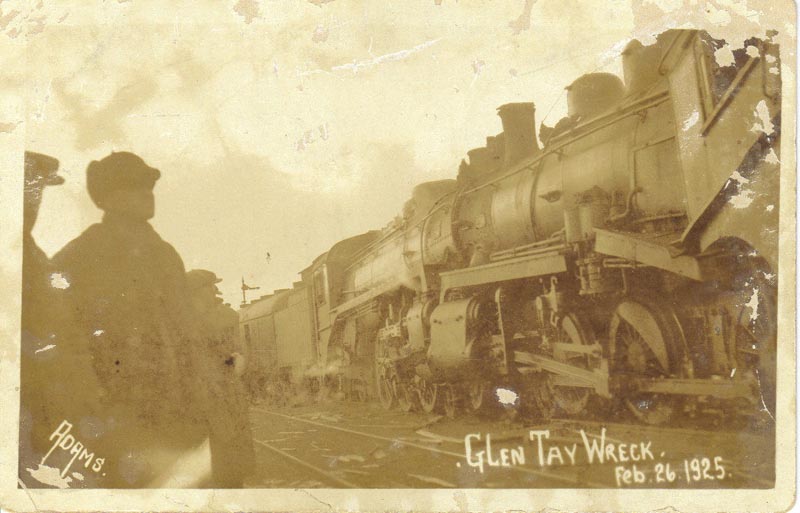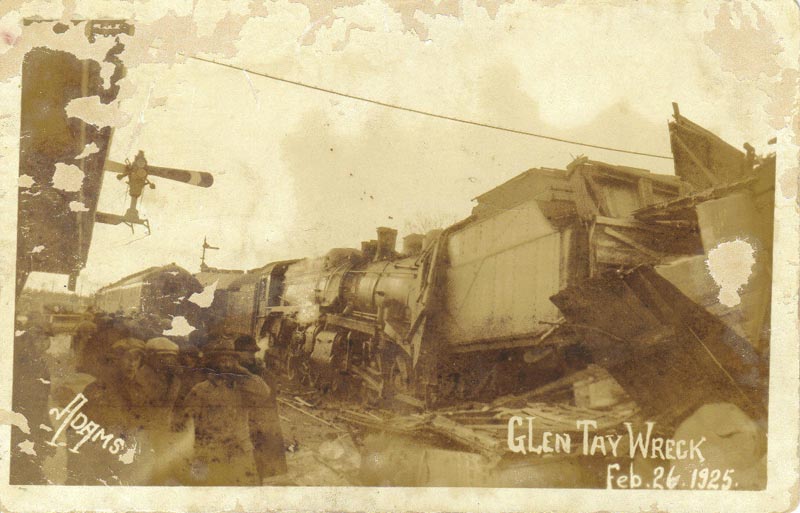 From the Toronto Star
Sixteen are injured in head-on collision
One man thought seriously hurt - others receive but bruises
Perth Ont. Feb 26 Sixteen people were slightly injured, one seriously, when a C.P.R train crashed head-on into a waiting freight train at Glen Bay (sic) three miles from here this afternoon. Albert Labelle of Montreal, who is not expected to recover, is in hospital there.
An open switch threw the passenger train into a siding where the freight was standing at the station at Glen Bay (sic). The engine crew, Walter Norris and A. Bourne, Toronto leaped to safety when they saw the crash coming and escaped with bruises. Norris is the most seriously injured of the two and is in hospital here.
One of the Tornoto people who were slightly bruised was Mrs. J.W. Hobday of the Bernardo Homes, 538 Jarvis street, Toronto. The passengers included the Ottawa professional hockey team and a number of the players received bruises. They are Frank Ahearn, manager; G. Boucher, E. Campbell, P. Green, Alex Smith and Alex Connell. Others who received minor injuries were: W.O. Sobel, Philadelphia; W.O.L. Hazel, Montreal; Mrs B.G. Cullen, Florence, Italy; Mrs. T.G. Potter, Montreal; Sister St. Stephen, Montreal; S.S. Etienne, Montreal; Miss H. Page, Ottawa and Miss A. Dodds, Hamilton.
The train was the fast Canadian Pacific passenger No. 20 ("The Canadian") bound from Chicago to Montreal. It is due in Montreal about seven o'clock to-night.