Details of Railway Accidents in the Ottawa Area

1912, October 19 - Collision at Sharbot Lake, CPR., Havelock sub., one fatality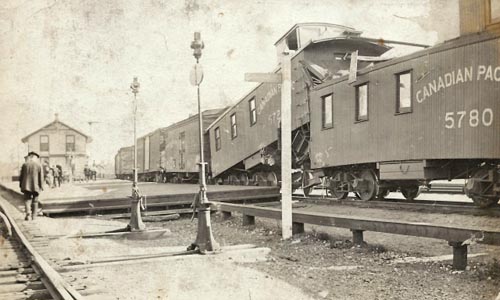 Montreal Gazette 21 October 1912



Conductor killed.
Kingston on. October 19th. Conductor William green of Havelock met death near Sharbot Lake at an early hour this morning when a Canadian Pacific Railway freight of which he was in charge was jammed by another train. Green was standing on the rear platform, his train being stalled, when the train behind crashed into him.

Identical wording in the Citizen of 21 October



Ottawa Journal 22 October 1912



Jury say death was accidental
Results of inquest into death of CPR conductor Green at Sharbot Lake, last week
Special to The Journal
Kingston October 22. The coroner's jury summoned at Sharbot Lake to inquire into the cause of the death of William Green, Havelock, the conductor killed on a freight train on Saturday, returned a verdict of accidental death. The Canadian Pacific Railway is conducting an investigation of his own.

Return to Main Page of Railway Accidents
Updated 8 April 2020