Details of Railway Accidents in the Ottawa Area

1906, December 7 - Grand Trunk freight cuts through a Kingston and Pembroke mixed at Renfrew Junction.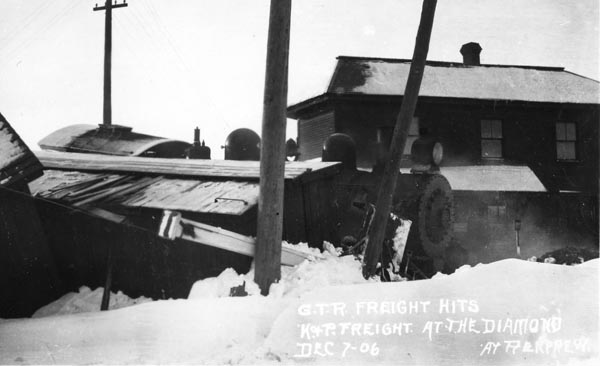 Matt-1406

| | |
| --- | --- |
| Matt-1407 | Matt-1408 |
| Matt-1409 | Matt-1410 |



From The Ottawa Journal 10 December 1906





A Collision At Renfrew




Two Freight Trains ComeTogether.




Little Damage Was Done However.




There was a collision at Renfrew Saturday evening between two freight trains one belonging to the CanadianPacific Railway and rhe other to the Grand Trunk. No one was hurt and the only damage consisted in the smashing of two of the C.P.R. freight cars and the derailing of the G.T.R. engine. The smashup delayed traffic on the G.T.R. line for some hours. The C.P.R. freight was on the diamond at Renfrew and the G.T.R. train was going east. Previous to the collision the C.P.R. train was divided but when the smash came was all coupled together. The cars struck by the engine were loaded with cement.



From Renfrew Mercury 14 December 1906

--a G.T.R. freight train cutting through the K. & P.R. mixed at the Junction. The evening G.T.R. express had gone past the Junction. The K. & P.R. mixed thereupon started to cross the diamond. And the G.T.R. freight, which had closely followed the express, dashed into it. The condition of the atmosphere had obscured the mixed from the GTR engineer's view: and the swinging of the K. & P.R. beakeman's lantern (meant for the K. & P.R. engineer) the G.T.R. engineer mistook for his signal to go ahead. He did go ahead, and his engine cut a K. & P.R. car clean in two; and knocked down a little house by the side of the track. The G.T.R. engine was ditched and the tender thrown across the track. This was Friday night and , as the wrecking train was away up the line, it was Sunday afternoon before the line was clear for traffic.



Eganville Leader 14 December 1906



GTR WRECKS:-The Leader laments that 'the daily wreck' is now common on the GTR. Where, under J. R. Booth's direction, trains were so regular that you could set your watch by them, now delay and wrecks were common. It was thought that these conditions are the result of labour difficulties. What the GTR pays for section men is much less than what the lumbermen regularly get. The job is lonely and living expenses are high, so that men sent up the line quickly drift away. So there becomes a condition in which the track goes bad, and the way paved for expensive accidents. Possibly if the GTR management knew of the reason, it might be remedied, but with these big corporations there grows up such a system of red tape that it will probably be next mid-summer before it filters to the proper officer what needs to be done.



Return to Main Page of Railway Accidents
Updated 3 February 2020