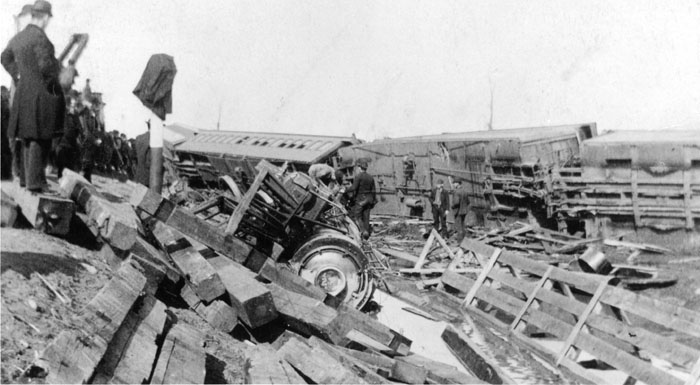 National Archives PA 210194

From the Ottawa Journal, 31 March, 1892:
A smash up in which one man was killed and another fatally injured, and many were badly shaken, occurred on the Canadian Pacific Railway near Hull station yesterday afternoon.
The "Soo" train from Montreal, due in Ottawa at half past three, ran through an open switch, wrecking the engine and tender, baggage express, and two colonist cars and killing the fireman Johnson Gloden of Montreal.
The train, being a through train, passed through Hull station without stopping, running at about 25 miles an hour. About two hundred yards south of the station is a switch. At that point begins an embankment that runs to a height of some 20 feet. The switch was open, and the train dashing along left the rails and thundered down the embankment. The engine tore over the earth and snow for some two hundred feet and them dug deep into the mucky soil.
Both driver and fireman stood to their posts. The baggage car, rising up, broke its fastenings to the tender and over turning the engine and tender, was carried through the air and dropped to the ground some fifty feet further on from which place it ploughed through the ground some fifty feet further, the express and postal car following.