Recently, while doing a bit of photo captioning for fellow BRS member John Frayne in one of his well kept albums of railway photographs, I was reminded of a significant and historic event in local railway history while examining a half dozen black and white SxlOs I had taken back in 1959. Many Ottawa-area BRS members know that Canadian Pacific's last regularly scheduled steam powered train out of Ottawa Union Station operated on September 27 and 28, 1959, and these were the photographs John had asked me to caption. The train was the Waltham, Quebec, mixed train No. 543-542, powered by D4 class 4-6-0 No. 425. While this was C.P.'s last regularly scheduled steam powered train to operate here there were occasions after that date when C.P. steam locomotives either operated out of, or into, Ottawa West.
One of our U.S. members, Dr. Tom Garrett of Brooklyn, New York, a former Ottawa resident, recently wrote me to ask if I could provide him with detailed information on the track layout around the Hurdman interlocking plant, both C.P. and C.N., during the steam era. Now, this is not my area of expertise so I requested the help of an expert, the one and only Bruce Chapman. I say "one and only" because Bruce has to be one of the most obliging people I've ever met and if he can help, he will. Bruce is also an expert on the railways around Ottawa from his earliest days as a young railway enthusiast and subsequent C.P. Operator. Although currently working in Toronto for the St. Lawrence & Hudson Railway, ensuring that appropriate motive power is provided across the StL&H system, he has not forgotten his roots, is as enthusiastic as ever, and my guess is that he's even thinking about retirement. In any event, my request to Bruce for help was answered immediately with track layout drawings and photographs as well as two Ottawa West locomotive despatch log books for December 1959 and the first few months of 1960. So Bruce was not only solving one of my problems, he was providing me with some additional information which has prompted me to write this Tid Bit. Just what C.P. steam power did operate after that historic September 27-28, 1959, trip of the 425 on the Waltham branch?
As it turns out, quite a bit. Unfortunately, not a single Royal Hudson put in an appearance, (what was left of them were running out their last miles in C.P.'s Montreal suburban service). C.P.'s ubiquitous D10 4-6-0s were conspicuous by their absence, as were any more operations by the D4s. One of the G5, 1200 series 4-6-2's, #1262, sat near the Ottawa West roundhouse in late-1959 awaiting her last run, dead, to eternity in Montreal. That day came on December 7, 1959, when the 1262 left on North Shore through freight No. 74, hauled by RS-3 diesel-electric 8426, in charge of Montreal engineer Leo. Viau and fireman H. Beaudry. On December 28, 1959, however, surprise-surprise, the 1262 was back in Ottawa, alive and well, you might say she'd been resurrected, she'd been given a short reprieve from her ultimate fate, - scrapping. She came back on the same North Shore through freight only this time she was providing the motive power with the same engine crew of Viau and Beaudry.
O.K., let's jump ahead to February 19, 1960, and North Shore train No. 74, you get only one guess and you're right, the 1262 was, once again, providing the motive power and, once again, the engine crew was Viau and Beaudry. Even at this late date the 1262 was to have one last "kick at the can" at Ottawa West. Three days later, on February 22,1960, she left Ottawa West, for the last time, as the engine assigned to M&O sub. through freight No. 76 for Montreal. She did not return. Her crew on her last trip down the M&O was a couple of old friends of mine, engineer Stuart "Buck" Gilchrist and fireman Stan. Belland. Not only was this the 1262's last trip out of Ottawa but it was the last steam powered train on C.P. out of Ottawa, closing out a history that began on Christmas Day in 1854, the inaugural trip of the Bytown and Prescott Railway.
This particular G5 brings back memories for me for I had lots of trips up and down the Lachute sub. (the North Shore) with the 1262 on the daily passenger trains where she was one of the regularly assigned engines. The 1200s were ideally suited to those jobs with the requirement to make many quick stops and starts, and the 1200's ability to accelerate briskly and make smooth stops with their 8 ET brake equipment. Not yet 15 years old, still in excellent mechanical shape, the 1262 and her sisters, which were fine engines in my opinion, were going to be cut up for scrappers dollars! Sort of makes you wonder, doesn't it? But times were a'changin'.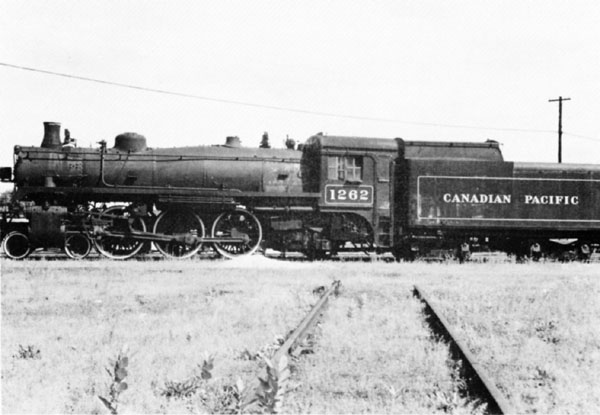 Class G5c Pacific 1262 was built by the Canadian Locomotive Company of Kingston, Ontario, in November 1946, based on a very much modernized design of CPR light Pacifies that went back to 1906. Seen here at Ottawa West, the 1262 has less than two years left before her date with the scrapper in June 1961. What a shame these most modern of North American light Pacifies had such a short life span. Photo by John Frayne.
We're getting a little bit ahead of our story, however. On December 4th, 1959, PI class 2-8-2 5152, which had been working out of Ottawa West for some time, left, dead, on train No. 74 behind Alco diesel-electric "FA-1" unit 4002 in charge of, who else, Viau and Beaudry again for her date with destiny in Montreal. One little Tid Bit I remember about Leo. Viau was that he could put a steel soft drink bottle cap between his thumb and index finger and press it in half with no great effort. Try that one sometime! The following day G5 1267, another Ottawa West "resident", was ordered for 7:00 PM to handle a freight extra over to Smiths Falls, via the Carleton Place and Chalk River subs., with Charlie Weston as engineer and G. Gervais as fireman.
On December 6, G5 1226 left Ottawa West for Smiths Falls on freight train No. 89. Only a few years earlier this job would have got, quite frequently, a light 5100 series, or heavy 5300-5400 series, 2-8-2. On this occasion engineer Frank Dixon and fireman Aurel Couvrette got the nod.
It was December llth before another steam engine operated at Ottawa West and, you might know, it was on North Shore train No. 74. This time it was PI 5168, a stranger to this area, in charge of our old friends Viau and Beaudry. Three days later, on December 14, Viau and Beaudry left Ottawa West with PI 5102 on train 74 with dead D10 899 in tow for her date with a scrapper in Montreal. Right about now Viau and Beaudry must have been getting a complex!
By this time just about all the jobs out of Ottawa West were diesel powered, however, Lachute sub. train No. 74 seemed to be the exception. Not only was it still frequently steam powered, but it seemed to be moving most of the dead steam engines to Montreal. On December 16, 1959, once again train 74 left Ottawa West with the 5102 on the head end. Engineer Viau must have booked off, for the engineer was a Montreal-based man by the name of Robillard. I can't remember him for some reason, but fireman Beaudry was still on the job.
December 17, 1959, was a good day for G5 1227. She went out in the morning on the Frescott wayfreight, No. 94, with George Frankland as engineer and my old buddy, Keith Post, as fireman. Keith and I had served as principal witnesses for the Brotherhood of Locomotive Firemen & Enginemen during the court case over the use of firemen on diesel-electric locomotives. Keith, leaving C.P. several years after I did, ultimately became the Director General of Operations for the Canadian Transport Commission, but that's another story. Later in the day the 1227 went out again on train 293, the Maniwaki passenger, which had been ordered for 6:45 PM. This time the crew was a Montreal engineer named R. Belanger, whom I don't remember, while the fireman was Elwood Sloan's kid brother. There wasn't much rest for the 1227 the following morning for she no sooner got in from Maniwaki than she went right back again on 293 with Belanger and Bob Tate as fireman. Bob was much later to become the road foreman of engines on the Smiths Falls Division. He and I got together in 1990 on the very successful BRS 1201 excursion from Ottawa to Brockville with yours truly acting as the Society's road foreman and master mechanic. It was great fun!
December 21st, 1959, saw two 1200s out on the road. The 1271 went east on the North Shore with train No. 74. Once again the engine crew was Leo. Viau and H. Beaudry. The 1226 went out on the Maniwaki passenger, train 293, with Belanger and Tate on the engine.
Two days before Christmas, Viau and Beaudry on train No. 74, got the 1264 for power, while Belanger and Tate went back to Maniwaki on the 1227 as train No. 293. A major event, in my humble opinion, took place the following afternoon, Christmas Eve. The last run out of Ottawa of one of C.P.'s justly famous Hudsons took place. Hlb Hudson 2816 left for Montreal with M&O sub. passenger train No. 234. The engineer was a very senior Harvey King, who lived near Thurso, Quebec, and the fireman, an equally senior Chester Shellhorn, who, in the 1970s, frequently ran the National Museum of Science and Technology/ National Capital Commission/BRS excursion trains out of Ottawa with ex-C.P. D10 1057 and our ever popular 1201.
Of even greater interest, I think, is that Harvey King was the engineer on the very first trip of the westbound "Canadian" on April 24, 1955, between Ottawa (CD) and Chalk River (RV). Eugene Piehe was the fireman on that trip. Not too many years later Eugene retired as an engineer on the "Canadian" after running the job from Chalk River to Ottawa Union Station (CD). And if this isn't enough, the 2816 didn't get torched, she ended up in the collection at Steamtown, U.S.A., formerly at Bellows Falls, Vermont, and now at Scranton, Pennsylvania.
December 28, 1959, saw the 1227 once again on the Maniwaki passenger. This time engineer Belanger had our old friend Bert. Canning as his fireman. Many BRS members will remember Bert, running 1201 fairly frequently and later still, running the Hull, Chelsea and Wakefield's Swedish built 2-8-0 909 out of Hull, Quebec, as well as their equally Swedish, G.M. powered diesel-electric "helper".
CPR Hudson (4-6-4), class H1b, No. 2818 is the identical sister to the 2816 mentioned in the article. The 2818 was photographed by the late Hugh Stowell in the 1950s on the shop track at Smiths Falls, Ontario. Any superlatives I might add to what many experts before me have written about these fine locomotives are not required. The 2816 (and the 2818) were built by the Montreal Locomotive Works in December 1930 to specifications laid down by CPR's motive power design team headed by Chief of Motive Power & Rolling Stock, Henry Blaine Bowen. Could it be that the Hudsons, Royal and not-so-Royal, alike (as well as their equally splendid T1 Selkirk 2-10-4s) were Canada's finest examples of steam motive power?
At 11:00 AM on December 29, a plow was sent out to clear the Prescott sub. The power was G5 Pacific 1226, with my very good friend Eugene Piche as engineer and Smiths Falls fireman Gerry Mahoney doing the honours. Later on the same day, at 9:45 PM, a second plow was ordered out on the Prescott sub. to work down as far as Bedell. The tireless, and amiable, Eugene Piche went out again, this time with Alan Patterson. Al. and I used to fire the spare list together. His father, Stan., as well as brothers Bill and Charlie were all company engineers, and either one of us worked with Stan. and his brothers. Train 293 went back to Maniwaki on December 29 with the 1227 once again, but with Ken. Cope running and a fireman named Hall, whom I did not know.
The last day of 1959 saw the 1226 and the 1227 running. The 1226, with engineer Lome Black (the last engineer I fired for when I left C.P.), and fireman Keith Post, went out to Prescott on the wayfreight, train No. 94. The 1227 went back to Maniwaki on the evening passenger job with Gordie "Toe-Joe" Alien as engineer and Charlie Smith as fireman. Charlie Smith left the Ottawa area shortly after and started all over again with C.P. out of Revelstoke, B.C. Charlie was often seen as an engineer on the "Rogers Pusher" by many eastern rail fans whom Charlie used to ask if they knew Duncan du Fresne in Ottawa, his home town. Charlie and I are now old friends and I last visited with him in Revelstoke during 1994. I was one who encouraged Charlie to get on the fireman's spare list in the early '50s while he was a shop labourer.
There were no steam operations on New Year's Day 1960, but the following day saw the 1227 go back to Maniwaki on the evening passenger, train 293, with spare engineer "Kip" Casselman and fireman Gerry Mahoney. The 1227 came back to Ottawa on January 3, 1960, for the last time, and ended C.P. steam operations on the branch.
Also, on January 3, 1960, a rather strange combination of power was despatched from Ottawa West to Smiths Falls on train 89, the midnight "paper" train. The 1227 was the road engine with two diesel units, RS-18 8765 and RS-10 8469, however, the diesel units had no crew on board and were left in idle. The crew on the 1227 was engineer Frank Dixon and fireman Elwood Sloan.
The following day saw another milestone event. G3 heavy Pacific 2398 came to town to be sent out on train No. 83, the early evening freight to Smiths Falls, ordered for 8:30 PM. She stood outside the roundhouse on one of the "garden" tracks during the day which was, fortunately, nice and bright with a white snow cover over the filthy ground. Tom Hughes, the Locomotive Foreman, 'phoned my friend Hugh Stowell, one of the founders of the old Ottawa Branch of the Canadian Railroad Historical Association, to let him know the engine was there. Hughie rushed over with his camera and took a fine photograph of the 2398 dressed in C.P.'s tuscan red, grey, black and gold trim livery, she looked beautiful. As I look at that photograph now I must say that I, somewhat reluctantly, have to admire C.P. for keeping their better power looking like that right till the bitter end. Having worked with the 2398 years earlier all I can say is that she, and her sister G3s, were fine steam locomotives. Carmen Gillespie and Bill Nevins got the honour of taking the 2398 over to Smiths Falls that evening, the last of those beautiful engines ever to leave Ottawa West.
January 6, 1960. G5 Pacific 1270 went out on the North Shore to Montreal with train No. 74 with, once again, Viau and Beaudry. The following day another unusual power combination took place on train No. 89. G5 1226 doubleheaded with diesel units 8474 and 8568. This time there was a crew on the diesels, Eugene Piche was the engineer with Charlie Lacasse as fireman. The 1226 was run by Smiths Falls engineer Joe. Graham with Gerry Mahoney doing the firing.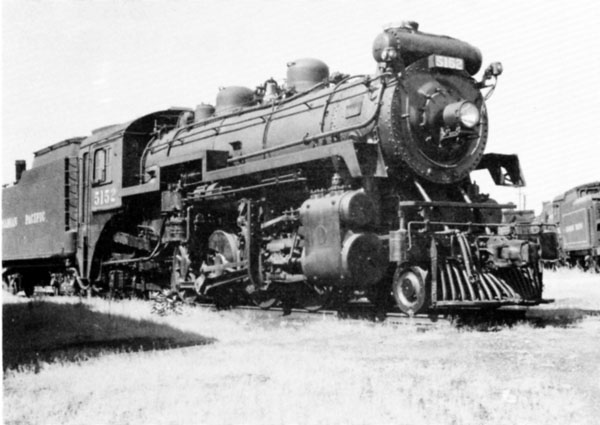 P1 e Mikado 5152 began life looking very much different than we see here at Ottawa West at the end of a long and productive life. Built by Montreal Locomotive Works in 1913 as No. 5052, she was a very much modified 2-8-2 by the end of her life. Never placed before the public in a heros role, these work-a-day engines nonetheless performed admirably for CPR and were considered by those of use who earned our living on them to be "good" engines. Photo by John Frayne.
There were no further steam operations until January 18, 1960, when the 1270 went out on North Shore train No. 74 with Viau and Beaudry. They were ordered for 5:30 AM. They did it again on January 20 and 22, both times with the 1264. Then Viau and Beaudry got diesels on that job until February 19, 1960, when their luck ran out, depending on your point of view, and they got our old friend the 1262 on the job as mentioned earlier.
This is the end of the story. It was also the end of steam locomotives on C.P. at Ottawa West, and pretty much the end of steam on the railways of Canada. It was also the end of a way of life, a way of railroading, getting on to the end of the branchline, the end of passenger trains as we knew them for over a century, and definitely the end of a lot of jobs both out on the railway and in the shops. A whole new era was dawning.
Just to put some of the above in perspective let me give you a sampling of some of the diesel units that were running during that last month of 1959 and the first two months of 1960. I feel this is important as so many of those diesels have now been retired and replaced with newer, more powerful, and more efficient units to run on fewer and fewer miles of railway. Some of the yard jobs got S-3 6552, S-lls 6620 and 6621, RS-2 8401 and RS-l0s 8472 and 8587 and others, but not all at the same time, while 1000 horsepower Alco-GE yard goat S-2 7028, an Ottawa West fixture for so many years, rumbled on daily. FA-1 4018 and FPA-2s 4082, 4096 and 4097 made their appearance known. RS-3 8433 and RS-10 8587 worked on train No. 83. FA-2 4087 and RS-3 8464 went out on Toronto passenger train No. 33. RS-18 8798 went to Prescott on train No. 94. Switching at the mill in Gatineau was done with RS-18 8784. FP7As 1400 and 1422, and FP9A 1410s and 1413 worked on the M&O to Montreal and Chalk River as did RS-l0s 8479 and 8482. North Shore train No. 86 got RS-18s 8729, 8759 and 8776. Various RDC units were in use by this time and their numbers are unrecorded in the despatch book. They were running on the North Shore, up to Chalk River and on the Maniwaki. There were many, many more units recorded in and out of Ottawa West at this time but the interesting thing to note is that the vast majority of these were ALCO/MLW products, - times were about to change here too but that's another story.
Wouldn't it be nice if someone familiar with Canadian National at Ottawa East would come along with something like what I've just gone through for C.P., so that we could all learn about the end of their steam operations here. If I'm not mistaken I used to see one of their K-3 class light Pacific's on the Barry's Bay branch, might have been the 5579 or perhaps the 5587, but in any event it was right near the end of C.N. steam here. Anyone want to take on the job?
Tid Bits by Duncan H. du Fresne,
Bytown Railway Society
, Branchline, May 1997.