The original CTC (Centralized Traffic Control) signal system in the Ottawa area came into use on 9 June 1955. It was located in the Union station.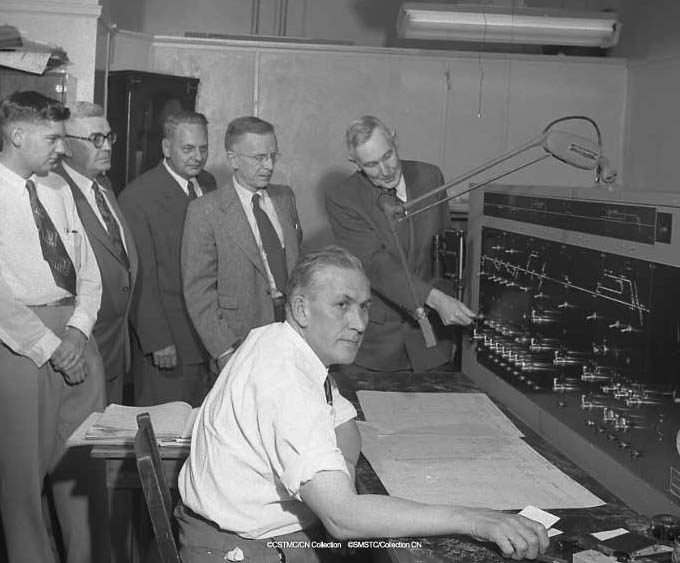 This shows the inauguration of the CTC panel in Ottawa. The picture also shows Austin Cross of the Citizen and Silas Wass who designed
Walkley Yard and who gave his name to the Junction of the Walkley Line and the Beachburg subdivision.


From David Jeanes December 2019
I knew that the man with his hand on the panel was Sy Wass, but I had a hunch about the young man on the left.

Sure enough, it is Roger Spack, who had joined CN as a signal engineer a couple of years before, after first working on the TH&B after university.

Roger and I just had a long talk about the picture. He remembers it very well, but not the names of the other people, except Sy Wass, civil engineer for the Railway Relocation project, and George Dunn, beside Roger with the glasses, who was the Ottawa Division Superintendent.

This installation took over the manual interlocking of the NYC with the Alexandria Sub at Hawthorne, but it was then discontinued by a board order after the NYC abandonment two years later in 1957.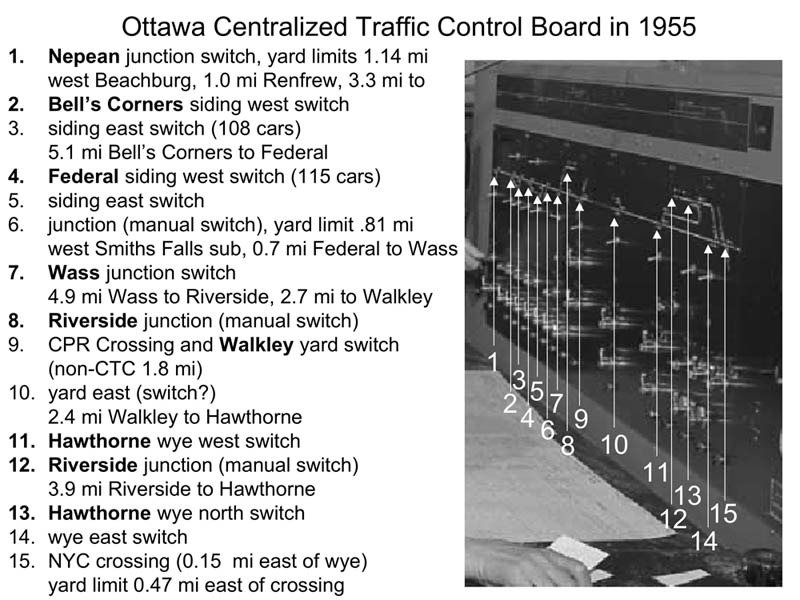 David Jeanes prepared the above annotation of the 1955 CTC panel. This covered only CN trackage (about 28 miles) but not the Riverside to Union Station section. Walkley Yard was also outside CTC and there was no bypass track then.

The white arrows pass through the various switches for each of the 15 controlled elements among the 7 named locations on the diagram.

A new panel, covering the Ottawa Terminals, was brought into use with the opening of the Ottawa Station on 31 July 1966, although it had been extensively tested before that date. However, the original panel also included the Alexandria Subdivision east to Coteau as well as the Ottawa Terminals. The Alexandria Subdivision continued to be run from the old Union Station until December 6th, 1966, 5 months later. The senior dispatchers worked the new panel while the old panel (for the Alexandria) subdivision was worked by the relief men until it closed that December. It seems that the only employees allowed into the Union Station after closure were the train dispatchers.
The Ottawa Terminals panel was taken out of service, and functions transferred to Montreal on July 14, 1990. The first three pictures were taken by Ray Farand two days before the panel was taken out of service.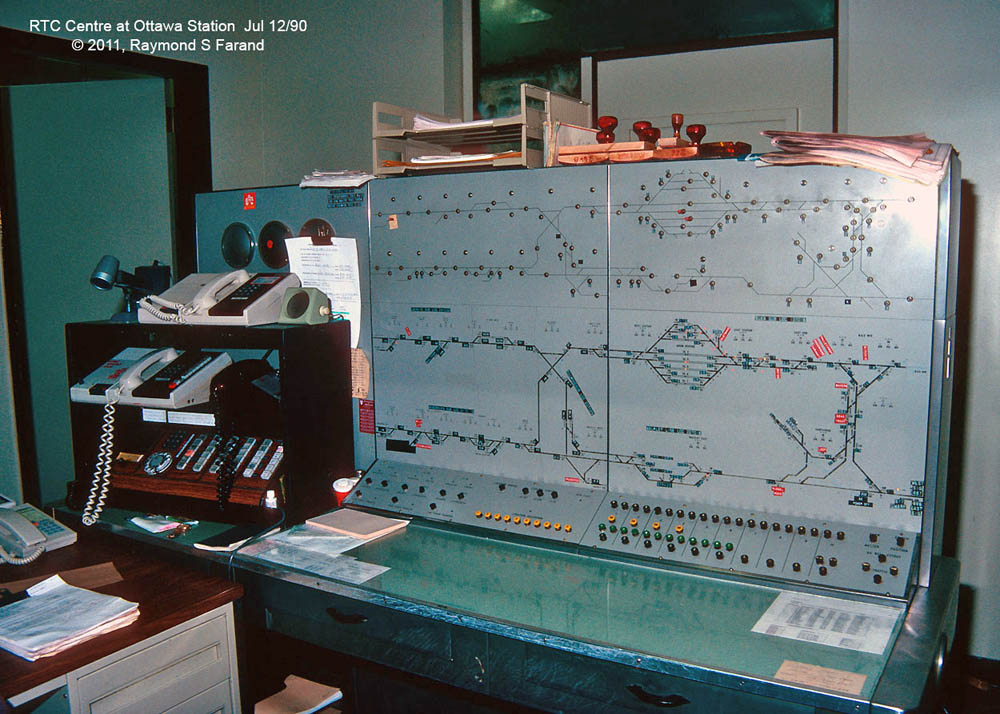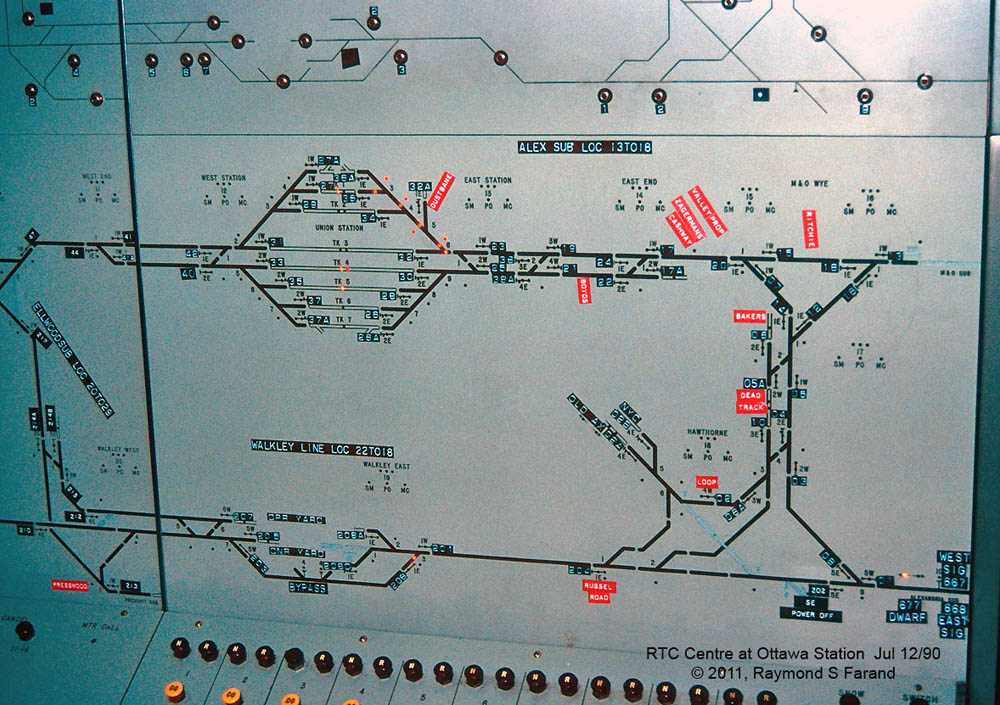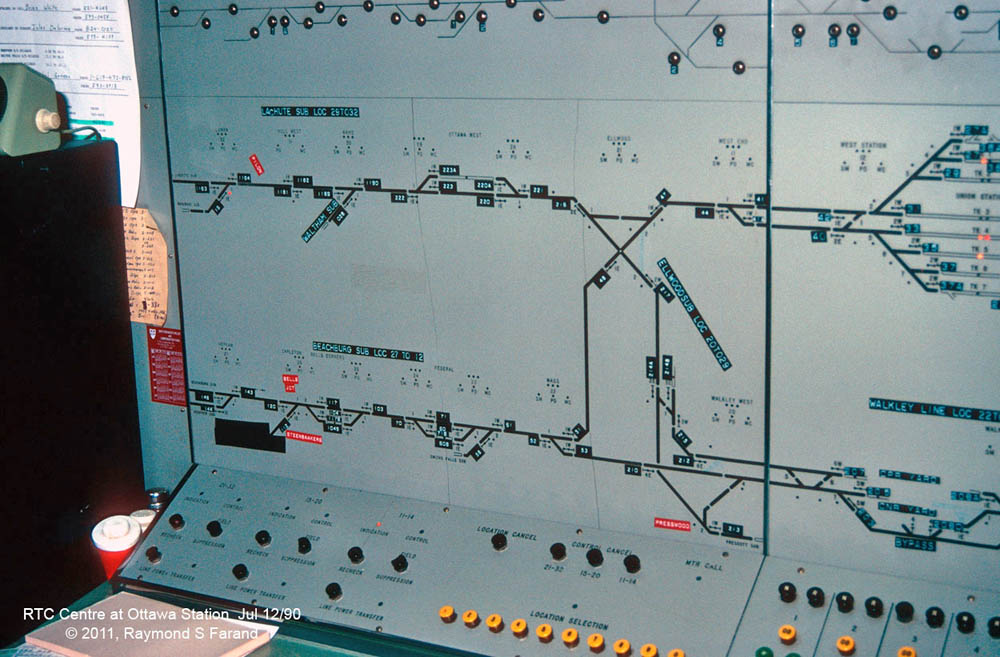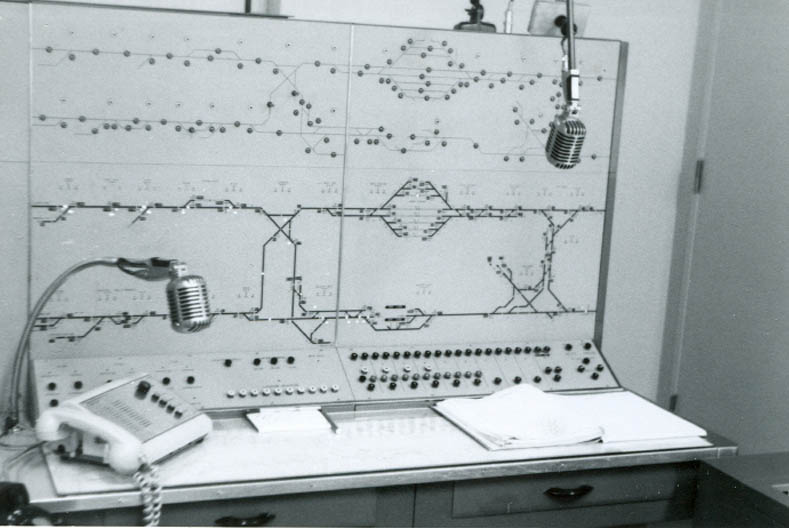 Dave Knowles provided this picture of the 1967 panel soon after opening.