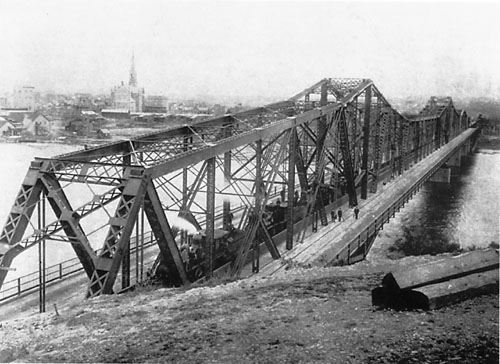 This is presumably the picture referred to.

View from Nepean Point looking towards Hull and showing the load testing of the bridge with four locomotives. This was the first run over the bridge on 12 December 1900. Four locomotives of the Ottawa, Northern & Western Railway were used with #3, (later CPR #229) in the lead. The northbound roadway can be seen with streetcar tracks in place although the wires have not been erected. The pedestrian walkway, with its low barrier is inside the main structure of the bridge.
National Archives of Canada photo PA-202126.

A Veritable Treasure For The Railroad Man, Published 9 November 1957


A veritable treasure trove of railway and civic history In and around Ottawa is contained in the papers of J. E. Dolman, retired engineer, of 60 Rosemont Avenue. Old time Ottawans would be interested in the snowy scene of the "new" Alexandra Bridge across the Ottawa River from Nepean Point. Four tiny locomotives in a row are lined up. Behind them is Notre Dame Church in Hull, looking the same then as now, 55 years later.
Rarely does one see in print these days, the term "Ottawa, C.W.", yet while we were still in the Union of Canada before we became a Confederation, we were "Ottawa, Canada West" (Hull of course was "Hull, C.E.") .
The August, 1856, timetable shows Prescott as only 2.45 hours away, as against 3.05 hours, 101 years later, In November, 1957.
Surely your real rail fan will thrill at the Canadian Pacific timetable for May 14, 1911, with all trains taking on the 24-hour time west of Fort William. Imperial Limited No. 97, for instance, arrived in Winnipeg at 21.40 ( 9.40 p.m.). She was due east out of Moose Jaw at 1605 (4.05 p.m.).
There was more prayer than railway in the Canadian Northern's June 30, 1909, folder. Wherever Mackenzie and Mann had failed to build a railway, but wanted to, they ran dotted lines, Indicating projected tracks. The old CNR got only as far west as Edmonton in those days. Shed a tear, too, for the Canadian Northern Quebec, another Mackenzie and Mann subsidiary, whose separate folder showed a moose on the cover, and a slow route to Quebec. Nor was the old Temiscaming and Northern Ontario (now Ontario Northland) forgotten. Sir James Whitney, Premier of Ontario, graced the cover.
So, past ancient pictures of wood burners, through a railway guide of a century ago, including jokes, past an order for $79 in payment of a due bill dated August 21, 1855, do one's eyes wander.
All Mr. Dolman's railroadiana is of historic value, and takes you back to the beginnings of Confederation. It should be preserved.