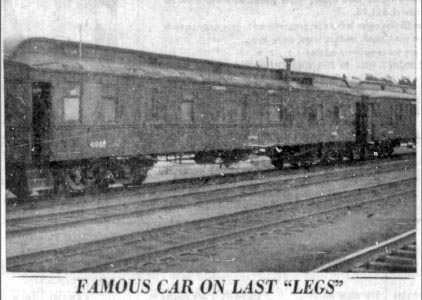 Once Elegant CPR Sleeper Yokohama Ends Days On Bleak Northern Siding,
Published 18 November 1957


The once elegant Canadian Pacific sleeper Yokohama now is ending her days sadly.
She passed through Ottawa on June 28, 1886, on the first train that ever went from Montreal and Ottawa to Vancouver and today is eking out her last days on a bleak northern siding, and surviving anonymously as CPR 411,186.
Lord Strathcona drove the last spike of the continent-spanning Canadian Pacific at Craigellachie, B.C., at Mile 2330.3 on November 17, 1885. The first Montreal-Vancouver train began the six-day safari the following summer, leaving Montreal on June 28, 1886, and arriving in Vancouver, on the dot of noon on July 4, 1886.
Amid the beautiful "consist" of this first Imperial Limited, was the sleeper Yokohama, reaching Ottawa here about midnight on June 28.
At historic old Broad Street station, amid an appropriate reception, the elegant Yokohama with her proud passengers made her scheduled stop, had her water tanks re-filled, and started bravely out on the balance of her more than 3.000-mile journey from Montreal to Port Moody.
(Vancouver was yet to come, and the 1886 terminus was the older and better established Port Moody. Port Moody was the first place the CPR touched the sea, and there the railway stopped!)
For some years, the Yokohama ran to and fro across the continent The original mileage was gradually reduced and now the total mileage is 2.881.3 from Montreal Windsor Station to Vancouver.
The trains first started running 12 miles further west from Port Moody to Vancouver on May 23. 1887.
A Familiar Story
The story of the 20th century is the story of the downgrading of the Yokohama. Air brakes, modern plumbing, electric lights, they all got to be too much for this ancient bit of plush.
Then came the steel cars, and the Yokohama was wood. Her profile got archaic By the time electric lights became standard, and long before air conditioning, the Yokohama was put out to pasture as a service car. The final humiliation came when she even lost her name, and like a convict sent to Siberia, was sent to Sudbury, with a number.
Squeezed today between a box car and a tool car, 411,186 shudders on a siding as, chilled by the sub-Arctic breezes of Northern Ontario, she waits for the end.