From Alta Vista To Ottawa Cheap And Fast Train Ride, Published 16 November 1953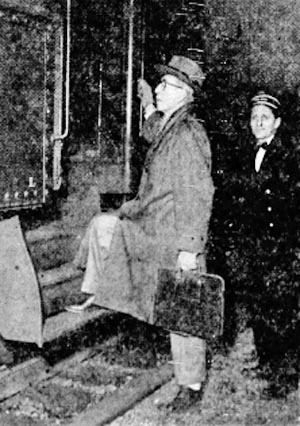 Citizen's Austin Cross Flags Local Down
Brakesman Joe Taman Gives Him The Nod
Photo by Newton
All aboard for Ottawa!
That's the cry these day out in Alta Vista, where the down trodden mortgage payers wait an hour between buses.
Ottawa is just down the track a mere eight minutes if you take the Canadian Pacific.
Sharp at 8.48 a m. the CPR local flags for Billing station on Billings Avenue.
In only eight minutes the train has you at the Union Station downtown by 8 55 a.m.
Ten-Cent Fare
The price is the same as the bus fare; 10 cents.
The Citizen photographer looked at his watch and said: "I make it 8.45."
Your bus-rider-turned-commuter looked at his self-winding job and said: "I make it forty-five too."
At that precise second, old 2200 blew her whistle.
She was right "on the advertised."
In rolled the Prcscott local, flagged down by The Citizen.
Such service for a dime.
Then the high-wheeled Pacific hit the Iron and soon we were going 50 miles an hour, headed for the Union Station. Dave Gill's buses were never like this.
Short Ride
Past flashed Alta Vista, this was Hurdman's Bridge, there's the Canadian National roundhouse, now it's the canal, and here is Station Master George.
The Union Station from Alta Vista in seven minutes, and all for a dime.
All aboard for Ottawa.