The literature says that we are four minutes walk from the Villiers Metro station. This is true although I don't know why one would want to do it in such a short time. As we leave the apartment there is a small brasserie, bar, coffee shop, internet café on the corner. It has a small dog who seems to know us – he barked at us the first time we went past but does not do so now even before we visited for a drink. Walking the block to rue de Levis is where the fun starts. There is a Singing Christmas Tree in the parking garage, the entrance to which is meticuluously swept out every day by the lady parking attendant. Passing the Nicolas wine store on the corner, there are a couple of fruit and vegetable stands, a resident kneeling beggar and today (December 27) a lady selling the remains of her unsold mistletoe. She was asking people to give her what they thought as mistletoe has no value after Christmas – some people were buying. Next there is a rotisserie and a boucherie, a couple of chain bakeries then a big display of ladies underwear (panties and bras). Two traiteurs, asiatique and italien) and we come to Monoprix which will has a stand of shellfish outside (and some good wines and prepared foods inside), including boxes of raw oysters but also cooked shrimp and crabs. Next there comes a patisserie and the Charcuterie Bouvier. The charcuterie is fantastic. There was a suckling pig which had been deboned then stuffed and cooked so that it could be cut right through. There was an attractive flower pattern set throughout the stuffing. Bouvier had a stand selling hot prepared foods such as enormous platters of paella and sourkraut also cooked sausages and meats. Finally there is an artisan bakery/patisserie and we can round the café/brasserie and cross the street to the Metro. At least this way there is not the distraction of two wonderful cheese shops but it normally takes more than four minutes when we linger.
The local sushi restaurant had eight scooters lined up outside to do deliveries.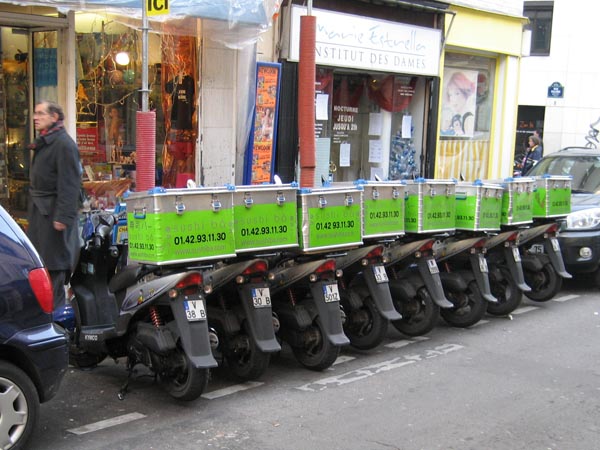 The shop assistants were pretty friendly and smiling. In most places we had to make our order first, then take the ticket to the cash to pay and then our purchase would be presented to us by the smiling assistant. It means they need a lot of assistants but it certainly ensures personal and friendly service. This is so much better than going into a place and picking up pre-packaged items that might have been prepared some time ago.
Bread and bras.

That seems to be about the extent of what you can buy on rue de Levis on Monday mornings!

Unless you count Monoprix which sells pretty much everything.

The pictures below will give you a feeling for this interesting street market. Just try walking through here in four minutes!