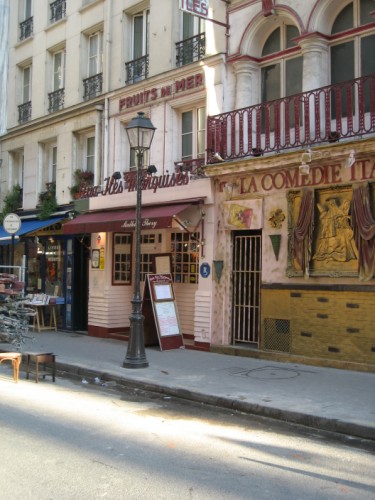 We were greeted as old friends by the staff and were pleased to see that the two ladies, with the small dog, who were there last New Year's Eve, had already taken their table and installed the dog underneath on the floor. It turns out that they live close and are regulars throughout the year. The dog behaved itself very well and only came out from under the table a couple of times when it became bored.
We had the table d'hote de St. Sylvestre, starting with a bottle of George Vaisselle champagne from Bouzy and changing briefly to half a bottle of Chateau Bellerose Figeac, St. Emillion grand cru for the venison.
Amuse gueules
Escalope de veau de canard aux figues (wonderful sauce)
Huitres et Saint Jacques au caviar



Turbot aux lamelles de truffles fraiches

Granite de champagne et limon
Noisettes de biche venaison with a mousseline de marrons
Parfait glace mandarine et feuilles de chocolate
The metro was free both getting there and back. Even though we had to change at St. Lazarre, the journey both ways was very quick (about 20 minutes) even though we had to go right across the city.
This is the second time we have been here for New Year's Eve (also twice for lunch). It is tucked away on the rue de la Gaite which was a location for Music Halls and clubs – similar to the Pigalle. This street has seen better days. It still has lots of small theatres and sex strip shows but this restaurant seems to be able to keep going as a local restaurant. The people who come here know about it and keep coming back.