Trip to Ireland September – October 2006


Saturday 30 September

Gresham Metropole Hotel, MacCurtain Street, Cork.

The Gresham Metropole Hotel lies right in the heart of Cork city and has long been regarded as one of the most well known landmarks in Cork. This Cork hotel is over 100 years old and has been a popular site throughout the century, making it one of the most comfortable and stylish hotels in Cork.
The Gresham Metropole Hotel Cork

is within walking distance from the business and shopping districts of Cork city.

9:50 Tralee to Cork Bus route 40 €15.50 (train is €28.50). No one could tell us why the bus cost €13.00 less than the train and only took 5 minutes longer.

The trip to Cork went as planned but the seats were very tight indeed and it was hot.

It took some time to find the toilets in the bus station.

The bus station is very central and just across the river from the hotel.

The train station is not easily accessible and one gets the impression that people are discouraged from going there.

I can't think of a worst station other than some of the American ones.

This is the second city in the country and the one with the prestige service to Dublin.

The actual station is very much of a mess and it is very confusing to find your way around - the platform signs point in three directions from the "concourse".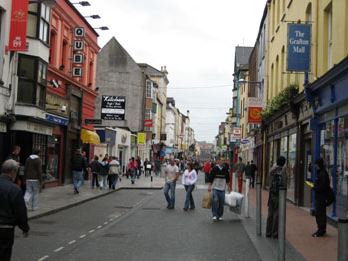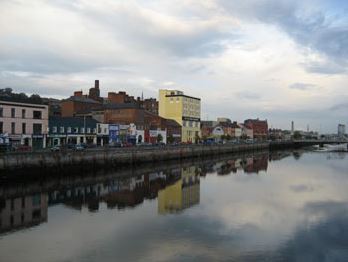 Images of Cork

- a man walking down the street with a cell phone and a take-out latte.
- a security on duty at a pharmacy.
- many businesses are decked out in red, the colours of the Cork team which won the All Ireland Final against Kerry.

Lunch was at the Ivory Tower, a place which had aspirations above its station. The toilet was classic Chinese but they had put in small face cloth-style hand towels. The salad was very old indeed and the cassoulet was beans only - accompanied by confit de canard. The best part was a good Argentinean Malbec.

When getting money out of an ATM it warns you of the environmental impact of printing a receipt and asks you if you really need one. When you say "Yes" it asks you to recycle the receipt. After all this you get your money and the machine apologises that it is out of paper and cannot print a receipt.

It rained all afternoon after we had checked in, the strange thing was that there was a lot of light - so much so that it appeared as if the sun was shining.