Trip to Ireland September – October 2006


Thursday 28 September

9.05 Galway to Limerick 11:15 Bus route 51
11:35 Limerick to Tralee 13:40 Bus route 13

Grand Hotel, Denny Street,Tralee

The Grand Hotel Tralee is located in the centre of Tralee Town , making it the perfect base to browse the many shops, restaurants and activities Tralee has to offer. Also ideal to explore Kerry and the South of Ireland with its numerous beauty spots, including the Ring Of Kerry and Killarney's lakes.
Established in 1928, the Grand Hotel boasts open fires, ornate ceilings and mahogany furnishings. The hotel offer guests old world charm in a town centre setting. There are 44 bedrooms, beautifully furnished with bathroom/shower ensuite, multi-channel tv, direct dial, telephone and tea/coffee welcoming trays in all rooms. Our staff are on hand at all times to help make your stay a memorable one.

One of the real stupidities in Ireland is the wash hand basin taps which are separate for hot and cold water. This means that you must either use one or the other or grab a handful of cold and then hot. This is compounded in many cases by the hot water being too hot to use. Some places cover themselves by putting up notices warning people that the water is hot. Wouldn't it be better to channel the water through one exit where hot and cold could be mixed. Even better would be to turn down the thermostat to make the hot water cooler- they might even save some money as well.


The travel went according to plan. We went through Clarenbridge which is the home of the Galway oyster and Ardrahan where the cheese is made. There were two 51 buses, one to Cork and a second one, which we took, to Limerick which cut out Shannon and gave us 30 minutes for the connection to the 13. The Limerick bus station was integrated with the rail station which looked like a freight shed. The 13 bus was much more of a local one and there was an old lady with a crooked nose, no teeth and a shawl who talked non-stop from Limerick to Listowell. A man got on at Newcastlewest and sat next to her. We thought he would shut her up but they both started talking together incessantly. He got off, defeated, at Abbeyfeale but she continued talking. It looked after about 90 minutes as if she would flag but she found renewed vigour as she approached Listowell.

There is plenty of room under the bus to put the bags but somebody had put others in front of ours which had been pushed right to the other side. Colin went right in, a bit like dumpster diving.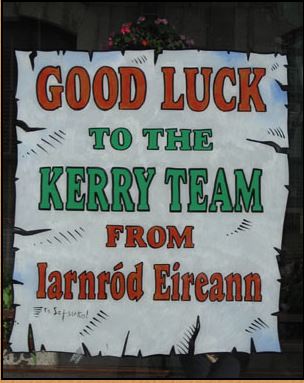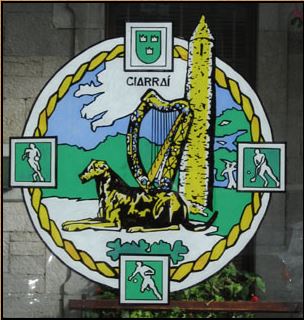 Kerry have just lost the All Ireland Gaelic Football Final in Dublin. The town was festooned with green and yellow chequered flags and there were banners on many cars. Most businesses had signs up wishing the team luck.

Dinner at the Market Pub:
Warm salad with bacon and croutons/smoked salmon
Rosemary roast stuffed lamb with new potatoes, green beans and mashed turnip.
Apple crumble/white and dark chocolate mousse
Guinness/Smethwicks (we had asked for the Argentinean red but the closest they could get to this was Valpolicella!) The early bird menu was available until pretty late - it is really just a table d'hote.

The chef was pretty busy when things began to pick up both in the restaurant and in the pub itself.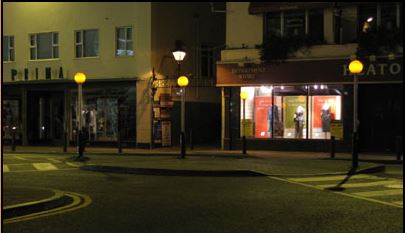 The flashing Belisha beacons make quite a study in themselves.