Trip to Ireland September – October 2006


Monday 25 September

9:10 train Dublin Heuston to Galway 12:05

Skeffington Arms Hotel, Eyre Square, Galway
The Skeffington Arms hotel is a 23-bedroom hotel situated in the very heart of historic Galway and is run by the Callanan family with the help of their friendly and enthusiastic staff.
The Skeff has been caring for guests for over one hundred years. Overlooking Eyre Square within distance of rail and bus terminals & just a short walk from an array of shops, restaurants, bars, theatres and entertainment venues. It enjoys an enviable position in the heart of bustling mediaeval town of Galway.
We are justifiably proud of our fine food served in the Skeff restaurant, which is very popular with both locals and guests alike. The hotel also incorporates one of the best known pubs "The Skeff Bar". You may want to enjoy a drink in one of the Skeff's six bars where the friendly atmosphere reflects the essence of Galway itself.

The Irish happy go lucky attitude is well known but I think it is an excuse for a don't care attitude which is found so frequently.

Maybe the influx of immigrants with a different work ethic will alter this.

The alarm went off alright this morning and, as we had plenty of time, we decided to walk our cases to Heuston station. After latte we boarded the train with plenty of time and after a struggle to get our cases under the seats found two facing window seats with a table.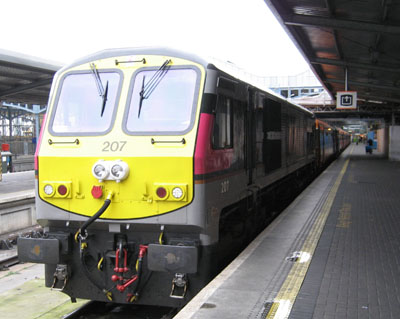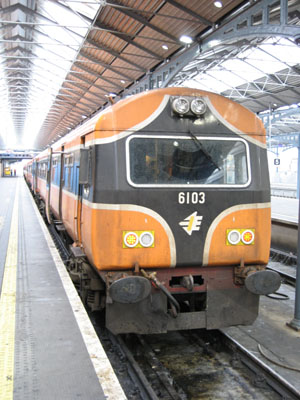 Our train was a five car push-pull unit hauled by a Canadian-built GM locomotive. There is one man on the locomotive and two in the train, one to read the paper and make the announcements (twice) and one to check that the driver had opened and closed the doors properly and to take tickets. The crew were joined by a third at Athlone who was just along for the ride. There was also a tea trolley lady who spent the first hour shut up in her compartment at the end of the train with her trolley and the last hour sitting down. Unless our watches have suddenly gone badly out, we left a couple of minutes early.

It is single track from Portarlington. We made funeral progress through bucolic countryside. The train dates back to the 1960s but at least CIE have the seats coincide with the windows.

Lunch at Martines in Galway

Mediterranean vegetable soup with home made brown soda bread and Irish butter/duck wrap and salad
Grilled salmon and potato cakes/(large) selection of Irish cheeses with chutney:
Brie - smoked Gubbeen - Cashel blue
Chilean sauvignon blanc/proseco.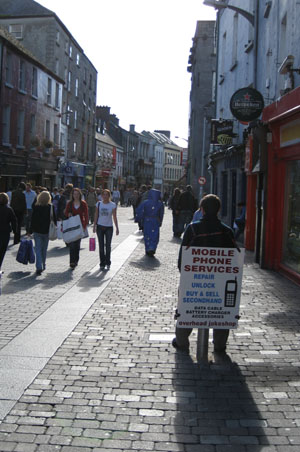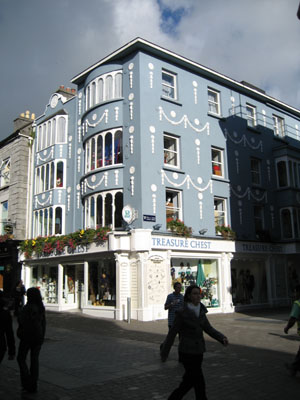 In the afternoon we went to the tourist office to make bookings for the next two days and we were also able to buy our bus ticket to Tralee for Thursday.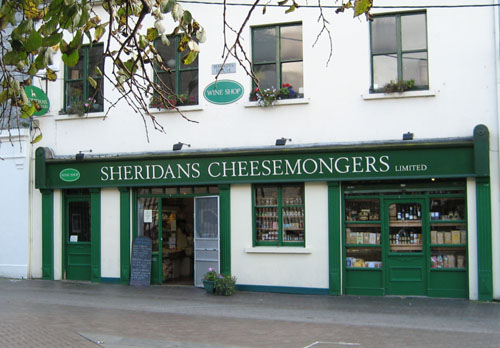 Then followed a walk around the town including a visit to Sherridan's Cheesemonger (www.sheridanscheesemongers.com)where we tasted a variety of cheeses and bought some Ardrahan.

We made it back to the Skeff for a drink.

The bar is remarkable, there are six of them, all joined together and on two levels.

It is fitted up with wood and they make use of stained glass.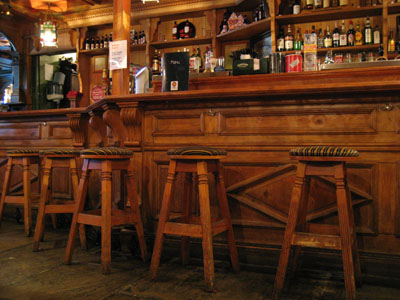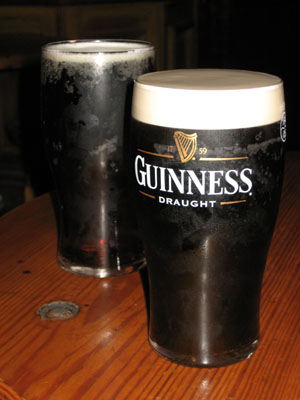 <>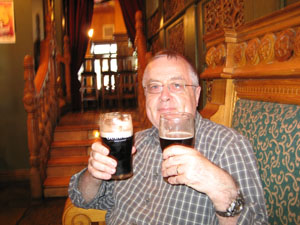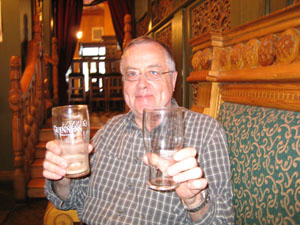 The bar at the Quays is even more impressive, constructed in a similar style to the Skeff. We had a dozen Galway Bay oysters and Guinness followed by Irish coffee. The oysters were pretty plump for the size of shell and were quite sweet. They had not been separated from the shell so there was a bit of cutting to be done.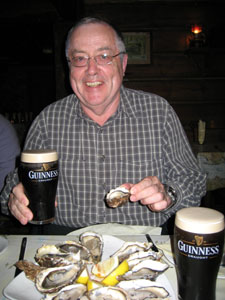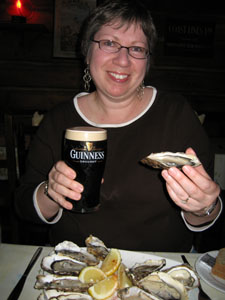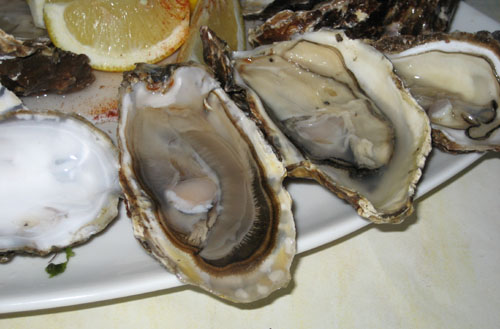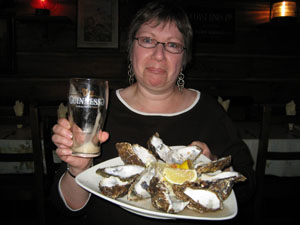 There are several people with sandwich boards pointing way from the main street. It seems that signs are not allowed but must be carried by people. Two of these were French, one from the Alps and one from Paris. They didn't seem too sure what they were doing there and wanted to go back to France.