Thursday 2 September
Peter Wickenden picked us up in good time to take us to Ottawa airport. Paul was quite tired but we had no trounle getting him on to the Air Canada Vangusrd that took us to Montreal. Montreal was a really unpleasant crush. A BOAC 707 took us to Manchester via Prestwick as usual - an hour late. Paul fell asleep before we took off and slept all the way over. Flight was uneventful. First impressions of Prestwick - a policeman in a mini minor police car.
Mum Gillespie and Mr. Gavan met us at Manchester and took us by road to Worksop via Macclesfield, Buxton and Chesterfield. I had my first drink at a pub which had been converted from an old farm house. Weather overcast and spotting with rain. Roads very narrow and dangerous. Glad I don't have to do any driving over here.
Saturday 4 September
Dora came over to see us.
Sunday 5 September
Went to Cleethorps by train with Mum and Dad Gillespie. Paul really liked the train, a DMU from which we can see out the front. A big fat woman sat in front of us drinking, I think, rum and cokes. When we arrived shwe gave us 10p to give Paul a donkey ride. We found a place to eat but Paul threw a tantrum and I took him out to keep him quiet. Unfortunately the others mistook where I was ging to meet them and I spent 1 1/2 hours looking for them. Even so there was time to give Paul a donkey ride - he wasn't afraid of the donkeys and really enjoyed his ride. He then had some candy floss which got him pretty sticky. We saw an Irish Setter and had a chat with its owner. The weather was very sunny although there was a cool wind - people said it was the best day of the summer - they could do with some Canadian sun.
On our way back we had to wait 15 minutes or so for a pilotman at Grimsby while at Gainsborough we hit a coke can and a fishplate which some kids had put on the rail. The ride back across flat open countryside with a beautiful sunset was really pleasant. Paul slept across Pat and me for most of the way back.
Monday 6 September
Started out to travel to Portmadoc on my own this morning.
0818 Worksop to Sheffield
0907 Sheffield to Manchester
1025 Manchester to Penzance as far as Crewe
1209 Crewe to Shrewsbury
1407 Shrewsbury to Machynlleth
1650 Machynlleth to Portmadoc
Quite a journey and I arrived at Portmadoc right on time at 1818. There was an hour or so to wait at Crewe with quite a lot of action including many from the north changing from diesel locomotives to the electric locos for the trip under the wires to London. The trip to Shrewsbury was with a Western cross country set. The driver had trouble with the Western AWS which kept activating although we weren't in AWS territory. The cancel lever wouldn't work and I finished up riding in the front to help him - I jammed the cancel lever with a newspaper. Hour and a half for lunch in Shrewsbury - I went into a pretty dingy pub. There's quite a bit of reconstruction going on including reconstruction of the original buildings in the original style.
The journey from Shrewsbury was beautiful - the weather was fine and the country tremendous ( I saw a heron). The line from Oswestry to Welshpool has now been lifted. Of course, the trip up the Cambrian coast was the best part, especially from the front of a DMU. I have never seen this part of Wales before with a cloudless sky.
I had a bit of trouble finding a hotel at Portmadoc as the only decent one was full. I eventually checked in at a grubby hotel called "The Queens", right by the station. Good job there aren't many trains at night.
I even had trouble finding a good place to eat. I tried to eat at the good hotel but they refused me on the grounds that the hotel was full even though there were spare tables. At another place where I eventually ate I was asked to share a table even though there were empty tables. They were upset when I said no..
I walked down to the Harbour station afterwards and admired the sunset and the mountains of Snowdonia.
The Queens Hotel had run out of draft and many other types of beer. I was very depressed at the general attitudes of people and poor service.
Tuesday 7 September
I walked down to the Harbour station early and caught the 1020 train to Dduallt. I was very lucky in that the Double Fairlie Earl of Merioneth was in charge that day because a BBC film crew was on hand to do a program about the Fairlie locomotive. Again, the weather was beautiful and the views across the valley were to their best advantage. The part from Tan-y;Bwlch to Dduallt has the best views as the railway is above the tree line. There was a stop at Campbell's Platform for a run by. I had a little time at Dduallt to look around and watch the Fairlie depart at 1140.
Blanche arrived on the 1115 from Portmadoc and I caught the 1215 back to Minffordd. A coach party of pensioners travelled from Tan-y-Bwlch and when I saw them at Minnffordd they were having a great time. I had a little time at Minffordd before the departure of the 1352 DMU for Machynlleth. During this time I saw Linda on a train towards Tan-y-Bwlch. This loco has been fitted with a superheater and painted aluminium on the front end because of the intense heat. I had a chance to look around the yard at Minffordd and saw a new boiler and firebox for a Fairlie. I believe this is to be fitted next winter.
The diesel was on time and I travelled back as planned. The Ffestiniog Railway permanent way foreman travelled with me as far as Harlech. I complimented him on the state of his track including the long welded rail. He wasn't too happy with one stretch of CWR as it could have been better.
The trip to Worksop was quite good.
Change at Machynlleth
Dhrewsbury dep 1749
Crewe dep 1843
Manchester Piccadilly arr 1936 dep 2018
Sheffield dep 2235
Worksop arr 2307
Ther train from Shrewsbury was delayed but I made the conneciton at Crewe alright.
It was quite a long trip but well worth it and it was made better by the weather which was remarkable.
In the next couple of days we had a few trips to Lincoln and Sheffield then took the train via Manchester to Liverpool where Keith met us. We stayed the weekend with Keith and Chris. We had a good time which seemed to sonsist of drinking.
Sunday 12 September
We travelled down to London and were met by Mum and Dad Churcher who were, of course, very pleased to see us. We spent that week with trips out to Bromley, the London Zoo and New Romney on the Romney, Hythe and Dymchurch Railway.
England seems to have changed. Either that or we have changed. Prices have gone up and service has gone down. Many people were rude. It was most upsetting and, in many cases, we were glad to leave. It was strange being "home" in a country that felt "foreign".
Saturday 18 September
Pat, Paul and I together with the four grandparents flew to Toulouse where we picked up a car (a Peugeot 504 station wagon) from Avis and drove to Carcassonne. There is plenty of room in it for all of us and our luggage. It took a little bit of getting used to as it is a long car and has a standard gear shift. It didn't take too long to get used to although I would never have a standard shift by choice as I think it is too much trouble.
The hotel in Carcassonne is quite good.
Sunday 19 September
The weather was not too good but we had a look around the Cite. The parents seem to be quite impressed.
Monday 20 September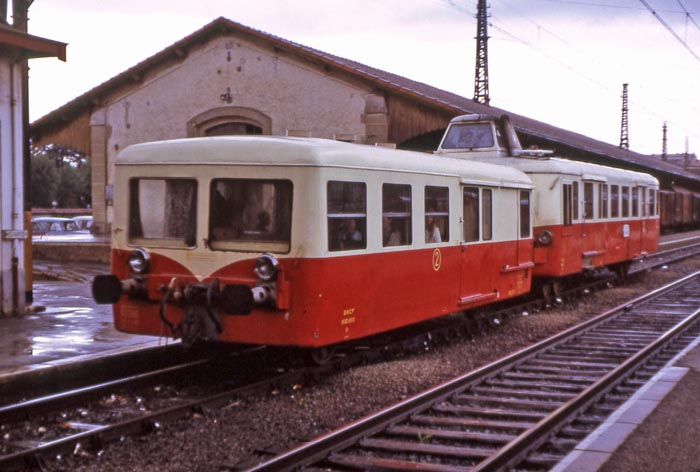 A railcar and trailer at Carcassonne on a Quillan branch train
.
Pat and I travelled to Toulouse by rail today. I had authority to ride the locomotive and we wanted to go to the airport to look for a case which we had left behind.
We travelled to Toulouse on train #5452 which left Carcassonne at 0913 and arrived at Toulouse precisely at 0958.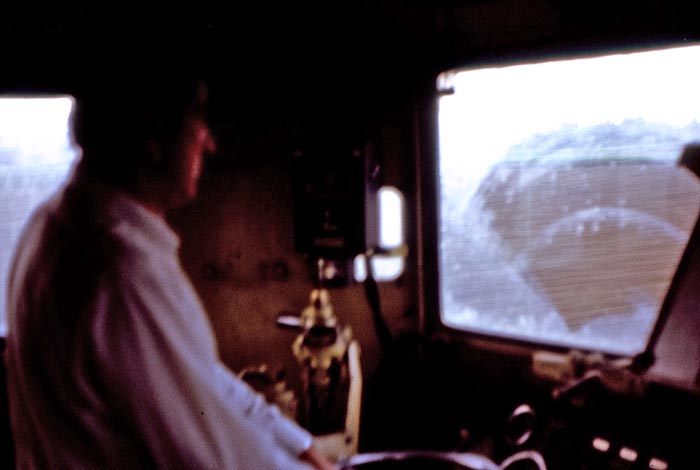 The driver stood up for the entire journey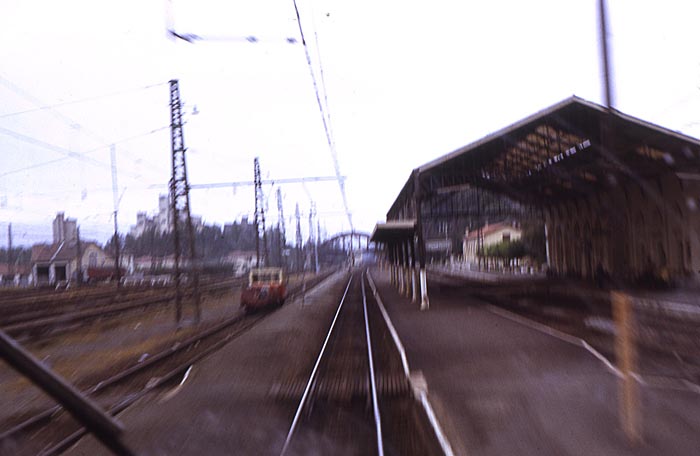 Passing through Castelnaudry at speed
There is only one man on these locomotives. On this trip the driver was from Nimes and the locomotive was BB9237, 5570 hp. The acceleration is incredible. We were travelling at 140 km/hr (87.5 mph) within three minutes of the start. 140 km/hr is the maximum speed of these locomotives (or in fact 150 km/hr but the vehicles are limited to 140 km/hr). The speed of 140 km/hr was adhered to regardless of the gradient for the whole way except for two speed restrictions. Speed was kept to 135-139 km/hr, tremendous skill on the part of the driver in knowing how his train reacts to gradients etc.
At Toulouse they are only allowed 8 minutes to change locomotives but this is possible with two coupeurs standing by. In fact the change over was completed so rapidly that I hardly had a chance to get off the locomotive.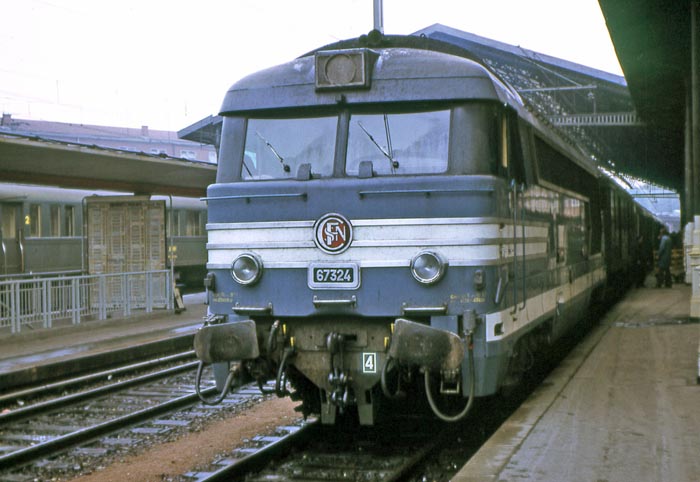 This diesel was quickly put on the train
Our day in Toulouse wasn't too eventful although we found our case alright. The weather wasn't too good and rather get soaking wet we came back to the station earlier than planned.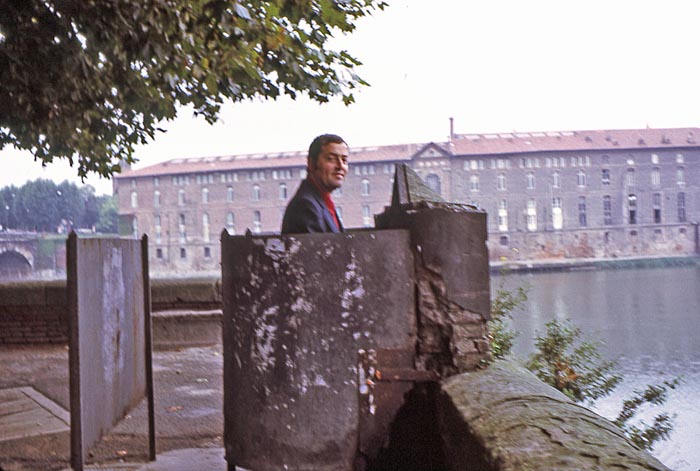 The pause that refreshes
We came back to Carcassonne on train #4553 with locomotive BB9207 which, again, is 5570 hp. We had a late start due to a sticking brake on the leading fourgon and were delayed even further by the signals being out because of a cloudburst. The driver, this time from Toulouse, was a very cheery fellow but he was upset at the delays. We reached Carcassonne after a stop at Castelnaudry in the dark, nearly 45 minutes late. Still it did give me a very healthy respect for French locomotives and drivers.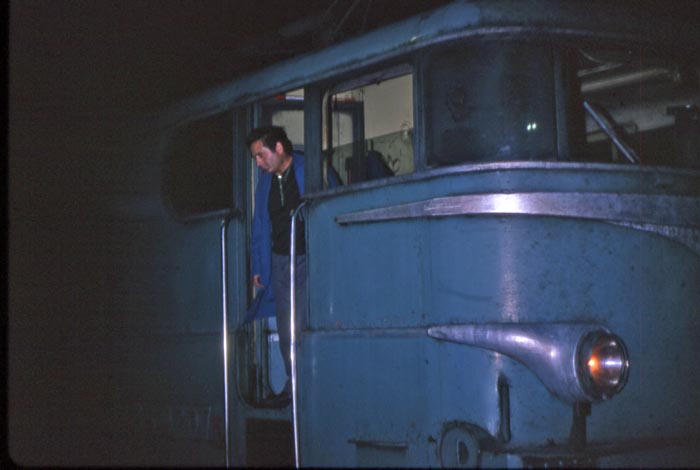 Carcassonne
The weather was atrocious. Paul and the parents stayed in the hotel most of the day.
Tuesdasy 21 September
Weather not very promising. Went for a trip up to Mazamet via NH 8. Minervois wie counry does not look very fertile. Then through the Montagnes Noires. Had a picnic lunch by the roadside at the head of the valley leading down to Mazamet. The breaks in the clod became more numerousand the weather improved. Mazamet is quite a large industrial town of very little interest and we passed through quickly on to route N621 to Labouguiere where we set out south back through the mountains. Some very good views over towards the Tarn country. Came back via Fontiers-Cabardes and Brousses. Saw some wild boar and also passed through an interesting forest area which was very damp and covered with mosses and ferns.
Wednesday 22 September
Took the road up to Lastours where we had lunch. Interesting mill race for a woollen mill. Lots of chestnut trees. We went to Limousis where we visited the caves. We bought the tickets in the hall of a house in the village and then went up a couple of miles to the entrance to wait for the guide who turned put to be a man who had been lounging around in the village. Quite an interesting trip although there was n othing spectaclar. When we finished I wanted to take a picture of him. He posed for me and then went back to get his lamp which also had to be in the picture. The Minervois wine country is quite poor and there is only the occasional vineyard amonth the scrub. A man with an oxcart asked us "Du quel pay etes vous?
Thursday 23 September
To Limoux via St. Hilaire and then on via St. Polycarpe to Belcastel where we had lunch. There was a grand view of the Chateau de Belcastel perched up on a steep rock. Goat cheese for sale. Travelled back to Carcassonne via Missegre and Valmigere to Argues and Couiza to Limoux where we stopped off to try some Blanquette at the degustation de Guinot. The champagne type wine was great. Unfortunately they were busy with the vendange and we couldn't visit the caves.
We found a new restaurant in Carcassonne. It is called Tivoli. There was only one waiter and the owner works the till. Thw wife cooks and there is a washing up boy. I thought the waiter was being very rude the way he threw the menu at me but it was realluy economy of effort. He took down our order in pencil on the paper table cloth. The service is fantastic. The waiter would come from the kitchen with six or seven plates in his arms and flick them off as he walked down the central aisle between the two sets of tables. He was a great shot with a plate of french fries. The food was very good and we will eat here again.
Friday 24 September
Went to St. Hilaire in the morning mainly to get some pictures of a typical village. Spent the afternoon in La Cite for pictures as this is our last day here.
Saturday 25 September
We travelled from Carcassonne to Foix via Limoux, Quillan then N117 to Puivert, Laveland and secondary road D2 to Foix. Magnificent views over Quillan. Foix seems a pleasant place. The chateau dominates the town. It looks as if this is a much poorer area. Many people selling mushrooms and other edible fungi. Not many restaurants but the hotel is very good and we will eat here.
Sunday 26 September
Went up to the chateau in the morning. Very amusing guide. Had a short trip in the afternoon, St. Martin, Serres,Burret, Col de Peguere (Tour La Font). Col de Port (where we had coffee) and Tarascon sur Ariege. Some spectacular views especially especially near Col de Peguere. Saw some eagles. Many of the cattle around here have bells around their necks.
Monday 27 September
Went to visit the underground river at Grottes de Labouiche. We arrived in the morning to find that the party had already left so we decided to go for a short ride around until the afternoon. Baulou, Aigues, Junte, Sabarat (lunch), Gabre and then back to the caves.
At Baulow we came across an old railway station - a typical standard station. I found out later that the line was built in the 1880s and closed around 1955. It was the SNCF line between Foix and St. Girons. It was originally intended to run further to the south where there are more villages and more traffic but a deputy wanted it through this valley because he had a house there. There is a viaduct towards Foix and several bridges and tunnels towards St. Girons which made the line expensive to build.
We passed several hamlets on the trip and the road seems to go around the houses. In several places it went straight through a farm yard. The cattle were being watched in the fields by people. Don't know why, maybe to protect them from animals. The whole area abounds in mushrooms and other fungi.
The visit to Labouiche was spectacular and well worth coming back for. The entry is down a circular staircase and we then got into a boat which is pulled along by the guide who grasps a rope susended from the roof. We went in one direction to see a cascade, turned around and came back past where we had boarded the boat to some rapids where we disembarked and walked across and got into another boat. We walked across cascades twice all told. The exit is close to the surface although there is a steep climb up a path back to the road. Paul was very good. The boats bumped frequently against the side and we had to watch our heads frequently.
We came back to Foix via La Bastit and Serres. Good views between La Bastid and Serres. Passed an ox cart. The road is very narrow and twisting. Good job we didn't meet any vehicluar traffic.
Tuesday 28 September
Went south via Soula, Legchert and Villeneuve d'Olmes to Montsegur where we had lunch. The chateau is perched right up on a big rock. We didn't visit it because there is a steep climb up the mountainside and it was pretty cold. The Blue Guide explains that although the fortress was thought to be impregnable it was taken and all 200 people inside killed.
In the afternoon we travelled via Belestra to Belcaire via rgw foret de Ste. Colombe. Tool N613 to Ax-les;Thermes stopping at Col de Marmare, where we collected a few fungi, and Col de Chioula where there are tremendous views in all directions.
Wednesday 29 September
Went to Ax-les-Thermes and the Plateau de Bonascre. Unfortunately the telecabin was closed. Good views though. Went to Niaux to inquire about the visit to the cave painting. The guide was very sour so we didn't wait. Back to Foix via Tarascon via west bank of the river.
Thursday 30 September
Out via La Bastide and Durban to le Mas d'Azil. The cave is a hige hole which has been opened out by an underground river which is now used by a road. They have found some interesting prehistoric finds. Back via D15 and N627 to St. Girons where we had a drink and then returned via N117.
Friday 1 October
Did some shopping in the morning. There were many live chickens and ducks in the market. We had a short trip in the afternoon to Legrillou via Canac and Brassec and back via La Moiline. Good views over the plains towards Foix, Watched a hawk soaring over a valley.
Saturday 2 October
Took parents back to Toulouse to catch the plane back to England. Came back after seeing them off at the airport via the valley of the river Leze. Stopped off at charming little village of St. Sylphice where we had an excellent meal. Paul really enjoyed it. We had creamed artichoke hearts.
Sunday 3 October
I went to the station early to see the train.
Visited the caves at Niaux to see the cave paintings. We had tyo walk a mile into the mountain, Paul was fractious but this was understandable. Had a good meal at Tarascon sur Ariege -lievre (hare) - good restaurant.
Monday 4 October
Drove to Toulouse (stopped for a snap customs check on the way). Disposed of the rented car and flew back to Ottawa via Paris and Montreal. Lousy trip.
But a great holiday mostly marked for the food and drink.
Duck - Poulet aux cepes - Civet de lievre - Cocquelet - Entrecote aux cepes - Artichoke hearts - Ecrivisses a l'Americain - Patisserie - Cervelles (Brains) - Cassouley - Kidney (in sauce and shish kebab) - truite meuniere
Corbieres - Rose du Tarn - Minervois - Blanquette de Limoux