Saturday 17 October
Today I went on the BRS trip on the Thurso and Nation Valley Railway which runs into the woods from Thurso, Quebec, 30 miles east of Hull on the Ottawa River. The railway is owned by a furniture and hardboard factory. They do not usually carry passengers and, in fact, there is only one piece of passenger carrying equipment - an ancient business car. This is only used a couple of times a year. The coupler (
actually, the car frame
) is so weak that this car has to go on the end of the train.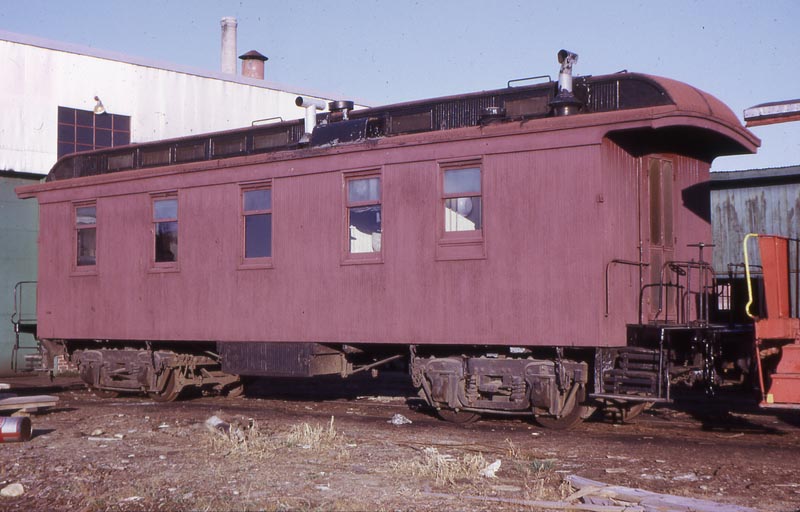 I arrived early in time to see the crew get the locomotive, no. 12 (from CNR in Prince Edward Island) and make up the train which consisted of the business car, the line's only caboose and a CP gondola in which I travelled most of the way. We also picked up a string of log cars so the trip earned a bit of revenue.
The weather was fine and sunny although there was a wind blowing from the north which made it a bit cold on the way up.
The first few miles are through open rolling country which presumably had been cleared some years previously (
yes
). The first stop was by a stream which was bridged by an old turntable. The loco and some cars were cut off, ran forward, and the cars were placed in a siding. The country soon became wilder and all told there was a great variety with woods, cliffs, lakes and streams. This area has only recently been opened up for roads.
We arrived at the end of the line at a place called Camp 27 and around 1300 we were treated to a fantastic meal - T bone steak and all the trimmings. Very plain but good and wholesome.
The train was turned on the wye, after picking up a crane which was taken back to Thurso. We started off, still in sunshine but warmer now.. The first runby was in well wooded country by an S curve. There was a stream close by with some beautiful trout.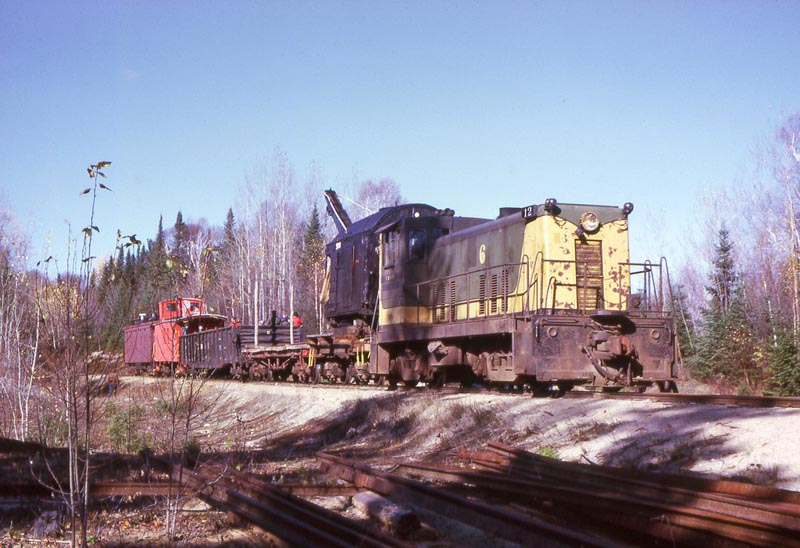 The second stop was to inspect the line's quite modern mechanized track maintenance equipment.
It is quite evident that they have no intention of closing for some time to come as they are spending quite a lot on the permanent way and also locomotives. The T&NVR recently purchased 3 locomotives from the CNR, one of which hauled our train, one was completely stripped down at Thurso, right to the engine block, and the third is to be used for spare parts.
The third stop, and second runby, was at Duhamel which is a train order station although I don't know how much it is used.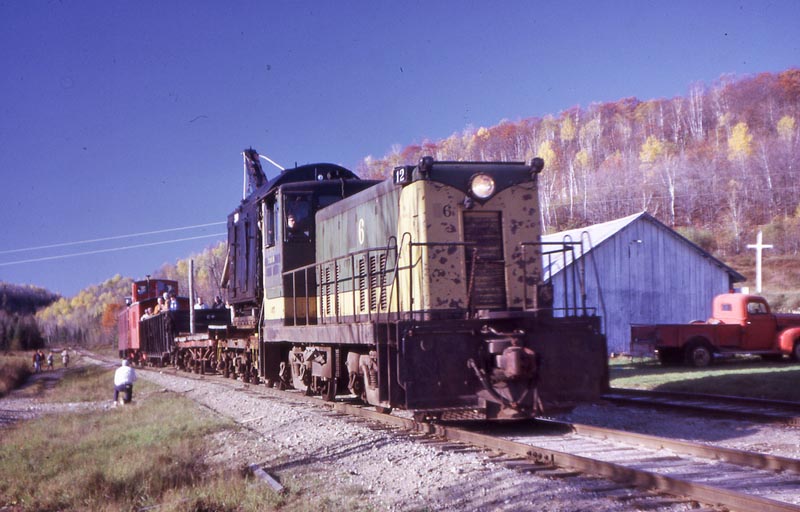 We completed the 57 miles back to Thurso by about 1715 and the only thing to mar a good day was the trip back to Ottawa right into the sun.
I must mention a little boy (
Gaetan Lafleur's son
) who travelled in the loco both ways. He was first into the canteen and although he was small, he managed to get outside of a vast great meal - obviously he'd been there before.
The cost for this trip, including the steak dinner, was $5!