In which I continue work as a Management Trainee on British Railways, attend a course at Derby and spend some time ar Reading Loco driving locomotives.


Wednesday 1 July
1744 Henley to Twyford, Single power car.
Wednesday 22 July
I finished my "Bus Stop" job on 2 July and went up to Worksop that evening. I spent the weekend there - we went to Sheffield on the Saturday - and went to the school at Derby on Monday 6 July. We had the two week Commercial Briefing Course. It was quite good - more interesting than I thought it would be. We had a visit to Boots factory at Beeston which was quite interesting. Everybody came away with a tube of toothpaste, a cake of soap and a bubble bath. I spent the following two weekends at Worksop, travelling in all cases over the Nottingham - Mansfield - Worksop line - very interesting, especially the two Sentinel steam locomotives at Whitwell Colliery.
The most interesting part of our stay at Derby was undoubtedly two visits we made to the Cromford and High Peak line on the evenings of 14 and 15 July (Tues and Wed). The first night was by car in rain and cloud while on Wednesday we went by rail to Cromford station and walked to the High peak Goods Station from there.
The rails were rusty yet had evidently been used within the last few weeks. The connection with the Derby - Manchester (ex-Midland Railway) main line is at High Peak Junction which has two sidings, quickly going to single through well-wooded country. It crosses the river and canal to run close to the latter to Cromford Goods (¾ -1 mile) . The single line shed was closed in April 1964 and the track had been lifted. A fixed manual crane was on the canal wharf. There was a Midland Railway 4-wheel crane and match truck in the siding by the canal.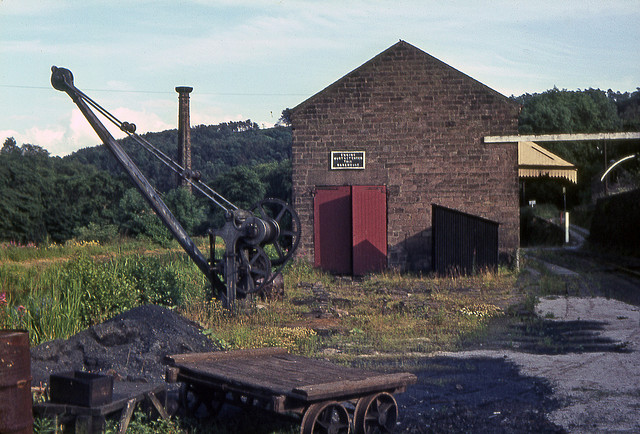 | | |
| --- | --- |
| | Colin and Roy at Cromford. Brian Ward picture |
A shed alongside the canal contained Horwich 0-4-0 saddle tank No. 47007 built 1953. The coupling rods and connecting rods had been taken down. This had presumably come from the locomotive worked stretch in between Sheep pasture and Middleton Inclines. We understood that the part up to the top of the Middleton Incline was now closed, the rest being worked from the Buxton end.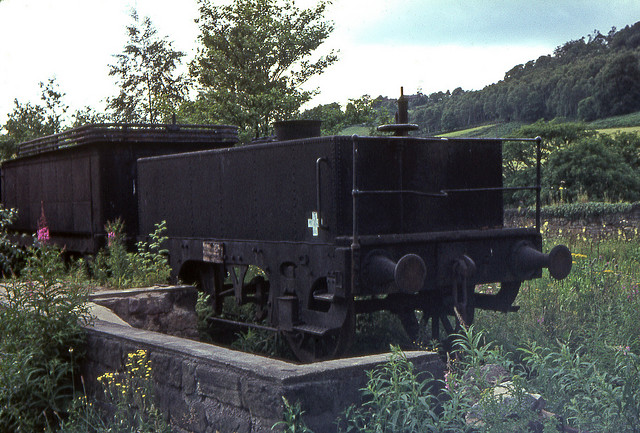 There were several four and six wheel tenders with wooden brake blocks in the much overgrown sidings - they were used to provide extra water for the limited capacity of the locomotive tanks. The offices and workshops had obviously been used quite recently (cups on the table). The offices were probably converted from stables. The workshop contained a line of rail with a pit which had been whitewashed. The rails were of the original fishbelly type, painted black with "C & HPR" embossed and painted white. A short extension outside the shed also contained some fishbelly rail. These do not have fishplates but are slotted.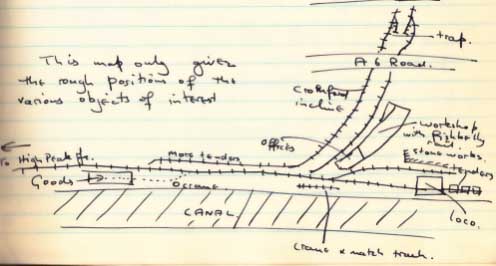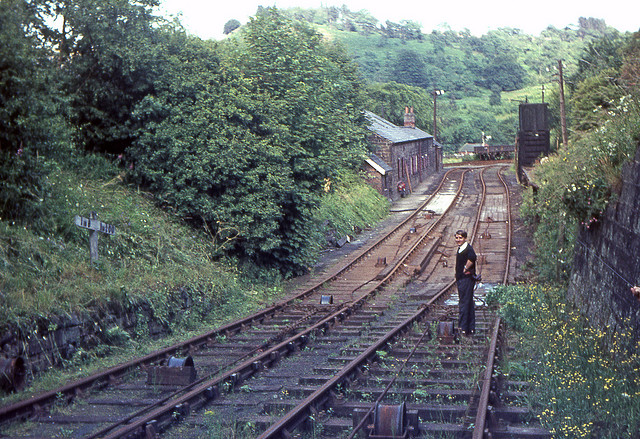 Brian Ward at the bottom of Cromford Incline
From Cromford the first rope-worked incline (1 in 9) is Cromford Incline. It is a balanced incline but is assisted by a beam engine. The second incline (which we didn't see) is Sheep Pasture Incline. We had a look at the line above Sheep Pasture where there is a branch to a quarry (the points were locked). The third incline, (1 in 8) is Middleton Incline, which was worked by an old beam engine (steam pressure 5 lbs/sq. in.) which is scheduled for a museum (at Birmingham, I believe). A second locomotive (No. 68087) a J96 0-6-0ST) was in a shed at the top of the Middleton Incline and had been in steam that day. There was also a stationary boiler which looked as if it was originally an LNWR locomotive.
Our last stop was at the top of the Hopton Incline (1 in 14) which is the steepest adhesion-worked incline in the country. It was rope worked until locomotives superseded horse power. It was almost dark when we reached our last call, It had been raining and the clouds were pretty heavy. It was very erie walking up the 1 in 14 incline. We could imagine North London Railway tank engines storming up with a handful of wagons.
Monday 20 July
I came back to Reading Loco on Monday morning by the Master Cutler Pullman. It was pretty good but I don't think it was really worth the 5/6d supplement.
I have had a pretty good week as far as railways go. On Monday I went to Basingstoke and drove both ways. I drove Grange class 4-6-0 6831 to Basingstoke light. On the way back the train was cancelled so we brought 2-8-0 No. 48325 back light. It was quite exciting although not very much to it. We had some signals and a 20 mph pw check going over and signals on the way back.
I was taught to look back at a distant I had passed. It was on when we passed it but cleared before we reached the home signal. This is one advantage of semaphore signals compared to colour lights.
The 2-8-0 had a very stiff regulator which I could only move using both hands. She had quite a loud knock on the right hand side.
I did a bit of moving locomotives around the shed including a 61xx 2-6-2, a Hall 4-6-0 and an ex-SR 2-6-0 No. 31842. the 2-6-0 was great fun as it was low in steam and I had to shunt some wagons. I had to use full regulator and even so she seemed very tired.
Thursday 23 July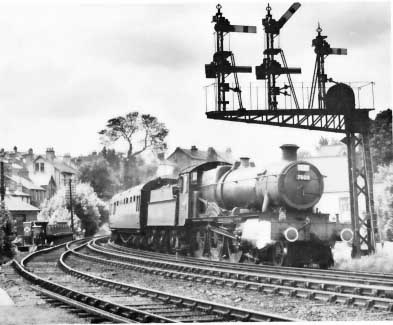 Manor 4-6-0 No. 7808 Cookham Manor, rounds the curve into Redhill with the Saturday 1035 Birmingham Snow Hill - Hastings train on June 22 1962.
I went on Manor class 4-6-0 No. 7813 (with Brian Ward) from Reading South to Redhill via Guildford. It is quite a switchback - one moment the locomotive is working flat out and the next she is going hell for leather down a gradient. On the return I had a go on the shovel from Redhill to Guildford but packed up after Guildford because I wasn't too certain of the fire. At Guildford we passed a USA 0-6-0T in green livery and very well turned out. At Redhill a B1 4-6-0 ex-Eastern region No. 61373 was at the back of No. 1 road, presumably for scrap. There was also a Q class 0-6-0 in quite good condition.
Sunday 26 July
D1000 2128 Paddington to Reading a. 2200. To relief line through Acton and Ealing
Thursday 30 July
D1693 1551 Reading (from Weston super Mare)