They are clean, quiet and ride very well. the computer readout in the centre allows the locomotive engineer to monitor all aspects of the operation of the locomotive, including amperage to the traction motors and oil temperatures. There are several different radio systems including cell phones to allow the engineer to keep in touch and to update the train crew manager as required. An event recorder (black box) is included.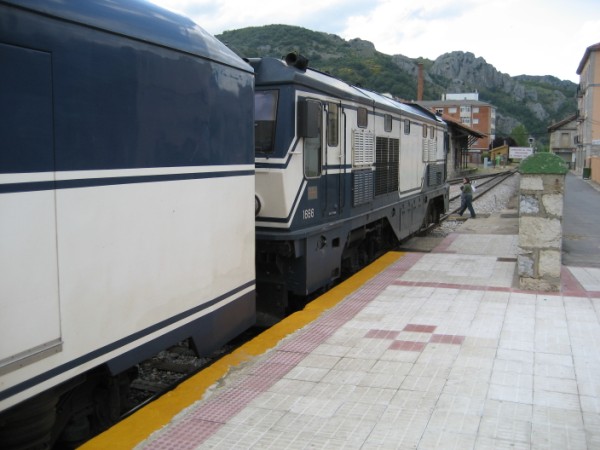 Diesel No. 1666 at Cisterna
At Balmaseda a diesel electric locomotive, No. 1666, was put on for the non-electrified section from there to the end of the line at Leon.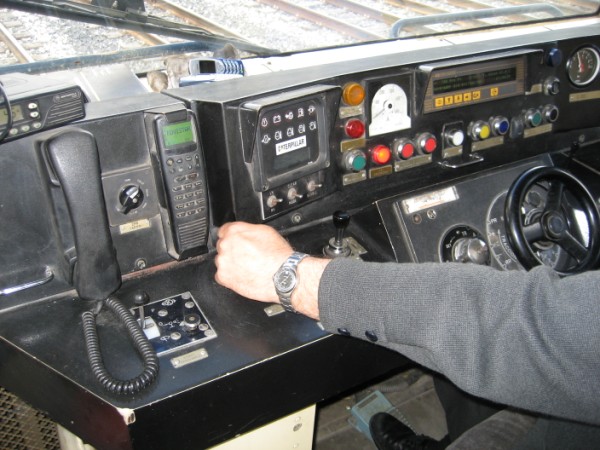 The diesel was noisier and dirtier than the hybrid but it rode quite well on the metre gauge track. The wheel in the centre in front of the locomotive engineer is a combined throttle and dynamic brake. Turn it clockwise for throttle and counter clockwise for brake. Engineers tended to use the dynamic brake because this saves wear and tear on the train braking system, particularly brake shoes (blocks). Coming into Cisterna the engineer was able to stop the train using dynamic brake only and did not touch the air brake at all after leaving Guardo.