Trip to Ireland September – October 2006

Wednesday September 20

1805 Ottawa to Toronto 1910 WS 649
2240 Toronto to Dublin 1015 Air Transat TS 336



Thursday September 21
Aston Hotel 7/9 Aston Quay, Dublin
The flight was pretty much as expected but we arrived an hour late because the incoming plane was delayed by a storm in he Atlantic. We took the AirCoach for 7 euros into Trinity College and then fought the crowds of students to get to the hotel.
The hotel is gouging to take advantage of the Ryder Cup which starts tomorrow. There isn't a room to be had for any price at the moment.
Our room wasn't quite ready so we had a Guinness while we waited. This taste very hoppy, bitter and quite bitter compared with what we get at home. The receptionist was proud that she had been able to pour it properly as it had a good head.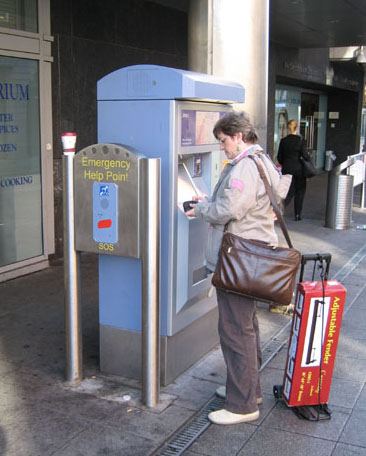 After a rest, we walked out across the Liffey to the tramlines and then followed them to Busara, the bus station and on to Conolly Rail station. Busara had no information about one day tours from Cork so we will have to wait until we get there. We checked out the departure at Conolly for Saturday and then bought Luas (tram) tickets to get us back to Jarvis. The train was full as it was the evening peak and many people were left behind at each stop. At each stop people were trying to get in before people had got out so there was a lot of pushing and shoving - more like China than Paris. The trains are short and overcrowded and they could do with multiple unit operation or shorter frequencies.

A lady came up to us and asked a question in a broad accent.

Turned out she wanted to know if the tram went to Heuston which it did. There are a couple of posts with flat tops close to some of the ticket machines where people can put down their cans of beer while they are buying their tickets.

There is a frantic scramble for tickets as each tram arrives accompanied by cries of "Shite" from those who miss the tram.

Dinner was a plate of Italian cold cuts and a plate of olives with some wine at a wine bar, Enoteca, north of the Liffey. It was a pretty busy place. There was a table with four men who had ordered five plates of food. When it came there wasn't enough room on the table for all the food and drinks. One person had to hold up a plate of food until they had eaten their way in.

We were sitting at a table for two and a couple asked to use the other side. The woman was a witch. She was clad all in black, including a black leather hat, and had red hair. She smelt something awful and could have done with a good scrub.

Went to bed early.