Honduras Coconut Railway
This line is an isolated remnant of the 3 foot gauge Tela Railroad which became part of the Ferrocariles Nacionales de Honduras. A few years ago the line west of La Ceiba was cut by a series of washouts leaving a small portion from La Ceiba eastwards for about 30 km - this is now used sporadically for tourists. In 1997 I hired a track car for a morning and we went out to Sambo Creek. These pictures were taken on that trip.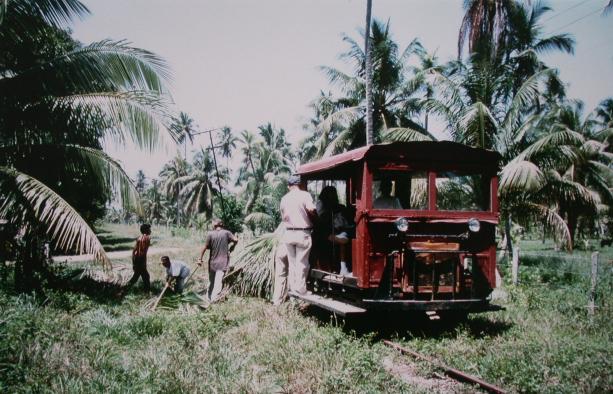 This is my private charter "train".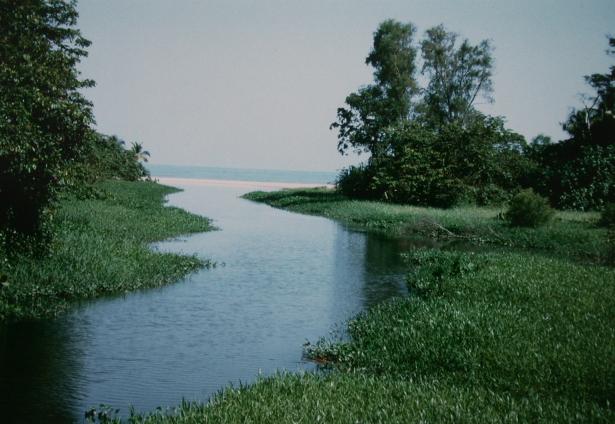 . .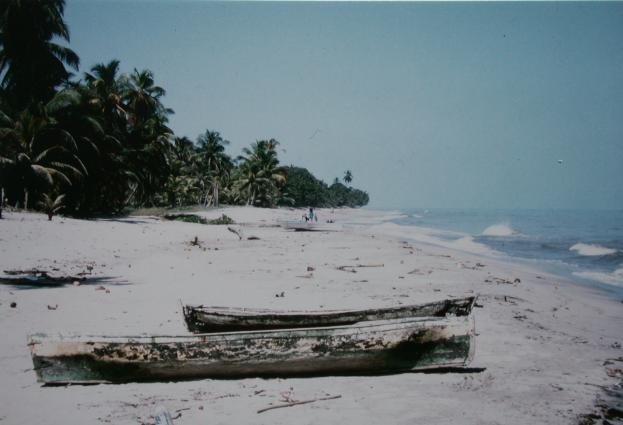 The line runs parallel to the shore and there are some attractive scenes.
Another small section of line was also retained. This is situated about 30 kilometers west of La Ceiba. It runs from a small village called La Union, which is accessible by road. It runs through the hamlet of Monte Pobre and terminates in a wildlife reserve known as Cuero y Salado. This section of line was retained by the United Fruit Company to bring out coconut products. There is a small processing facility where the outer material is removed from the coconut and put through a separator which produces copra. The bagged copra and the nuts are then loaded on to a flatcar and towed out by means of a motorised speede /track inspection vehicle. There is only one motorised vehicle and, while there were switches still in place at the reserve end, I don't think any switches were in use.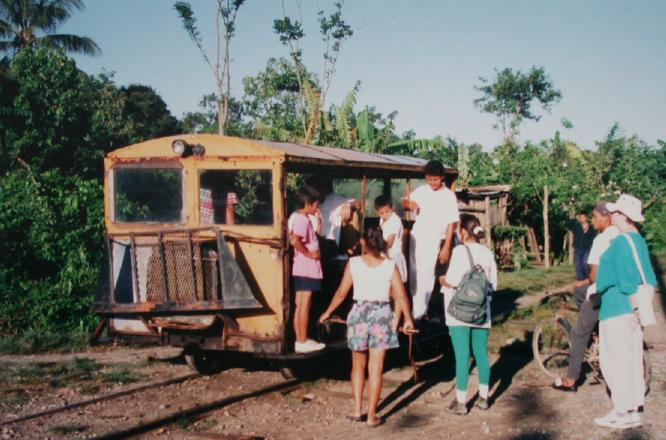 Entraining at La Union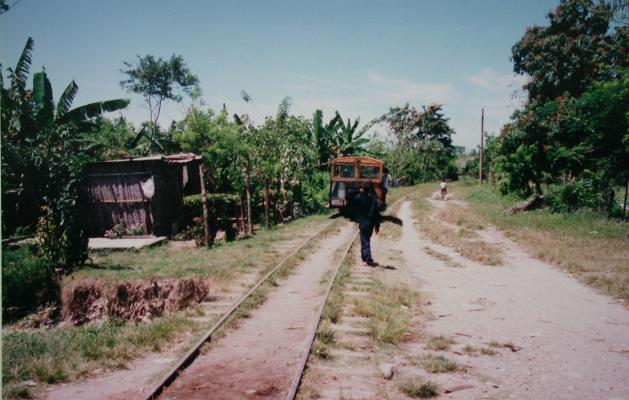 On the way.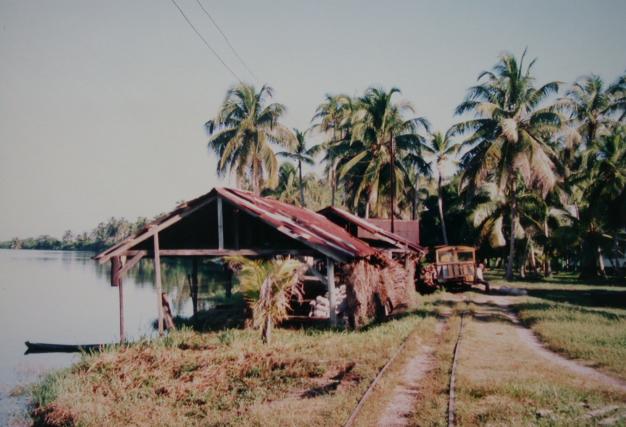 End of track at the reserve.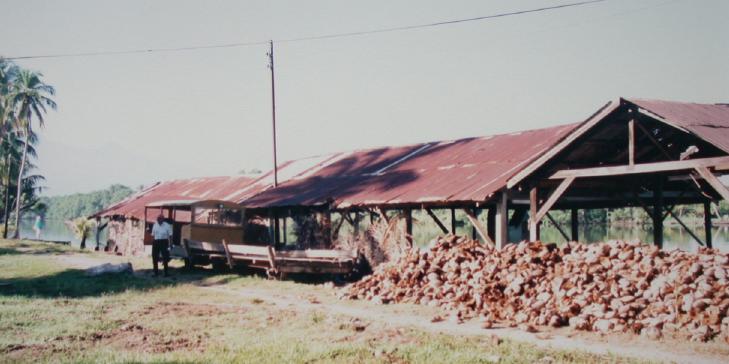 The copra loading point.
The line is also used to bring in tourists visiting the nature reserve. If you make arrangements in advance, as we did, they will probably send the speeder to take you in - the total line must be about three miles. Otherwise they will use a four wheeled pushcar pushed by a couple of men running behind - a pretty tough job in that heat. I also noticed people poling a push car along rather like a punt. With only one motorised vehicle on the line the other push cars would have to stop and be thrown off to one side to clear the speeder. My visit took place before the disastrous hurricane in the late 1990's - I do not know if this still operates.

A 2004 Update from Mark Kolodny of New York

A friend and I visited La Ceiba over the New Year's holiday. We rode on 2 isolated segments of trackage:
1. La Union to Cuero y Salado Reserve

2. downtown La Ceiba to the western suburbs/current end of track

From what I saw and heard in and around La Ceiba, a great deal of derelict track was ripped up by locals then sold for its scrap value. The track in Sambo Creek was badly overgrown and covered in dirt. I don't think any trains have been out there in some time.


Incidentally there are many other parts of the world where people use the railway system for getting around on their own privately constructed vehicles. I can think of the Phillipines where a part of the National Railway system in Manilla is used like a taxi system and also on the island of Negros where you can rent a contraption which is pedalled like a bicycle. At Puerto Barrios, in Guatemala, many people use flatcars to get into the town. In many cases they do not use wheels on axles but rather have automobile bearing ball races which are attached to the frame horizontally to maintain the steering and vertically for the movement. When a train comes along there is a mad scramble to get out of the way and the flatcar is thrown into the ditch!

This page updated July 2005.