Friday 5 May 1989 Travel to Hong Kong
This was the beginning of our adventure to Hong Kong and China. We left the apartment at 06:00 and managed to get an earlier flight to Toronto. From there we flew to Vancouver in a flight that was delayed by mechanical difficulties before we left Toronto. Mary went for a 20 minute walk with Pete and Chris at the airport while I met with Jim Eisler and Andy Tagert for a short business meeting. The flight to Hong Kong was very long, about 13 1/2 hours including a stop at Taipei to take fuel. At least we saw a little of Taiwan - a very impressive monastery on top of a mountain completely surrounded by clouds below. We didn't see too much of our arrival in Hong Kong because it was dark and we were sitting over the wing. We did come over the land with the incredible turn right at the last minute. We arrived at the hotel after a journey of something like 26 hours only to find out that the Holiday Inn Harbour View was not expecting us. They found a room for us and we thankfully went to bed. Seemed as if we had been cheated out of a day. We left at 06:00 Friday morning and arrived ay 19:00 Saturday evening. Saw "The Secret of my Success" on TV then went to bed.
Sunday 7 May 1989 Hong Kong
Woke up early at 06:00 thanks to jet lag and had breakfast at the hotel. Afer this we wandered into the Tsim Sha Tsui area around Nathan Road (Golden MIle) and wondered at all of the street signs hung right out over the street. Had dim sum at the Capital Seafood Restaurant. It was very good. Very similar to what we have had at the Fuliwah.
Pretty hot and muggy. We went over the Star Ferry to Central - even decided to go first class for the sum of HK$0.80 (about 12 cents). The harbour is incredibly busy. There are all types of craft from large luxury vessels to dingy wrecks and hovercraft. The skyline is incredible - in one word "exciting" There are wall to wall skyscraper. It seems that everywhere things are being torn down and rebuilt. There are a lot of interesting alleys with many merchants selling a great variety of items. Having spent time wandering around chinatown in Ottawa and Toronto there weren't a great number of surprises. We visited the Central Market. There were many areas where people were squatting down quietly strangling and cleaning chickens and ducks. In the meat area there was a water buffalo being skinned. One of the most amusing episodes was a man carryng a basket of bones, including a buffalo skull, dropped them on the sidewalk. Another man walked up and they started to have an argument rather than sort out the mess and reload the bones, This was a side of the chinese character that was to become quite evident. They can be quite argumentative and, because they will not lose face, very tenacious.
I found a compact disc of the music to "Local Hero". Paul had played it to us just before we left. It cost CAD$12. As it turned out is is a superb recording with excellent separation.
We went on the tram route all the way out east to Kennedy. The trams are four wheeled versions built in 1956 from a design that dates back to the early part of the century. It is fun, if not a little jerky, on the top deck. The exact fare is HK$0.60 which is paid when leaving, You get on at the back through a turnstile and exit at the front.
There is not a great deal to see at Kennedy which is on the seafront. There are a lot of barges moored. Some would call it picturesque but in reality it is just dirty and a mess,. We wanted to ride the Peak Tram but it was very hot by this time (13:00) and there was a long line up in the sun. We decided to make our way back to the Start Ferry Terminal. On the way we pased a park (read slab of concrete with some grass and trees) where there were many Filipino maids on their day off. The noise was incredible. They must catch up on the week's gossip in an hour or so. Just outside the ferry terminal are to be found some of the few remaining rickshaw men in the colony. The last rickshaw license was issued in 1957 and they are dying out. The rickshaw is now just an item for the tourists. The remaining men do not seem too firm and it is doubtful how far they could go without collapsing.
We came back to Kpowloon on the ferry and had a siesta in the room. Went out afterwards to Tsim Sha Tsui and found a good restaurant. We ordered:
- satay beef
- pigeon
- vegetables with stewed mushrooms
it was all very good

Monday 8 May 1989
Hong Kong to Guanzhou
Breakfast at the Holiday Inn where we met up with Sheila and Ed, our friends from the Ecuador trip, as well as that part of the party who had flown into Hong Kong. There followed a hectic taxi ride to the hovercraft terminal and the check in procedure. The hovercraft left pretty much on time and proceeded past the New Territories and up the Pearl River to Guanzhou. Early on we had to slow down while they fixed the motor which made us 30 minutes late. The transition to China from Hong Kong is quite marked. We had passed along a shoreline dotted with respectable looking highrises and boat docks. There was quite a transition to dingy dwellings. The boats became smaller and dirtier with a distinct lack of paint. As if to give it away we stopped at a small pier and took on a man in a military uniform whose only function seemed to be to sit in the front with his feet up and smoke.
After this we looked with greater curiosity at the inhabitants of the boats. They all flew the red chinese flag. This was our first sight of red chinese. Just think, these are communists!.
It was stinking hot on arrival for the entry procedures which were pretty much a formality. The local guide met us at the terminal and, after some great discussion about what to do with our bags, we rode the CITS bus to a restaurant where we met up with the rest of the party (the total was 12 including our "leader" Belinda. Our national guide, Mr. Chang was also there to meet us. He would stay with us right through to Hangzhou.
Lunch was excellent. The highlight was probably the sweet and sour pork which was exactly as we are used to it. Pieces of pork cooked in batter and covered in sweet and sour sauce which was rather more caramelized than we are used to. The waitresses served each course to us. This was as good as any we had in China. It seems to be a grey and brown society. There is little or no paint and certainly no color. Quite a contrast to Hong Kong. There were a couple of attempts at divided highways - the only ones we were to see. They were pretty crude with narrow sidewalks and rough concrete construction. It would be more accurate to call them divided cart tracks.
We went to the station in plenty of time to catch the 17:25 train to Nanning which took us as far as Guilin. The crowds in front of the station were heavy and we had to keep a close watch on the tour member in front of us. On the platform the local guide found the other local CITS crew who had steered our baggage right to the coach door and fell upon them as long lost brothers. I had the impression he thought he would not see our baggage again. There was quite a fuss getting into the soft class sleeping car. We had reservations alright and there was room but the Blossom (sleeping car attendant) took her time allocating space. Finally, clutching the hallowed pieces of plastic which purported to give us access, we scrambled aboard. We shared a compartment with Sheila and Ed. It was number eight and I had some misgivings as it was placed right over the truck. There was no need to worry as it was extremely smooth riding on the well-maintained Chinese railway track. The compartment had four bunks with lace-cotton covers, a duvet, pillows, towels and lace curtains. All this was set off by a real live house plant, tea cups and a really good vacuum flask for hot water. The whole was covered by a thin patina of grime. As in all compartments, first impressions were quite good, possibly tempered by relief that we had actually made it past the Blossom, but a closer inspection revealed a great deal of grunge,
The train loudspeaker system was quite annoying. I silenced it shortly after departure by prising back the grill and cutting the wires with a small pair of wire cutters brought specially for the purpose.
There was a washroom at one end of the car which had water most of the time. The toilet was a chinese one - a hole in the floor with two footrests. This was thought to be more hygienic than the european toilets in other trains which require body (read bum) contact. I subsequently found out that the toilet water could be controlled by playing with the plumbing. It was turned off for much of the journey for some strange oriental reason,
Dinner was late. The crew fed us after everybody else. It was a good meal with many courses. Mary really liked the beef with chinese garlic. This was eagerly sought after for the next few days after which it began to pale. It took quite a bit of argument before we were able to get some beer, the train crew said it wasn't included and took some persuading otherwise.
We went to bed in a heavy thunderstorm. I remember waking up in the night and seeing my first Chinese steam locomotive suddenly brightly illuminated in a blue white lightning flash.
Tuesday 9 May 1989 Guilin
We slept pretty well and woke up around Hengyang where the train changes direction from northwest to southwest. This is quite a large town with a number of steam locomotives in evidence - all JS 2-8-2. Breakfast in the diner consisted of huge bowls of noodles in soup with chicken and onion on the top. We spent the morning looking out in the rain. The paddy fields are a bright green and, of course, are flooded. People were still working in the rain. There was a marked absence of agricultural machinery. The only assistance to man comes from water buffalo. Ducks, pigs and chickens are everywhere. Every small piece of land is cultivated. The red soil contrasts pleasantly with the green. People were bucketing water up on to the fields. Water control is very important. Water, water everywhere!.
Lunch on the train was similar to the previous night"
- shrimp with winter melon
- chicken with leek
- dried mushroon with greens
- beet with cucumber.
It seemed better than the previous night but maybe this was because our palates are becoming used to this fare. We found the attendants in the soft class car to be very forthright about what is right behaviour and what is unacceptable. They haul people out of dining car seats and put them elsewhere. The small, young sleeping car girls (Blossoms) will quickly turn out anyone who has no right being there.
We arrived at Guilin at 14:11 and there was a delay while we waited for a bus to arrive and sought Ed's wallet (which eventually turned up in Sheila's baggage at the hotel). Guilin was overcast and sticky - not very pleasant at all. The town is very pretty with plenty of parks and water. The hotel is quite good although the hot water is only turned on at specified times.
We walked into town and bought some postcards. The whole place is characterized by the sound of bicycle bells. The usual motorized traffic sounds are largely missing. Traffic control is quite a problem because of the large number of bicycles. We tyook a taxi back to the hotel using the handy card that is provided which said in Chinese "Please drive me to the Rong Hu Hotel" and gave the address. It was a good thing that we had it because the lady taxi driver couldn't understand us and we were not certain of the way.
We found out at dinner that we wouldn't be getting to Kunming by train but rather will be spending the next three days in Guilin and then flying. It gave us more time in Guilin with its steamy heat but it meant that we would miss the Stone Forest in Kunming. I suggested that the men should visit the steam locomotive depot as a consolation. This was taken up by the men (after all it was a railfan trip). I laid it on thick with the guides about being a senior mamber of the Canadian government and they agreed to do it "For China".
Wednesday 10 May 1989
Guilin, River Li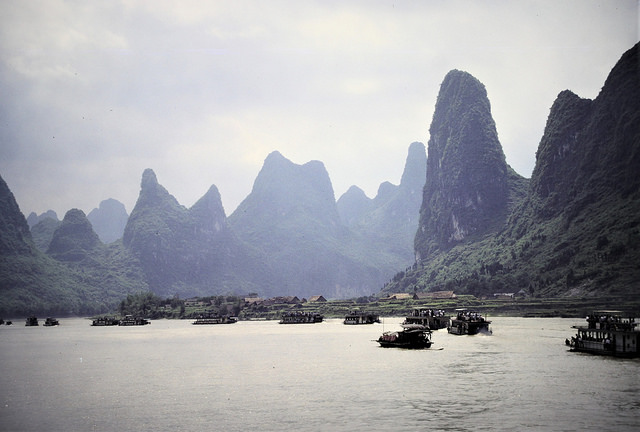 Click here to see all pictures taken on the River Li
This was a good day. We went on thr River Li through the fantastic karst scenery. Breakfast at 08:00 and we left on the bus at 09:00 for the hour long trip to the boat landing. The fields were very green. We passed many small kilns where farmers made bricks for use in the town, We also saw a number of people cycling with buckets of shit to put on the fields. The rules of the road seem to be that the vehicles have the right of way. The bigger ones have right of way over the smaller ones. The bicycle comes after the vehicle and the pedestrian comes last. The horn or bell is used to clear the way and brakes are only used in an emergency.
The boat went as far as Yangshuo. They are not too big but they manage to accommodate a large number of groups. Lunch is prepared on board at the open galley at the back. It was pretty good:
- chicken
- pork balls
- beef with greens
- scrambled egg
- fish
- egg drop soup
We spent most of the time on the top deck where we were able to observe the wonderful rounded vertical mountain scenery, the bamboo groves and the fishermen. We did see some cormorants but it looks as if they are only using them for the tourists now. There were a great number of boats on the river. They travel at different speeds in the fast flowing muddy water. They use their horns in the same was as the motorists. Lots of jockeying for position, all steersmen have an intent look on their faces and have a half smoked cigarette in their mouths. They each have a group of admirers who egg them on to greater feats of daring.
We arrived at Yangshuo at 13:30, a town that seemed to be completely given over to tourism. We had to run the gauntlet getting off the boat and everywhere we went we heard, "Hello, hello," and "Change money". We bought a wall hanging of the River Li at the Friendship store as well as a good book of Guilin River Li photographs.
On the return to Guilin we stopped several times to photograph people working in the fields. We stopped to see a water buffalo. The local guide said, "There's a water buffallo plowing. No its an ox. Close enough."
I went out with Anthony and David to look at trains on the main line running between Guilin and Guilin Bei (north) while Mary had a rest. A drip developed from the ceiling on to my passport and air ticket. Much to-ing and fro-ing of staff with two men finally coming in swearing at 21:00. It seems the real problem was that it was so humid that the system couldn't handle it.
Thursday 11 May 1989
Guilin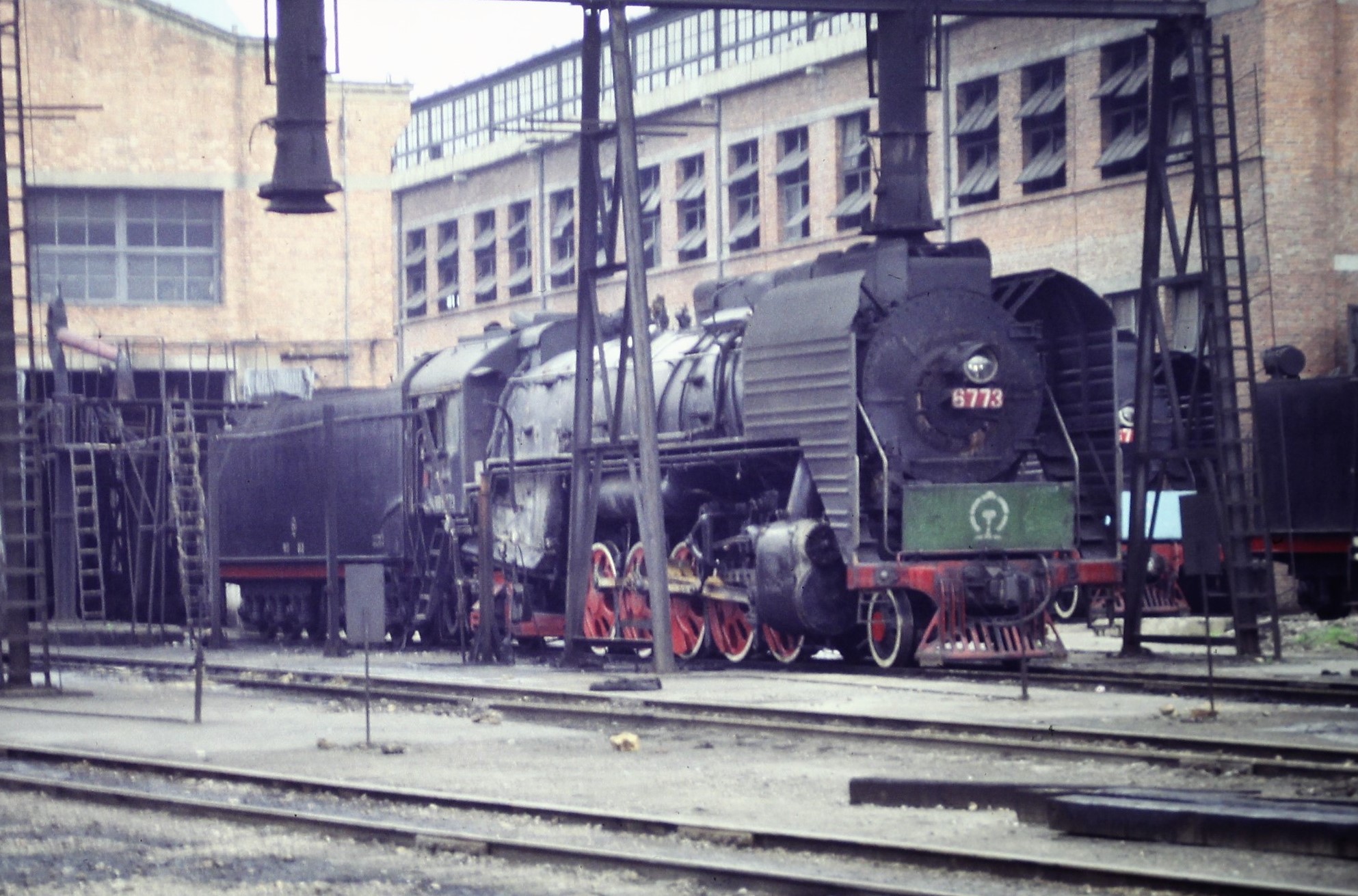 Click here to see all pictures taken at Guilin locomotive depot
One more day in Guilin which was, again, very hot and steamy. First stop was the locomotive depot where we saw a lot of steam engines, mostly QJ class 2-10-2 of which 51 are allocated here, but also some JF class 2-8-2s as well. Surprisingly not one of the depot's allocation of 10 JS was on shed. It is like a small community surrounded by a brick wall which we entered through a wrought iron gate. The bus drove down a tree lined boulevard with flower beds and parked outside the apartment building where the workers lived.
The shed was a typical steam shed with the paraphernalia which one can expect to see throughout the world. It was quite tidy and the two shops were clean. The lifting shop can evidently do some very heavy work.
It started to rain so the schedule was changed for a visit to a porcelain factory. Very beautiful work but not practical for the tourist. I liked the very large vases or urns painted with scenes from the River Li.
After a good lunch at the hotel we went to the Reed Flute cave. This is a heavily frequented tourist attraction. The limestone formations are very attractive but one couldn't help feeling that it would be just as good if they were admired for their own sake and not because they looked like a horse or a dragon or some other mythical beast. The Chinese seem to do this with all natural features.
The second visit of the afternoon was to a palace which has been turned into a teachers college. There was a climb up to the top of a small mountain which was quite arduous in the humid atmosphere. We had tea in a terahouse at the bottom. I gained the impression that we wouldn't be allowed to leave until we had bought something from the tourist shop. It was quite evident that CITS feels we should be milked for as much as possible.
There was some flooding on the way back to the hotel. Some cabinet makers were sitting in the gutter advertising their work by laying out magazine illustrations. Dinner was in a more classy restaurant at the hotel but the food was nothing exceptional.
Friday 12 May 1989
Guilin then flight to Kunming
I went out early to see some trains - a southbound passenger and a steam hauled freight in both directions. The northbound freight was working quite well up the grade over the bridge. There are both video and slides of it but we cannot identify it.
After breakfast we went to a pleasant park with a cool cave and a zoo. There was a rather sad panda which has not come out of the concrete area since the death of his mate some six years ago. One wonders what is worse - to be allowed to die off in the wild or to be condemned to a life of misery in a horrible zoo such as this. The children were having fun in the petting zoo. There were goat cart rides using small kids. One little child was quite frightened and cried when the kid stopped suddenly.
The guide was having difficulty in knowing what to do with us. After lunch at a restaurant by a lake we visited a jewelry factory which was really a modern day sweat shop. There then followed a visit to another park. The Chinese have a lot of parks and they are well maintained with no signs of vandalism. This is probably because of the entry fee. We watched a couple who were obviously planning to get married. For a small fee the girl was dressed up in an empresses' costume complete with head dress and then photographed holding a bird cage standing on a bamboo boat complete with cormorant. Dreams!
The airport was pretty hot and sticky. We had to stand some while before getting boarding passes and moving into the departure lounge. It was very crowded and very hot. The plane was at least an hour late. The big surprise was the CAAC flight. We had been lead to believe that CAAC was an awful airline. It was pretty good. The 727 was in good shape and the in-flight service was good. There was a box meal which was adequate and quite satisfying - apart from the dried squid which we all passed to Ed. Nobody knows whether he actually ate them or not.
Kunming is at a higher altitude than Guilin and the air was much drier and quite pleasant. Our local guide, David, seems pretty good. He speaks with a strong American accent, of which he is quite proud. He picked it up from VOA which can be received much better than the BBC.
The hotel was under renovation and was pretty sloppy. At least there was plenty of hot water. The restaurant food was not too good although there was nothing really obnoxious. We did have a nice plate of fish, Carp, I think, cooked whole and covered in a fennel sauce.
Saturday 13 May 1989 Kunming
It was cool and drizzly this morning, changing gradually to a steady rain this afternoon. David wanted to ensure that we saw as much as possible and arranged a schedule around our wishes, He was accompanied by a student from the university who wished to follow in his footsteps.
We drove out to the Dragon Gate Temple. This is dug into the sides of a sheer cliff and took 70 years to build. On the way out we passed people playing badminton on wide sidewalks. They had two bicycles propped up together as nets, There were people wearing red armbands doing traffic duty. They are training for their drivers license. It takes one year of training and then they have to do two months of traffic duty ... and they are still awful drivers.
After lunch at the hotel we went for a walking tour of a street market. This is not the area you would expect to find tourists and we have to thank David for an interesting visit. We saw all kinds of animals for sale including cats, pigeons and sparrows. There were also many bird stalls where people could buy pets. A man was smoking a water pipe and he showed us how he did it although I still cannot figure out the principle. David pointed out a poster which said that a man had been caught smuggling heroin and had been executed on April 30. This shows another side of the chinese way of life in which capital punishment is commonplace.
The men split up from the ladies to go to the narrow gauge railway station at Kunming Bei. There was little to see except a green diesel of the DFH21 class, #033 and two derelict french-built 2-8-0 steam locomotives. The ladies managed to get quite wet on the walk back to the hotel.
We paid a little extra (about $10) and had a meal at a good restaurant that had a show. Our table was close to the stage and we enjoyed the Manyaun Natonal (sic) Dance and Music Restaurant. Under the principle "The Customer is a King", the restaurant serves Yunnan food, Minority specialities, Guandong food, Sichuan food and Suzhou/Wuxi food. (Please inform our reception one day before your prosnce).
The food was excellent. There were at least 12 courses and these were served to us by two waitresses who seemed to be assigned just to our table. There were a variety of fungus dishes as well as a good variety of Yunnan specialities. The meal was finished off with a hot broth into which were put thin slices of uncooked meats which cooked in the broth. All through the meal we drank beer and a type of very sweet wine.
The show was good although we wondered how authentic it was, particularly the dancing. They placed great emphasis upon the minorities which form a significant portion of the population in this area.
I am showing signs of Montezuma's Revenge although it didn't stop me from eating. Mary's tomach was a bit iffy. I am getting a reputation as the one who will try anything. Many in the party will not try a particular dish until I have tried it and pronounced judgment. Nobody yet seems to have twigged that it is all good but some is better than others.
Sunday 14 May 1989 Kunming to Chengdu
Still raining this morning and we had a wet walk through a park in the middle of the city where we saw some old people disco dancing. Went to the station in plenty of time for the train to Chengdu which left on time at 11:20. There were the usual annoying hassles to get to our berths. We shared a soft class compartment with Ed and Sheila. The wait before departure was enlivened by a pretty good fight - this seems to be quite common. People just stood around and watched.
We were warned to be careful on this train as it goes through some pretty rough areas. Not to stray very far from the car door at intermediate stops, do not leave the compartment unlocked and be careful not to be mugged on the train. This is a relatively uncivilized area - the foothills of the Tibetan mountains. The ride was great. Once into the mountains the engineering was impressive with many bridges and tunnels (40% in tunnel). Much of the line was completed in 1971. The people here have different facial characteristics, looking more Mongolian. We had lunch and dinner on the train. Lunch was particularly good:
- anchovies with chinese garlic stalks
- pork with hot green chilies
- peas with ground meat
- chicken with winter melon
- chinese cabbage
- spam, meat balls and winter melon
- lychees
- steamed rice
- soup.
There was a choice of cherry cream soda or beer to drink - and all for 10 yuan or $3.00. David and I particularly liked the anchovies and managed to trade to get another plate.
What an incredible journey. All day we were in the mountains and could get a good view of the small towns and villages, many with mud houses. The evening meal included a chicken dish. We know it was chicken because the beak was included. I thought this a great laugh but the others didn't think it was funny. Diner was so so - a little greasy.
Monday 15 May 1989 Chengdu


We slept pretty well in the train but everyvbody was up by 06:30 for our 09:30 arrival in Chengdu, the capital of Sichuan province. I saw some steam on the outskirts of Chengdu, including a couple of Pacifics in steam. We were met by the local guide Li Ping and taken to the Ji jiang hotel for a wash and brush up and breakfast. We then had a tour of a bamboo garden and then to a restaurant for lunch. This was at a place with a good reputation.
- potatoes with onions
- peas
- peanuts
- onions with mint.
- hot spicy, garlic egg plant (similar to Hunan style)
- pork Sichuan style
- winter melon and ground beef
- eggs of some sort
- tripe
- four types of dough both savory and sweet.
Mary was delighted with the egg plant.
We found more people here wearing the traditional blue overalls. In the afternoon we went to the zoo to see the largest collection of pandas in the world. Saw a candymaker at work. You spin a wheel to see what animal he will make in candy - on a marble slab.
Most of the group were tired so we went back to the hotel to rest. I went out for a walk to watch the traffic and wander down a couple of back streets. There was an altercation between two female cyclists (one had her stocking laddered) many looked on and participated, one girl was crying. People were blocking the street and talking about it for several minutes after the two cyclists had gone. The traffic control is completely ineffective.
We had dinner in another good restaurant. Very good egg plant again. There was then time to wander through a night market. It was interesting but spoiled by the rain which began to fall. Mostly clothes but there was a good trade in meat cooked on a skewer and then doused liberally in chili peppers. We could tell that we were in Sichuan!. Everything closes up early here. They do not use lights while driving at night - except to flash them occasionally.
Our itinerary was changed so that we would take the train to Chongqing this evening and not stay the might in Chengdu. This would not have been so bad but the local CITS screwed up and sent our bags through to Chongqing on an earlier train. The journey was not too bad although Ed, Sheila and the two of us had to be in a separate compartment in a different part of the train.
Tuesday 16 May 1989 Chongqing
We slept quite well but our national guide was not so lucky. The other three ticket holders in his compartment were friends of the train crew and so ten people slept on the four bunks.
The local guide met us and steered us through the crush at the station to the waiting bus. The station is being rebuilt and there didn't seem to be any buildings. There is one area which looks like a cattle enclosure where they keep the hard class passengers before opening the gates to let them charge out to find some room in the train.
We had breakfast at a hotel in the centre of the town and then made our way with a short sightseeing tour to our hotel. This is a guest house on the outskirt of the town. It was very good indeed - possibly the best we had while in China. Lunch was probably the best meal we had while in China. The dish of the trip was pork with chilies and vegetables. I was intrigued with a special sort of sichuan pepper which gave an aromatic flavor to the dish.
Chongqing is very hilly and foggy (the latter is attributed to the climate and surrounding hills but we were not so sure - more likely pollution). It was so hilly that there were almost no bicycles. Did some sightseeing in the city (highest point, lowest point, bridge over the Yangtze River etc). Took a ride on a cable car over the Ji jiang River and saw an old part of the town built in 1940. It was made dark to fool the Japanese aviators. The old part is very interesting with many street vendors. Meat is sold out on the sidewalk and there is little attempt at hygiene. There is lots of dirt and flies everywhere.
One of the most haunting sights was of a man in blue coveralls being carried by another similarly dressed. He had lost one leg at the knee where there was a bandage and there was a bandage around the other knee and he was hanging around the other man by his neck. He was obviously very frightened. One could only wonder what the future holds for him.
(This is an image of China that I have never forgotten - the look of terror and desperation on his face)
We were brought back to the center of town and encouraged to spend money at the Friendship Store. Instead we wandered around the back alleys and markets where we managed to buy some sichuan pepper. Hope there will not be any problems with customs. Dinner was supposed to be at one of the best restaurants in town. The local guide was very boastful but it turned out to be acceptable but nothing special. After dinner we rode back to the hotel. We drove over a motor bike that had been parked under the bus outside the restaurant, The guides thought it hilarious but the owner would not have been too pleased.
Wednesday 17 May 1989 Yangtze River
We were to leave the hotel at 06:30 but the local guide and the driver overslept and so we didn't leave until after 07:00. While we were waiting there was tyhe opportunity to watch the locals doing their wake up calisthenics silhouetted against the mist. The day got worse when the driver and the guide could not find the boat. It is a big one but apparently the boats dock at different places according to the state of the river. There was a long flight of steps to descend to the boat. One wonders for how many years people have been going down there as it is a very ancient waterway.
We found our baggage, picked them up and brought them on to the boat much to the constrernation of the porters who wanted to do this and get paid for it. We werem't trying to avoid payment but just wanted to ensure that our bags were on board when we cast off. There was a great argument between the rest of the party and the porters.
From then on the day improved. We left on time to a magnificent sunrise. It was fascinating watching the boats illuminated in a bright red fast flowing river. We could see an army of men carrying coal from a boat. They looked like ants. There was one anxious moment when the boat stopped and anchored for half an hour just after we had left but this didn't seem to cause any long term problems.
Our cabin is quite roomy with hot and cold running water most of the time. We face outwards with two windows. Breakfast was not too good but lunch improved. Trouble is the idiots in the party insist on a western breakfast with toast and coffee, neither of which the chinese know how to make. The chinese breakfasts are pretty good.
There is a group of very noisy Taiwanese in soft class. They have monopolized the lounge and spend most of the time shouting and gambling. Most of our group look down their noses at them but at least they are getting good breakfasts.
The day was pretty lazy. Mary was not feeling too well and spent mopst of the time in bed.
There are some interesting towns along the way, a few of which at which we stopped. The porters work very hard to get the packages and boxes on to the boat, The arrival of the boat is quite an eventand there are many who come down just to see the sights or to see somebody off.
Thursday 18 May 1989 Yangtze River

The boat traveled through the night stopping at one town to pick up and drop off. We slept reasonably well and were woken up by Belinda so that we could see the first of the Yangtze Gorges. There is warm water in the sink but it is a dirty brown so it obviously comes straight from the river. We wondered how clean it was.
The weather is very misty which lends an interesting atmosphere. The sun rose and turned the mist a pink color. There are a few side tributaries which are a clear blue. They contrast sharply with the muddy brown of the main stream.
The Taiwanese are dressed very flashily. One woman even has a full length fur coat in this heat! Another girl has a huge purple hat and a purple dress, Hazel said she didn't know if she was a bride or a tart. I thought both! We think they are just trying to impress the communist chinese that their way of life is better.
Belinda spent most of the afternoon in the sun on the foredeck. She had her shorts on and many chinese men on the deck below were looking up into her crotch. She is so ignorant she doesn't even realise that her clothes are considered offensive to many chinese.
We came to the locks that took us around the power dam. There are three of them and they are quite big but not so long as the St. Lawrence ones. Late afternoon we came out of the hills and the scenery is now pretty boring. Time for a read and a snooze. The Taiwanese who shared a wall with us were up late gambling.
Friday 19 May 1989 Yangtze River to Wuhan


Still on the boat. I decided to skip breakfast. These silly "western breakfasts" are not worth bothering to get up for. It is Hazel's birthday today. We went to her cabin ostensibly for a briefing on the itinerary and drank her health in some foul tasting chinese wine. Very little to see in the way of scenery. Passed under a big road and railway bridge and docked at Wuhan around 16:00. There were students marching across the bridge and it was evident that their protests had succeeded in cuttingcommunications between the two sides of rthe river for road traffic. But not for rail as we saw a number of trains, including JS-hauled passenger, crossing the bridge.
We were met by a pig of a guide. Much arguing about luggage which we didn't want to leave for somebody to bring later. In the end we carried it into the bus ourselves. Good job we did as the Taiwanese left theirs and didn't get them until 23:00. Much evidence of the demonstrations on the way to the hotel with busses abandooned on the side of the street. The trolley bus system had been shut down as well.
The Quingshuan Hotel has a good location but the room was awful. It smelt and the wallpaper was peeling off the walls. At least there was plenty of hot water. Mary skipped dinner as her stomach is still feeling queasy.
Saturday 20 May 1989 Hangzhou
Breakfast at the hotel at 07:30. Our schedule has been completely rearranged because of the student demonstrations, We cannot go to the steelworks because they are on strike and the students control the main gate. We are also catching the 14:30 train out of here for X'ian from Hangzhou station rather than Wuhan because it is impossible to get over the bridge to Wuhan.
They managed to stick to the revised itinerary which consisted of a visit to another temple and a tapestry factory where Belinda bought a carpet without realizing that she might be charged duty when she re-entered Britain. Dumb.
Lunch was at a restaurant close to the Hangzhou station in case there were problems with getting through. It included pork steaks as well as fish and chips. Everyone fell upon the chips (french fries). They were quite good but not really appropriate in a chinese restaurant.
They got us to the station in plenty of time and we were able to watch the trains for about an hour. There were a couple of long distance trains and it was quite an education watching the people getting on. Soft class passengers were lead out and boarded as soon as the train arrives. This was carried out with some bureaucratic problems as the pieces of plastic were given out by the officious Blossom. The gates of the hard class enclosure were then opened and there emerged a wave of determined faced chinese running down the platform to try and find a place. About a third of them managed to enter through the doors and the rest climb in through the windows. The pushing and shoving was vigorous to say the least! Men with bamboo sticks with two baskets pushed on without taking their load off their backs. There was chaos in the coaches with everybody crushed in. It must have been hell bearing in mind that these are overnight trains.
With most of the hard class on board there was a small residual number left on the platform. These may have had an altercation while trying to get in and several fights broke out. In a few cases the fighters were more interested in winning than getting on the train which left the platform with the fights ongoing.
When our time came our group was assigned three compartments. I told Sheila that number three would be the best because it was furthest away from the truck. She beetled her way through and laid claim to compartment three. This was the best train of the lot although it was still a little grubby. The compartment was cleanish and the crew were making an attempt to keep the train clean.
It was interesting watching the cleaning in action at an intermediate station. The train crew would sweep up and throw the rubbish on to the platform. The platform staff would sweep the platform clean on to the track where the track crew would pick up the rubbish for disposal.
There was much evidence of double tracking and resignalling. There were a lot of steam engines in evidence. It was a pleasant ride and we watched the shadows get longer and the light change to a pleasant pink as the chinese rural countryside passed. There was one section with heavy grades to a summit. The trains were all assisted with additional diesel locomotives. They do not run in multiple so a second crew is necessary.
Sunday 21 May 1989 X'ian
Overnight on the train and this time a silly western breakfast which would have been better forgotten about. It was raining as we arrived at X'ian. Our local guide, Wei, is very good. She is an English teacher on maternity leave. Very forthright, she is very businesslike and we quickly felt at ease with her. First to the hotel and then to lunch. Some problems getting to the restaurant because the students were causing traffic problems. Lunch was good. One speciality here is dumplings which were very good. At one point the restaurant emptied when a demonstration passed - even the staff ran out on to the street. The students are peaceful and seem to be almost in a holiday mood, People had come in to see them and there seemed a great deal of support.
In the afternoon we went to the Big Wild Goose pagoda and then to a commune, gift shop and kindergarden. It was quite interesting especially the kindergarden where the children were all sleeping. We also went into a "typical" home which had obviously been set up. However, the house was quite pleasant.
The Tang Shen Hotel is the best yet but doesn't have the atmosphere of Chongqing. The food is quite good in the restaurant. We were both tired so we just wandered around the hotel shops and went to bed early. I bought two chops engraved with the family name, one for me and one for Paul.
Monday 22 May 1989 X'ian, Terra Cotta Warriors
Breakfast at 07:30 and out at 09:00. First we went to a hot spring where Chiang Kai Chek was captured. This is pomegranate country. The trees have very attractive bright red flowers. We then had an early lunch at a place that has an ominous group of souvenir sellers,
The Terra Cotta Warriors were every bit as good as expected. They are protected by an enormous hangar. The very impressive front row is three soldiers deep and seventy long. It was very hot outside but luckily not as humid as Guilin. The Terra Cotta Warriors are protected by a steel fence outside of which is a whole array of souvenir sellers. Walking outside is like running the gauntlet. Everyone is shouting "Hello, hello." which is their way of attracting attention.
We stopped off at a neolithic village and then back to the hotel. Everyone was pretty tired. Early to bed.
Tuesday 23 May 1989 X'ian to Hangzhou
Our itinerary was changed again today and we flew out to Hangzhou at 13:30 instead of tomorrow morning, Still not sure whether they are anxious to move us on because of the students or of travel arangements,
We spent the morning looking at the X'ian city walls and then to the railway station to see a sad looking line of derelict steam locomotives, one of which had been built in 1986. The whole of the right of way is littered with rails and pieces of scrap concrete and metal - very dangerous. Some men were living in a derelict steam locomotive.
The flight to Hangzhou was on time and quite uneventful. The local guide, Dai, seems very knowledgeable and should be alright. It had just stopped raining when we arrived and there was a lot of mist, Hangzhou is a pleasant resort town set on a beautiful man-made lake.
The Wang Hu hotel is quite good although the air conditioning is not working too well. The chinese do not seem to be too rigorous. Mary's pillow had a tire mark across it.
After checking in we were taken to a very peaceful, pleasant park, Men were fishing and workmen were painting. People here seem better dressed than in most other cities that we have visited - but this is a resort town.
I went for a short walk after dinner to get some orange juice and then to bed.
Wednesday 24 May 1989 Hangzhou
Mary is still having stomach problems and decided to skip breakfast. It is still misty and the light has not been good for photography. We had a series of visits today. First we went to a large pagoda which has seen better days and was closed for renovation and then there was a walk through a bamboo forest. This was erie in the mist and very peaceful until a screaming hoard of Shanghaiese turned up. The Shanghaiese are regarded here as loud and crass.
There then followed in rapid succession a tatty souvenir shop, lunch, a fan factory, a "tea" plantation, a bonsai garden and a buddhist temple. Dragon Well is an Oolong tea which is well known to afficionadoes but has a distinctive taste which Mary thinks is close to left-over spinach water. The bonsai garden was very interesting and the small trees were as good as any we have seen in China. It was made even more enjoyable by a lack of people. The temple was very impressive, the best we have seen. The buddha was covered in gold leaf. It has recently been restored - there was a great deal of debate over whether it should be destroyed during the cultural revolution. In the end Mao intervened and said it should be saved until the people could reach a concensus. Now it is bringing in valuable tourist dollars. They had planned to tear down the pagoda we visited this morning. The only reason they didn't was that nobody knew how.
Back to the hotel for a quick shower and then out to a restaurant in a park for dinner. The meal could have been better, one of the reasons being that everything closes early in China. If we had come earlier we would have eaten better and had better service. Belinda is so thick, she doesn't understand this even when told. The park was well maintained and we all enjoyed a wander around the walkways.
We had a short walk through the back streets after supper and saw a man selling snakes on the street. The concensus seems to be that Hangzhou is the loveliest city we have visited. The locals are friendly, probably because they are used to foreigners. Many will say "Hello," some to change money but most because they just want to hear us reply. The kids will do it out of curiosity and giggle when we reply. The really small kids will stare, then smile and then wave.
Thursday 25 May 1989 Hangzhou
This is our last full day in China. We went for a boat ride on the lake. The weather has cleared up considerably and it was sunny all day. The lake was beautiful but there were hoards of tourists, Shanghaiese, Taiwanese, Japanese and Caucasians. There are islands in the lake with pleasant walkways. It was so crowded that the whole place was spoilt. Many goldfish and water lillies in bloom. The leaves were covered with coins. The goldfish were so thick that they turned the water a golden yellow.
After a visit to the foreign language book store we returned to the hotel for lunch. I went off on my own to wander around the grottier parts of the town. Walking was not so quick as one would have thought as I was continually held up by cyclists and the heavy throng of pedestrians. People were selling frogs by a bundle of twelve - all tied together by one leg. People were cycling along with buckets of shit on their bikes. There were four bicycle accidents. There must be a lot because of the incredible stupidity of the Chinese who will cycle right into the face of danger thinking that the other person will get out of the way or be able to stop. When the inevitable accident happens there are great arguments and it is treated as a spectacle so that a great crowd gathers. They were rebuilding a house with bricks brought to the site by tricycle. There is a bridge over the railway and several steam locomotives were in evidence. There was a great deal of curiosity. People would look right into the notebook I was writing in. There were several grandfathers taking their grandchildren to see the trains.
Mary went with the others to a silk factory where they saw the dyeing process and silk screen techniques both mechanical and manual. There was a fashion show by eight girls who were practicing for their opening next month. The place didn't take credit cards which lost them a lot of business.
Our last meal in China was very disappointing. It was at the hotel. We had originally decided to pay a little extra to eat out and have some local specialities. Unfortunately some of the party were too cheap.
Went for a short walk by the lake after supper and then packed.
Friday 26 May 1989 Hangzhou to Hong Kong
Luggage out by 07:30 and left the hotel at 08:10. The flight was miraculously uneventful and we touched down at Hong Kong around 13:30. Much farting around at the airport while Belinda tried to sort out a mess that she had created. The room at the Holiday Inn is clean and the bed is large. Did some window shopping then went for drinks in Ed and Sheils's room, Had a good meal with Ed and Sheila afterwards but Ed had had too much vodka and was not a good dinner companion.
Saturday 27 May 1989 Hong Kong.
Had breakfast and went over the Star Ferry to Central where we met Mary's cousin Elfie and her children, Andrea, Veronica and Alex. We took the free double decker bus to the Peak Tram terminal and rode to the top. From the tram the buildings look to be leaning at a disconcerting angle which is really the angle of the tramcar. There is a sickening backward lurch when the tram stops at an intermediate station as the cable stretches and the tram bounces.
It was very cloudy at the Peak and there was little to see. There was a tai chee class in full swing. The children are very good - they will run off but never go too far and are close when necessary. Alex found a couple of caterpillars which he brought back in a plastic bag. We caught a bus back down, past the Happy Valley racetrack which was being used for a rally in support of the students in Tianamen Square (the shooting started a week later) and had a short walk before lunch in a downtown hotel coffee shop. There was a temple where we could have had our fortunes told. After lunch we walked through some back streets including an alley where there are many birds for sale as pets. We said goodbye to everybody at the Chinese government store where the prices are better than in China. Silkrobes and happy coats were bought for Mary, Colin, Sandra and Steve. We bought Paul a digital diary in Tsim Cha Tsui.
We said goodbye to those members of the party who were returning to England. Mary and I went out to eat on our own at a restaurant across the street from the hotel. It was pretty good with sea moss rolls.
Sunday 28 May 1989 New Territories
We met Oleh, Elfie and the family at the hotel and walked to the Kowloon Canton Railway station where we caught the electric train to the New Territories getting off at Fanling. It was very hot indeed although the humidity was not as bad as it has been. At Fanling we took two taxis to Luen Wo market. The taxi drivers didn't speak any English and it was a good job I had the tourist leaflet which gave the name of the place in Cantonese. The market was quite interesting and very crowded but nothing out of the ordinary compared with what we have seen elsewhere. The most interesting was the Hakka women in their extraordinary hats. These are woven flat with a hole to fit over the head and there is a black veil around to give some protection from the sun. Mary bought one for less than CAD$2.00. We had lunch and an ice cream at the market, took a taxi back to Fanling and a train to Tai Po market where there is a small railway museum. It is quite well done and there is an excellent brochure.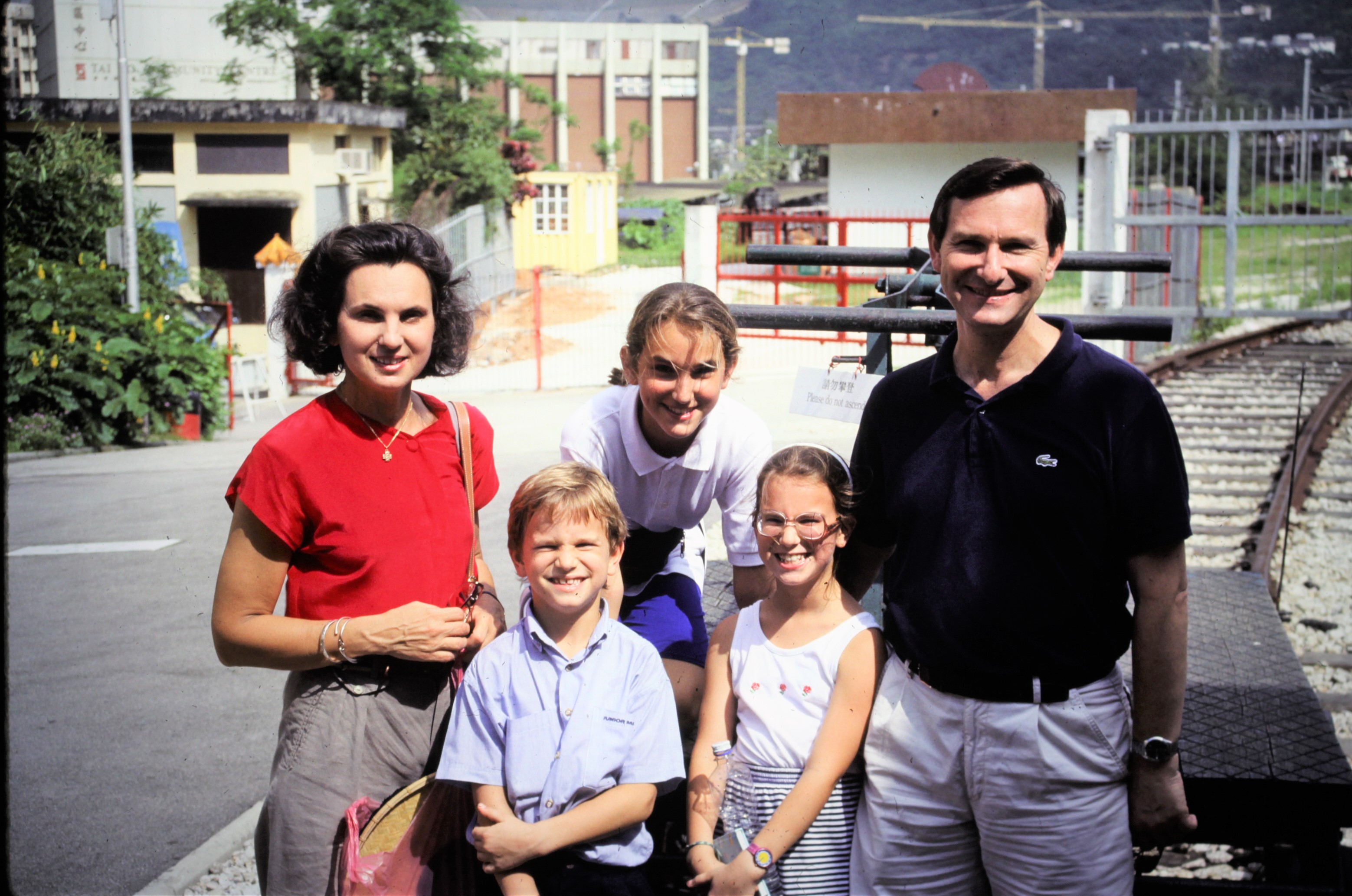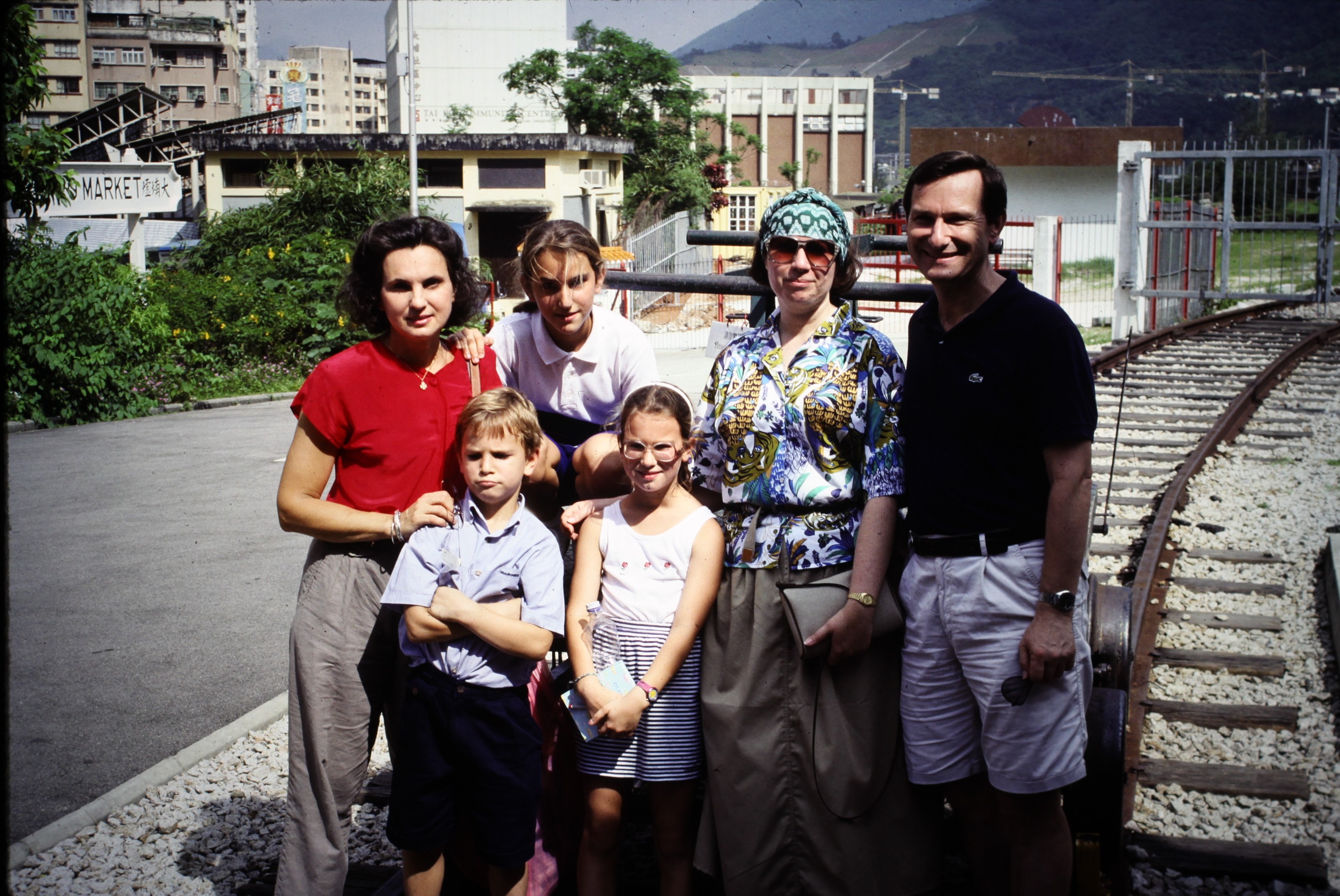 The three children were very good indeed especially considering that the sun was very hot. Elfie had bought a durian and the smell managed to clear a space in the otherwise crowded train back. We came back to the hotel to wash, then caught a taxi to the Star Ferry and then a taxi from Central for dinner with Oleh and the family. We were made very welcome and had a good time chatting. The meal was a welcome cold one. We tried durian fruit which many Malays find addictive. Neither of us thought very much of this soursop type of fruit. It is creamy and somewhat sickly with a very pungent odour.
Back to the hotel and watched "Trains and Boats and Planes" before turning in.
Monday 29 May 1989 Hong Kong
Still very hot, We had a light breakfast and then took the Star Ferry and a tram to the east terminus which is similar to Kennedy. Back to town by a very modern subway (with wide corridor connections so it felt like travelling in a worm) and then a bus to and from Aberdeen. This is supposed to be romantic but in reality it is very grotty and we didn't stay too long.
Pit stop at the bathroom at McDonalds. Mary was not feeling very well so we came back to the hotel pausing to buy me a digital diary.
Back out into the heat and humidity for dinner at the Very Best Restaurant and then to the night market off Jordan Road passing a snake shop on the way. Clothes were very cheap but shoddy, but then T-shirts and silk ties for CAD$1.60 are not to be sneezed at.
Back at the hotel we had a bottle of Veuve Cliquot to celebrate the end to a very good holiday.
Tuesday 30 May 1989 Return to Canada
We retuirned to Canada today. The journey went off according to schedule but it was very long. The airport formalities took a long time as did Canada Customs in Vancouver. They asked a lot of questions and let us go in the end. They give the impression that one is guilty until proven innocent.