Big gap of two years A great deal has happened. I got married for a start so there will tend to be more "we"s and fewer "I's.
(I was advised by my railway training officer not to get married so that I could devote all my energies to the railway - this was the beginning of the end).
I finished my training on the railway and did a spell as Assistant Station Manager, Reading and then down to Cardiff so we are living in a new rented house in Cwmbran. Pat finished her teachers' training, taught for about a year at St. Birinus school at Didcot and is now teaching at Abersychan - helps the money. We have greatly enlarged our interests, particularly since, having our own house, we now have a small collection of cacti and succulents as well as an ever increasing collection of bottles filled with home-made wine. Our range of photographic equipment is greatly extended and Pat is beginning to take an active interest in my first 35mm Voigtlander Vitoret camera. We have also become interested in birds and bird watching. We have decided to make some entries in this diary to record the more interesting events in our lives.
We spent most of August in Avignon with both sets of parents (Sybil and Bob Gillespie and Kit and Jim Churcher)
Tuesday 9 August
We all met up at Victoria station and caught the 1530 boat train complete with an old lady going to Athens and not certain how to get there, and a small French boy who was going home. As soon as we started so did the chatter and silly comments which persisted for the next few days.
"As I always say 'When in France do as Franco does'"
"Bring us a cup of tea in the morning Bob"
Boat trip, couchette reservations OK. Dad Churcher insisted on trying to take pictures of Paris at night.
Wednesday 10 August
We awoke to a lovely blue sky, racing the cars along Route National 7 somewhere between Valence and Avignon. In spite of a check which brought us to a stand at a level crossing, the electric locomotive brought us into Avignon on time at 0634. We found that it wasn't too far to the Hotel Central and, as it wasn't too hot, we walked there. Very pleasant people at the hotel where we had an early breakfast of rolls, butter and apricot jam and coffee or chocolate. The jam came with real apricots if you were lucky or sneaky. This was to become our standard Hotel Central breakfast, and very good too especially because it was eaten in the open air.
We then had a walk around Avignon to the Parc Rocher des Doms which is very well looked after and with good views over:

The Pont St. Benezet

Villeneuve lez Avignon

Mont Ventoux

River Rhone

Old Avignon town and suburbs

the Palais des Papes and Cathedrale de Notre Dame
There are some pretty good shops and the Mums and Dads were quite surprised to realize that the French were not all peasants. In fact the standard of living is probably higher there - we didn't see much poverty.
Walking down to the river through the Allees des Verduns we watched the locals playing petanque. We had a meal at a workman's restaurant which was very good and quite cheap. It was great fun and had a wonderful atmosphere (some would call it rowdy) There were a lot of bicycles parked up against the wall outside - a good sign. We will try to find something a little more chic in future as Mums and Dads would prefer this.
There are a large number of students, partly as a result of the Avignon festival and partly because of Avignon's position as a natural route to the Midi and the French coast. They are all impecunious, all try to earn money as pavement artists (mort, ou est ta victoire?), none can draw and all seem to hitch hike. As we walked around we were followed by four wasps all telling the old family jokes in loud voices, sometimes to the exclusion of realising what was going on around them. They said that there were more dented cars here than in England and that the French were worse drivers. I didn't think this was so - they just seem to drive a little harder.
There were quite a few mosquitoes and mosquito netting was up against the bedroom windows.
Thursday 11 August
Our short excursion to the Rocher des Doms with its view over Villeneuve lez Avignon whetted our interest in that place and so we bought a picnic lunch in Avignon and walked across the modern road bridge over the two branches of the Rhone and the Isle de Barthelasse. It was only a short walk yet quite long enough in the fairly hot sun.
We visitd the Tour Phillipe le Bel which was constructed to guard the Pont St. Benezet. There is a very good view of the river and the Fort St. Andre as well as the town of Avignon. The remains of the old bridge could clearly be seen and the original course could be traced by the remains of one of the arches. We were admiring the view when our visit was cut short by the custodian's dinner time (1200). We came down and also had our lunch.
After our food we walked through the town, past the hospice - musee, the cloister and the church to Place Jean Jaures. From there we took the Montee du Fort past well kept houses with lots of cacti, cats and children to the Fort St. Andree. The entrance is set between two well preserved towers. The notice said that it wasn't open until 1500 but there were people inside and the custodian was obviously doing business. We went in and asked him and he said it wasn't open according to the notice but he was there and it was open! This was our first encounter with the personality of the people from the area - very pleasant, very friendly, happy go lucky and anxious to please. The fort was interesting, very well preserved. Of special note was the view from the entrance tower towards Mont Ventoux (we resolved there and then to visit it) and the small 11th century Norman chapel of Notre Dame de Belvezet.
We left the fort dying of thirst which was quenched in the Place Jean Jaures. We all had citron presses and were served by a woman with a Carcassonne accent and garlic breath. She was hard to understand. Prices are lower than in Avignon.
Our second experience of local temperament was when a man stopped his Citroen in the middle of the street and went into a cafe for a drink and a chat. His car was blocking the road and a big lorry caused a hold up. The lorry driver didn't lose his temper but just waited patiently until the man came back. The jam was cleared with lots of smiles and grins. An old man walked across the square with a very small puppy which was obviously going to be well trained and loved. Three very old men, all with berets, staggered down the street to a bar. They seemed to be supporting each other.
Friday 11 August
We visited the Palais des Papes today. It was very interesting and well worthwhile. There was a guided tour and, although there was a lot of people, the guide was very good. He spoke sufficiently clearly that I could understand him. We entered by the Guard Room then went through the Cour d'Honneur which was being used as a theatre during the festival. We then saw the Salle des Festins and the Kitchen with its wonderful view over Avignon and a very tall chimney. The Salle des Festins has four very good tapestries by Gobelin. The colours were very vivid. Leading off the Salle des Festins is the Tour St. Jean with the Chapelle St. Martial and the frescos of the saint's life by Giovannetti. The frescoes have not been touched yet are in excellent condition - the blues are especially vivid. We passed through the Tour de la garde Robe with its frescoes to the Salle de la Grande Audience with its vaulted roof and good echoes. All in all a very good visit. In spite of the warm weather one of the visitors was wearing a thick long sleeved pullover.
http://www.palais-des-papes.com/fr
We lazed around in the afternoon and had a look in the shops.
Saturday 12 August
Had a short walk around this morning past the market and down the rue des Teinturiers. This is shabby and very much a back street yet there are several waterwheels, two of which still work although they don't drive anything. Some of the wooden blades have become broken or are missing with the result that the wheel stops and starts irregularly.
The
Musee Calvert
has an interesting collection. There are some early paintings from the Avignon school two of which were in glowing colours, not the normal dull, faded colours. There were exhibitions of works by Joseph Vernet (born in Avignon 1714-1789) with pictures of early Avignon showing the Pont St. Benezet before most of it fell down. There is Calvet's study with a telescope and a globe of the world. Up the staircase with another Golelin tapestry there were more paintings. My favourite was one by Breughel but there were also works by Toulouse-Lautrec, Renoir, Seurat, Vuillard, Vlaminck, Utrillo. Soutine, Rouallt, Dufy and Daumier.
The musee garden was very pleasant and cool in the late afternoon. There were some pea fowl who came quickly for the biscuits which the Mums invariably carried. Dad Gillespie managed to obtain some of the tail feathers by chasing the peacocks over the lawn. They make a good deal of noise.
http://www.flickr.com/search/?q=musee%20calvet
Sunday 13 August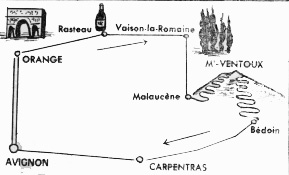 We went on a coach tour today as shown on the map above. The coach was full and we were the only foreigners. Everyone was very jolly and we had a great time. A large number were from Paris and, we presume, the equivalent of French Cocknies.
The journey to Orange was along the main road and there wasn't much of interest except that we passed close to Chateauneuf du Pape. It is not particularly imposing yet it produces good wine. At Orange we first had a look at the Roman Arch. When we got back into the coach one man sat next to the wrong woman which produced lots of ribald comments about wife swapping. We then had a look at the Roman Theatre. It is a very imposing structure that is still used for festivals. We also visited a degustation actually inside the theatre in the caverns behind the seats. Although my stomach was a bit upset I tried some Cotes du Rhone served in a flat glass dish.
Just after leaving Orange we were traversing an S bend when a Citroen coming the other way, took the bend too fast, swerved to avoid the coach and finished up in the ditch, narrowly avoiding a concrete post. Luckily the driver was alright although he didn't move for a minute or so. We then had to wait while the police came. Two groups soon developed, the coach driver and his followers and the car driver and one or two witnesses.
We continued on about an hour late with a view of the Dentelles de Montmiraille, jagged mountains, and soon arrived at Rasteau. We then attended another degustation. We took a look at the wine making equipment, vats etc and then tasted the wine which is of a port type. The French members of the party enjoyed themselved particularly well.
We had lunch at Vaison la Romaine at an excellent restaurant recommended by the coach driver. A good meal - the best we have had so far. After lunch we took a look at the bull ring which was being set up for the holiday on Tuesday. The ring seems to be set up in a manner similar to circuses in England.
The journey up Mont Ventoux was very pleasant, first through pine forest, then among rock strewn slopes. The white slopes, which look like snow from a distance, are cleared for skiing during the winter. We had a brief look at a four denominational church for skiers and then a quick visit to the cold and windy summit. There were excellent views towards the Alps, on a clear day one can see Mont Blanc. The view southwestwards was very hazy although we could just make out Carpentras.
On the journey down we passed a plaque to Tommy Simpson, the cyclist who collapsed and died on the ascent of Ventoux - a pretty gruelling climb. We stopped half way down and Pat and I found lavender growing wild.
There was not much of note at Carpentras although there was a quite a bit of life with a good group in a cafe in the centre. A very fine Roman archway was blocked by a car. Our driver got out and moved it himself while the owner stood by watching. There are many small villages set on hillsides, all presumably producing wine. This is typical Clochemerle country. The approach to Avignon was made into the setting sun which made the Dentelles de Montmiraille even more impressive.
It was a very good day. Everyone shook hands with the driver who proved to be a very good guide - he was forever telling us something interesting over the coach loudspeaker. He was to become quite familiar to us with his maroon shirt, dark glasses and white drivers' coat which he would take off when he became hot.
Monday 14 August
Not much of note today, Had lunch in the Rocher des Doms then Pat and I went to the Musee Lapidaire d'Avignon. There was not a great deal of interest although it did help to bring home the richness of the area as far as the Romans were concerned. Perhaps the most interesting exhibits were the Roman mosaics which were quite good although heavily restored.
Tuesday 15 August
Today is a public holiday. After lunch in the Rocher des Doms we went across the ferry to the Ile de la Barthelasse. The ferry works by the current of the Rhone. A cable is strung across and the boat is attaxhed to it by a cable on amoveable wheel. The boat can thus move freely across the river attached to the cable. Propulsion is by means of the rudder, according to how it is set, it will force the boat in one direction or the other. A very simple arrangement and quite inexpensive to operate. We spent some time on the island, mostly paddling.
On the way back we saw some water jousting. Two boats with paddlers have a man with a spear standing on a platform in the stern. Each man has a square board strapped to his chest which forms the target. The object, of course, is to knock your opponent into the water. A man in a rowing boat is around to pick up the losers. The sports take place in a pool in the Rhone under the Pont St. Benezet, it must have been pretty deep because there was a diving contest from the bridge itself which is pretty high.
http://www.avignon-pont.com/fr
We had dinner in the square.
Wednesday 16 August
Today we went on coach trip to the Abbaye de St. Michele de Frigolet, passing the Moulin de Daudet on the way. We were the only people on the coach which had the same driver as on Sunday. The Abbaye is placed on a hillside away from habitation in very poor limestone country. The hillsides are covered in herbs. Every plant is fragrant. Mum Churcher was quite content to sit in the herbs, picking them and trying each one. We had a tour through the old church and monastery, The church is quite ornate and contained some very fine early wood carvings. We saw the 12th century cloister, the women were not allowed in there. It has a fine garden with a well. We saw a crib with figures carved from olive wood - quite unusual and very well done. The women couldn't come into the refectory either.
http://www.frigolet.com/en/
http://frigoletliqueur.com/
We had a snack at the Abbaye. I had just remarked how peaceful it was when a coach party from Lyon burst upon the place which was transformed. There was a great horde in the little cafe drinking coffee with the liqueur and shouting at the tops of their voices. The monk behind the bar, although sweating profusely, and incidentally wearing a white pinafore, just took it in his stride. Every body was served but in his own time.
The liqueur, which is made quite close, is distilled from the herbs that grow on the hillside. It is very good indeed. One can taste that it is made from herbs and not flowers. They even sold liqueur flavoured ice cream. Dad Gillespie sampled the ice cream. He remarked that with all the noise in the shop it would be a pennance to work in there. The people were very friendly. I started a conversation with a man from the coach party together with three lads who were interested to learn that I was English. They wanted to know the English for gherkins!
The coach picked us up at 1430 and took is on to Les Baux de Provence. Les Baux, which derives its name from bauxite (aluminium) a red ore which is mined nearby, is a ruined town and fortress strategically placed on a sheer sided rock. This is a big destination for tourists and the 97 inhabitants are geared up to extract as much money as possible from the unsuspecting.
At the entrance to the "modern" town one can obtain small telephone type objects which give a running commentary - talking guides. At the entrance to the ruins there is an interesting film strip show which gives an account of the history of Les Baux. It seems the local lord revolted and was beseiged. When the fortress eventually succumbed it was ordered that it be completely razed to the ground - and they made a very good job of it. There were good views looking over the fertile valley and good examples of honeycomb weathering could be seen.
On our return to Avignon we had dinner at the Restaurant St. Didier which provided an excellent four course meal with bread, wine and service included for 8 francs each. Dad Churcher asked about Decouvert a la Provencal. He was told at great length with Pat translating and then decided not to have it. This amused the patronne greatly. Pat and I decided to try this excellent dish and Dad eventually tried it - much to the patronne's delight. We have decided to use this restaurant, it is in a back street, not very touristy and very good value for money (although Dad Gillespie was violently sick afterwards.)
Thursday 17 August
We went to La Fontaine de Vaucluse on the 10.15 bus (Cars Arnaud - blue and red buses) via Chateauneuf de la Cordagne, Le Thon and Isle sur la Sorgue. We walked up the river valley and had a picnic lunch at a cafe by the water. the water was very clear and there were many ducks and some fish. We were amazed at the picnic habits of the French. No sandwiches here, more a full grown meal. We walked up to La Fontaine looking at a spring in the river Sorgue. At this time of year La Fontaine is a deep, rockbound pool, at the foot of a high steep cliff. In springtime the water level rises and La Fontaine cascades down into the river.
We walked back to the square where we had a citron presse and then Pat, Dad Chrcher and I climbed up to the chateau, a steep gruelling climb in the hot sun. We wondered how they had built the place and how they managed to provision it. It must have been difficult to get an animal up there.
The speleological museum was interesting and unusual - the collection of stalagmites and stalactites was particularly good.
After watching a wedding we had a look along the river where we watched a couple of kingfishers.
Friday 18 August
Our third coach trip today, again with the same driver. This time we went south via Arles to the Carmargue. There were more people in the coach today including one woman in a pink hat (chapeau rose). She took hundreds of photos with great rapidity and with no particular subject in mind. She was always last back to the coach and when the driver was asking who was missing the answer was invariably "chapeau rose".
We went first to the Etang de Vaccares where we saw some scoters and egrets but no flamingoes. We also saw two rollers on the roadside. Many of the fields had white deposits of salt.
We had coffee by the side of the lake where we watched the wading birds and the many dragonflies. We then went along by the lagoon past M. Richard;s ranch where the fighting bulls are trained and on to Les Saintes Maries de la Mer where we had a break. Pat and I had a look at the Musee de la Carmargue which shows many of the fighting bulls and specimens of all the birds found in the Carmargue. We had a drink and then watched a heron fishing in the lagoon - he caught a fish, flew off and then dropped it. Many of the houses have thatched roofs which are rounded at the northern end to help resist the strong mistral which blows from the north,
We had a very quick swim in the Mediterranean which was very good in spite of the current. Dad Churcher borrowed my trunks.
We left Les Saintes Maries and continued on past lagoons with birds and also many riders to the zoo. There were many examples of birdlife, indeed they even had blackbirds and thrushes, but they weren't housed very well. I was pleased to get out.
Our next stop was Aigues Mortes, a town with good walls that died because the sea receded (we went over the Canal du Rhone at Sete). Not much of interest although the atmosphere was quite gay - in spite of another funeral. We bought some excellent grapes at 1f40 per kilo (say 11d per pound) which was unbelieveably cheap.
On next to St. Giles via a by road which was used quite a lot by coaches. The driver remarked that if all the coaches that went that way stopped the inhabitants would not have many grapes to sell. He stopped to pick some ears of rice for us to see to the delight of chapeau rose. St. Giles had quite an atmosphere about it partly because it was dirty, decrepid and poor and partly because it was late evening and the sun illuminated everythig with a golden glow. There was a church with a typical Carmarguais iron steeple (of which we saw many during our holiday). The driver took us to the Syndicat d'Initiative which retains its amazingly well preserved roman facade. We visited the back of the church which was destroyed apart from a spiral staircase. This staircase is quite famous amoung stone masons in that it is difficult to see where the steps merge into the ceiling. Outside, the ruins of the church have scattered around roman relics - the guide said they just sprinkled them around to decorate the place.
On our way back we passed a generating station which also provides water for irrigation. We passed through Tarascon with its cement and paper factories and Beaucaire with its twin castles on either side of the river Rhone - fine reflections in still waters.
Saturday 19 August
Today Pat and I went to Pont du Gard. We caught the 7.32 train from Avignon to Remoulin. The diesel railcar had to reverse out over the Rhone to Villeneuve lez Avignon. It appears that the units do not work in multiple because we had a slow journey to Villeneuve but were alright travelling in the opposite direction. We were soon in conversation with an old lady who turned out to be a nun who doesn't wear a habit. She was nearly 80 but was still very active. She had been teaching near Dieulefit but was going to set up a school to teach foreigners French. She had come down on the express from Montelimar and was going to visit her brother at Remoulin.
We walked down into the town and had a cup of coffee. We both wanted black coffee and I asked correctly but the waiter made doubly sure as he didn't trust my French! We saw the coach driver. We then walked 4 km along the road to Pont du Gard. This is a magnificent roman aqueduct with three levels of arches. It was built to carry the water high over the Gard river. We walked first over the road which was constructed at the first level at a later date. We then walked through the woods to the top of the aqueduct and walked over the top on the stone slabs that cover the water channel. There is a good view - and a nasty drop - of course there were no handrails. We came back through the water channel. It is about two feet wide and I couldn't stand up most of the way. We followed the course of the water way through a tunnel and for some way through the undergrowth. We then came down, had a drink, walked back over the aqueduct and found a pleasant shady spot by the river where we saw a kingfisher. There was quite a large bird sanctury where the birds have it easy as there were many nest boxes. We had a bite to eat and a swim in the river. It is quite shallow except where it has cut into the opposite bank. The water there is deep and there is quite a current. We found lots of fish, some about 4 inches long had a nibble at my feet, some were very difficult to catch and some burrowed in the mud and were quite difficult to see. I managed to catch about a dozen of these with my hands. I made a sort of trap with stones but couldn't shut off the entrance quickly enough to capture any of the quicker fishes. There were lots of mosquitoes in the woods. My fishing activities wer so absorbing that I managed to sunburn my shoulders.
The walk back to Remoulin was in very hot sun so that our citron presse was very welcome, if not disastrous for me in that the sugar shaker top came off and deposited half its contents as well as the top in my glass. (the cafe had to go next door to the grocers for a couple of lemons). We had a little time to spare and amused ourselves watching the air suspension of the Citroens. They sag down a few seconds after it has been left.
We walked along to the station and had about an hour to wait. It was full of atmosphere, particularly in the warm rays of the evening sun. There are two through roads and two bay lines, all with platforms, which are controlled from a PLM signal frame situated in the main station building. There was a clerk on duty who booked our tickets after the usual wrangle about one card for two people, worked the telegraph and signals, and when the train came, put on his cap and did some portering. In the hour all we saw was one steam locomotive travelling light towards Nimes and the shunting locomotive. The shunter was very busy. He was trying to get his work done quickly in rder to have a longer break with some friends who were waiting for him.
Our train was a through one to Mntelimar and we walked back to Avignon from Villeneuve lez Avignon.
Sunday 20 August
Caught the train to Marseilles this morning. Didn't enjoy ourselves very much, the people were not very friendly. This is quite a change from other people we have met who are, on the whole, very pleasant and friendly. We went down to the harbour where we had a meal and then up to view the ships leaving both old and new harbours. Caught the earlier train back to Avignon.
Monday 21 August
Went by train to Arles today. There is a very large wrought iron "mural" on the up side platform. This depicts various scenes and activities to be seen in the area and the Carmargue. We walked first of all to the Roman amphitheatre which is quite interesting. There are two flights of seats, the third has now disappeared. We saw the remains of the bull fights which are frequently held there. We had a picnic lunch in a very pleasant park and then Pat and I split off from the others. We walked down past the canal and down to the Alyscamp. This is a tree lined avenue with rows of Roman stone coffins down each side. This was the Roman entrance to Arles and it was here that Romans were buried. There is an old church at the end of the avenue. We were amused at the custodian who sat on a stool with a card table with his bits and pieces.
Back at the centre we had a drink while watching a pavement artist who was very good. Much better than the majority. We walked up the Rue General de Gaulle to a very good exhibition (past the cafe where Van Gogh lived and painted) which had prints, paintings and photographs, particularly prints from a printer who had only recently died (neither Pat nor I can remember his name). The building was one of the headquarters of the knights of the Order of St. John. The painting we both remembered was of a man with an arrow right through his chest and bleeding profusely.
Tuesday 22 August
Pat and I took the day by ourselves and took the train to Montpellier, we changed at Arles on the way there but caught a through train back. Our first trip on arrival was to find the Esplanade station of the Chemin de fer de l'Herault. We found it but had walked around it before we realised what it was. It is very run down and could do with a coat of paint and a good sweep out. In the booking hall was a very imposing map of the former system - it is now just the line to Palavas. There was a diesel railcar in the platform in the morning but it was replaced in the afternoon by a new diesel locomotive and train of four wheeled coaches. We also had a look around the workshops, not a great deal to see. Everything, except the locomotive, was in a very decrepit state - old locomotives, coaches and diesel railcars (including articulated ones).
We then got away from railways and had a look around this pleasant town which is very modern with many big shops, better shopping centre than Avignon. We found a pleasant park close to an impressive aqueduct.
Very chatty and friendly booking clerk at the station.
Wednesday 23 August
Our last day in Avignon. We paid our bill in the morning and left our cases in the hotel to be picked up later.
We decided to spend the day at L'Isle sur la Sorgue, a village near La Fontaine de Vaucluse (Mum and Dad Churcher stayed at Le Thor).
L'Isle sur la Sorgue is a pleasant place but not a great deal of outstanding interest. The most interesting feature is the large number of waterwheels which are still operating. There is a church with two clock faces, one showing the time and one showing the lunar days.
We came back to Avignon about 1530 and did some shopping. While we were having a last look around a tremendous thunderstorm developed and it poured for about 45 minutes, We had dinner and a last drink at the street cafe and then took our cases down to the railway station. We caught the train to Paris which has a through couchette coach to Calais. the train was on time and our reservations were alright.
Thursday 24 August
We all slept well. There was an unnecessarily long wait at Paris. The channel crossing was uneventful apart from the slow clearance from the Folkestone customs. Very overcast. Our train from Paddington was delayed for almost an hour at Pilning with a locomotive failure.
What a way to end a wonderful holiday!