In which I continue my studies at Reading University and ride a steam lorry at Rag Day.
Saturday 10 March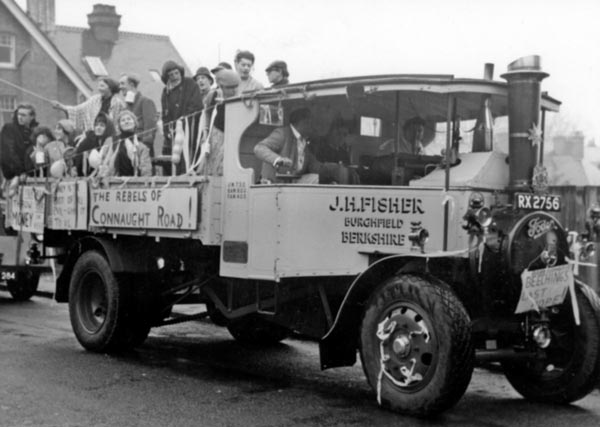 The lorry didn't arrive until about 13.30. It didn't have any decorations on it but it is a big enough novelty as it is. I went in the cab with the driver. It is really like a light, narrow gauge engine, in controls etc., which is mounted on a lorry chasis. It is a two cylinder compound engine which can run as a compound or as a simple engine. The firebox is about two feet wide and about the same in length. It is fired in rounds of four, one to each corner from a supply of coal under the driver's seat. which is on the left hand side. The boiler water level is maintained by means of either a force pump which runs from the flywheel or an injector which is very easy to work. The injector runs off live steam nut the water control is simply set and then left, it is worked by merely opening the steam valve. Maximum steam pressure is 250 lbs. per sq. in but on the run it varied between this and 175 lbs. per sq. in. The regulator moves horizontally, being pulled back when set for simple, high pressure working and pushed forward for compounding. In practice, this wasn't opened for more than a third of the way. Reversing was by means of a small lever, there being two positions for fore gear and one for aft, as well as mid-gear. The drive to the wheels is by means of a chain on the rear axle through three posible gears
which are changed manually
. The lorry was a great success even though the rain was quite heavy at times, (I was under cover and close to a warm fire!), the steam whistle was verry popular - it frightened several people. The lorry was very economical, we only put in about ten small shovelsful of coal in the whole trip round, and steamed very well. It was dfficult to stop the valves from lifting at times and the water was above the top nut all the way, except when running down hil. I really enjoyed the ride.
Wednesday 21 March
Had a letter this morning from the Western Region offering me a job on footplate duties. I hope I can fit it in with my holiday in Greece.
Thursday 22 March
Went home to Orpington for Easter this morning. I just missed the 10.28 train from Reading South and had 30 minutes to wait. I sauntered up reading South platform to where a 2-6-0 was waiting on the other side. It turned out that the driver who had fired to my grandfather was there. I went up on the engine and had quite a chat with him. I didn't notice what engine he was on but it had right hand drive. He showed me how to work the injectors, they are much simpler than on the 2-6-4 tanks. I also put a shovelful of coal on the fire. He told me his name is Curd. Good job I missed my train.
Friday 30 March
Had a letter from the Railways today which confirms my job as a cleaner in the summer.