Sunday 14 May
Went on a short cycle excursion to have a look at the spur which goes from the line to Basingstoke to the guided missiles establishment near Burghfield. This is being taken up and well over half has already been cut up. The chairs used vary tremendously. There are LNER ones dated 1941, there are many GWR ones dating back to about 1905 and also some GW & GCR Jt R ones.
Friday 19 May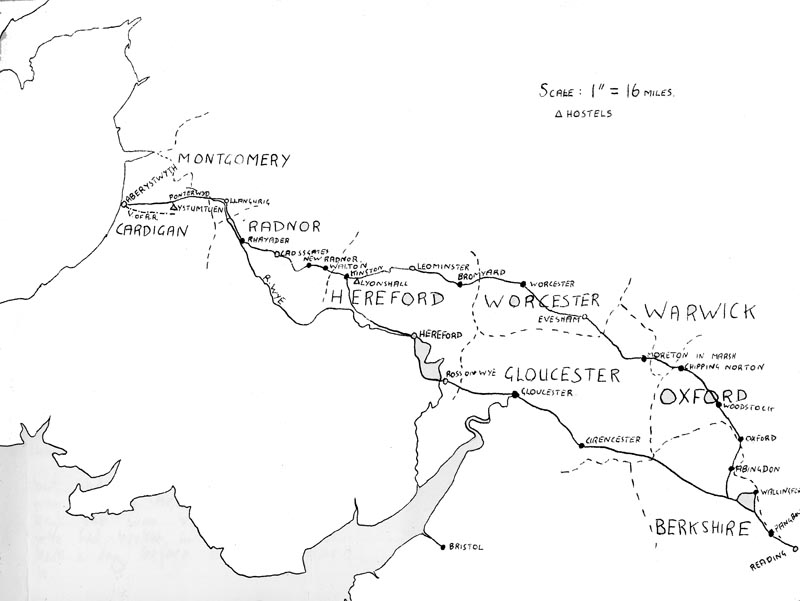 Johnny Marsh had a 09.00 lecture this morning after which we set out to hitch hike to Aberystwyth. I still don't think we will make it even though we are half way there. Our first lift took us to Pangbourne and then to the junction of the Wantage Road and the Abingdon Road. We then very quickly stopped a lorry which took us via Oxford and Chiping Norton to Evesham. We were very pleased with ourselves - Worcestershire by dinner time. But things went wrong after dinner. We managed to get to Worcester but had to wait 1½ hours for the next lift which took us 12 miles to Bromyard. We then got two short lifts which took us to within 3 miles of Leominster - which we walked. We caught a bus to Lyonshall and arrived at the hostel at about 20.00. The hostel is a converted country house set in grounds which were once very beautiful. There are many sub-tropical plants but it has been allowed to overgrow. The Herefordshire country is really wonderful. It is all pastoral.
Saturday 20 May
Left the hostel early and stopped a lorry which took us into Kington. We were then given a lift into Wales (Walton) and then caught a bus to Crossgates. From there 3 lifts took us to Llangurig where John got a lift into Aberystwyth. I got one about 15minutes later and arrived at about 14.30. We met John's friend and had a tour of the town which lasted until about 17.00. We caught the 17.15 bus to Ponterwyd and were given a lift to Ystumtuen. The hostel is the converted school. Most of the village is deserted. It was a lead mining community but the mines are not worked now. In the evening we went for a short walk. The scenery is marvellous. Unlike North Wales, it is rounded with no peaks. Even so there are many outcrops of slate-type rock. The sky is a fine blue and the mackerel clouds have been coloured by the sun. Most of the country is used for sheep farming, some has been used for beef and some ploughed.
Sunday 21 May
This was certainly the strangest Whit Sunday I have ever experienced. We left Ystumtuen at 09.10 and started hitching at 09.30. There was very little traffic on the road going towards England. After two hours we were a little disheartened and chalked "To England Please!" on a piece of tin and propped this by the side of the road with my rucsack. The next car that passed stopped and took us to Hereford. From there, after a good lunch, we went on to Ross-on-Wye and then were picked up and were taken right through to Wallingford. The people who gave us the lift were Don Minter's sister and her husband who comes from Chistlehurst
(near Orpington)
- amazing. After having a drink we had to wait 1½ hours to get back to Reading.
We arrived back at 21.30 but had to break in because nobody was in. When Mr. and mrs. Whitehead came back she was very annoyed because we had broken in and had come back a day befre she expected us to.
Wednesday 24 May
I went down the the river
for about ¾ hour
this evening
. The river Thames was dark and quiet, it seemed somehow menacing. The sun was just visible from the fields near the river. It was a deep red and seemed very large. There was no wind and the smoke from two chimneys hung low over the river, all that could be heard was an occasional rippling of the water. Very peaceful and pleasant.
Friday 26 May
Packed my bag immediately after breakfast and left for home at about 09.45. I started hitching up Southampton Street at about 10.15. I didn't have much trouble, I had to wait abut 15 minutes going round the Farnham by-pass but, apart from that, it was all plain sailing. I was picked up at Guildford by a lorry driver who took me to Godshall, he stopped at a transport cafe which wasted half an hour. The journey took me 4 hours and I arrived home at 14.15. Mum was very pleased to see me, so was Dad, but Nin
(my cat)
didn't take any notice at all.
Tuesday 30 May
Went to see some wrestling at the Reading Town Hall with Dave Payne this evening. I was most amused at the way everybody brought in their food - crisps, sandwiches, rolls, buns, cakes, peanuts etc., anyone would think they had come in just to eat. There were four bouts. I think the first was fixed, the second was stopped after the first submission from a Boston crab. The third was the main bout - Mike Marina and Bobby Robinson - a draw. Everyone wanted Robinson to win. I think the last one was also fixed.
Wednesday 31 May
After dinner I went back to the digs and changed into some old clothes and then went with Tony and Simon to the excavations at Sonning. Nobody seems to know what the site is. The diggings have the advantage in that the important levels are close to the surface. The site is a univerisity farm to the east of Sonning, about a mile from the Thames. It was very sunny and has made my hay fever worse.