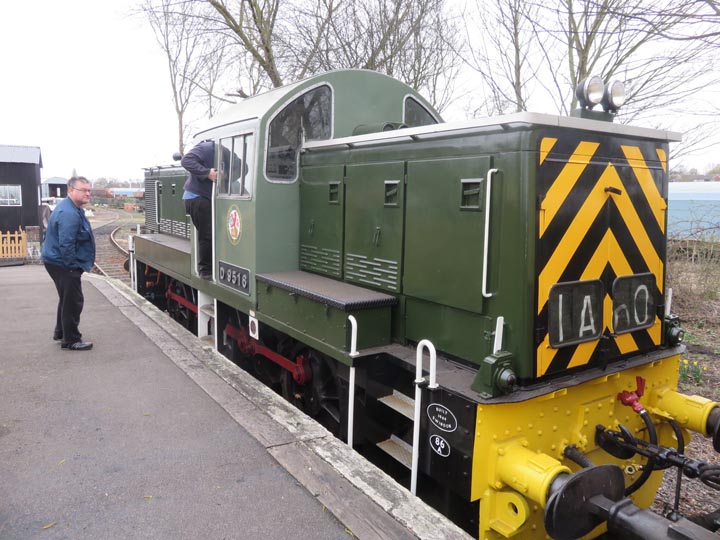 A "Fish and Chip Shop" diesel hydraulic locomotive, D9516, giving rides at the Didcot Railway Centre
in February 2016
My first management position on British Railways was as Acting Area Manager Cholsey and Moulsford. This was a two week assignment while the Area Manager went on vacation. I was responsible for a short length of four track main line between Reading and Didcot with four stations – Tilehurst, Goring and Streatley, Pangbourne and Cholsey and Moulsford where the Area Manager's office was situated. Train movements were controlled by the CTC panel at Reading so I had very few operating responsibilities.
However, there was a short freight only branch line from Cholsey, a few miles to Wallingford. Freight traffic was quite heavy and Wallingford had a locomotove coming light engine from Reading to do switching on the branch returning light engine around 1700. Everyone was excited because we had just received one of those newfangled diesel locomotives, a 95xx series diesel hydraulic switcher freshly outshopped from Swindon.
I was living at Reading at the time so I used the frequent local train service to commute to get to the office. It was a pleasant ride down the Thames Valley where the trees were beginning to take their autumn colors. I used the Wallingford engine, like a taxi service, to get to and from Wallingford from Cholsey. The driver was proud of his charge and welcomed me into the cab. These locomotive were called "Fish and Chip Shops" locally because the control stand was set up in the roomy cab looking like the counter of a Fish and Chip shop.
I knew the driver from the time when I was a passed cleaner at Reading firing and cleaning steam locomotives. It quickly occurred to me that he would be going home to Reading about the time that I would be going home and a ride in the cab would be more fun than taking the regular passenger train. I broached the subject over a mug of tea in the Wallingford cabin which was set close to a large patch of bramble bushes covered with blackberries.
"Sure, I'll take you. But there is a price."
"What's your price?" I asked.
Pointing to my mug, "A mug full of blackberries. Two if you want to drive the thing."
Read
The yard was overflowing with blackberry bushes and it didn't take long to pick two cups full. That is how I earned the right to drive a Fish and Chip shop from Wallingford to
Reading.


Ottawa Valley Associated Railroaders

- The Interchange, May 2016