I have just acquired a model of a Northern Alberta Railways GMD-1 put out by Rapido Trains. It is an excellent model, very close to the prototype, but is missing in one respect. At one time the locomotives of the Northern Alberta Railways all carried names of local significance. This is how this came about.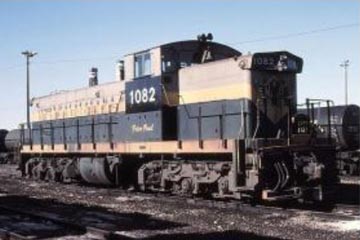 NAR 305 Peter Pond re-numbered as CN 1082
I was working for the late Tony Burges in Transport Canada Grain Transportation. In 1977 or 1978 we had meetings with the General Manager of the Northern Alberta Railways, Jim Pitts and one afternoon he took us out on his business car as far as Peace River, I believe. Over dinner we talked about a wide range of grain related and general railway subjects. We talked about steam locomotives and I let on that I had fired on steam on British Railways.
"What types did you work on?"
"Mainly 0-6-0s but I did get out on a few Halls and a couple of Castles but not a King"
"Halls, Castles and Kings. What's that?"
I then explained that many UK locomotives carried names, not only of Halls, Castles and Kings but also of places in the West Country, the Battle of Britain and the Merchant Navy to name a few.
Jim Pitts said, "That sounds like a good idea" and then we moved on to other topics.
The sequel was that about 1970 all the NAR locomotives were given names after local personalities or legends. The names were retained until the Canadian National took over the NAR in 1981. The names of the NAR GMD-1s were as follows:
301 J.D. McArthur
302 Chief Moostoos
303 Bishop Grouard
304 Sir Alexander McKenzie
305 Peter Pond
311 Twelve Foot Davis
312 Chief Duncan Tastawits
I have already prepared the decals for my GMD-1 no. 305 Peter Pond and will shortly be applying them.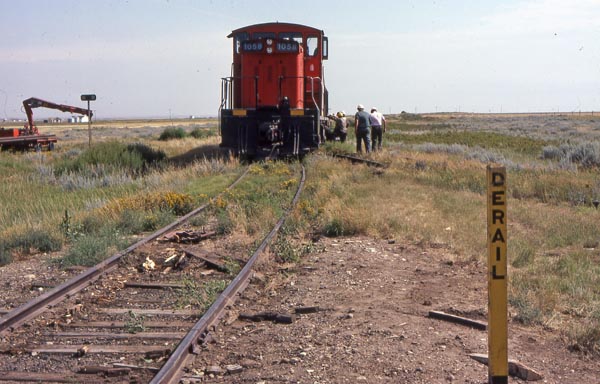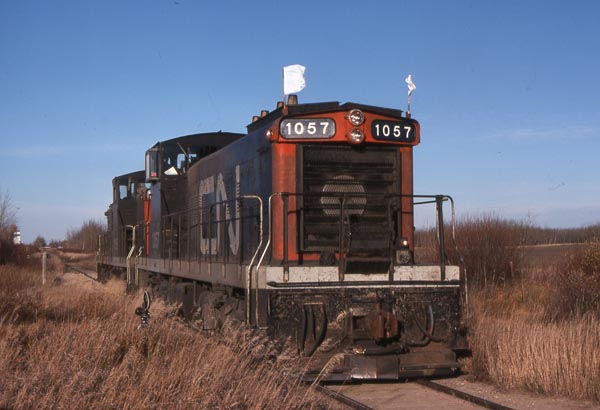 Colin did not have pictures of NAR GMD-1s. He attached two pictures of the CNR version, one shows 1056 derailed at Claybank, SK. The crew were not bery happy when Colin turned up and didn't really want him to take pictures. The second one shows 1057 on the Carlton sub. in Northern Saskatchewan.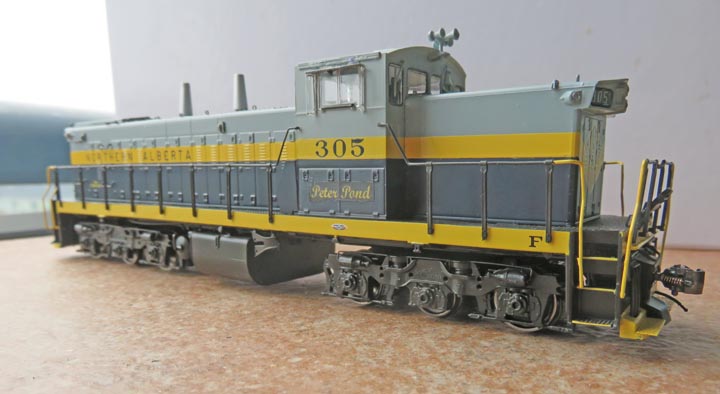 My GMD-1 with name applied. Note the NAR ran their GMD-1s short hood forward unlike CN which ran theirs long hood forward.
Ottawa Valley Associated Railroaders

- The Interchange, May 2015