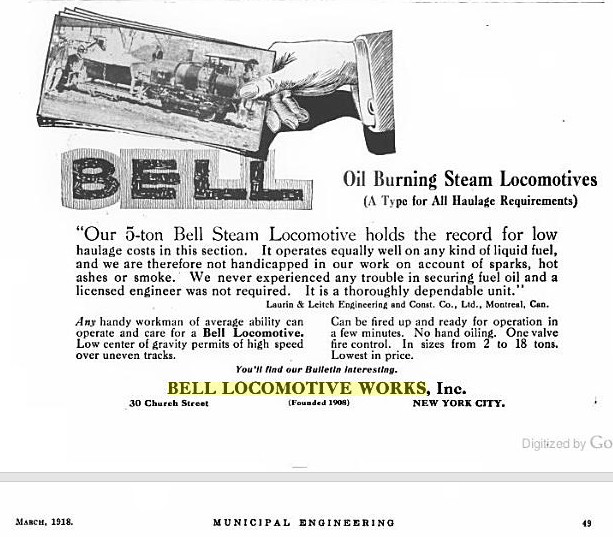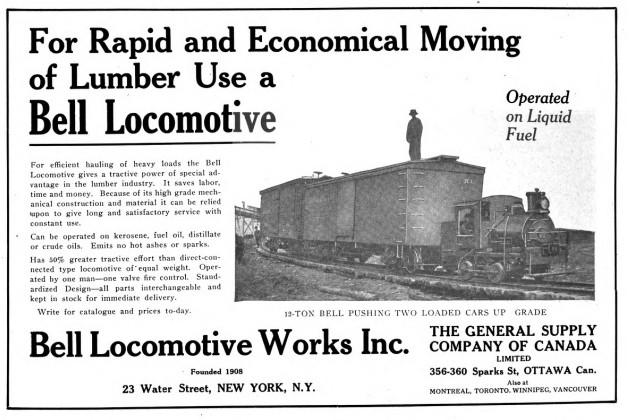 I am attaching two small images of locomotives built by the Bell Locomotive Works of New York. Two of these small steam locomotives have worked in Canada:
- a 5 ton locomotive went to contractors Laurin and Leitch of Montreal around 1918.
- a 12 ton 4 wheel version went to W.C. Edwards at Rockland, ON in 1918.
Bell ended production in 1922 and its production was taken over by the Bloomsbury Locomotive Works which produced a variety of like equipment until at least December 1926. It is likely that these were the only two companies to build steam engines driven by the Stanley Steamer 2 cylinder unit motor. The locomotives were fired by kerosene or other liquid fuel and were well suited for switching industries such as the lumber mill at Rockland.
I wonder if any of your readers can provide additional information on these locomotives:
- were there any others used in Canada?
- how long did the two mentioned last and when were they disposed of?
A great deal of information is provided in a very useful web site at:
http://www.gearedsteam.com/bell/bell.htm
However, there seems very little detail about locomotives that worked in Canada.