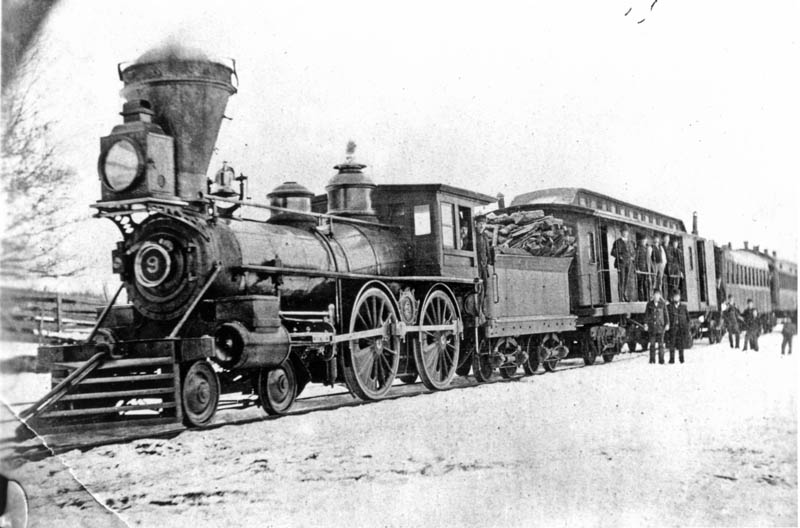 Bytown and Prescott 4-4-0 No. 9 - "Lucy Dalton", believed to have been photographed on the Bytown and Prescott Line, was

built by the Taunton Locomotive Manufacturing Company in Taunton, Massachusetts, in November 1870. This photograph and the one below

were taken after this story, but before the takeover of the line by the CPR, and the locomotives are still burning wood.

(Library and Archives Canada PA-207335)


This story appeared in the Ottawa Citizen on 23 February 1929 and gives an impression of the impact of the new railway. At that time, the Bytown and Prescott Railway (by then it had become the Ottawa and Prescott) was the only railway into Ottawa.

Little Joe Leslie Had an Unexpected Ride Into Town from Gloucester Station - Got on Train at Spratt's Grade, and was afraid to Get Off Again - Conductor Daniels Was Severe, But Had

Kindly Spirit.


When the Byetown (sic) and Prescott railway was built in 1854 it was a source of great interest to the farmers along its route. It was not till many years had passed that the puffing wood burning engines and trains ceased to attract attention. Mr. Leslie of Concord street, was 3 years old when the road was built. When he was 10 the road had been operating seven years. But to young Joe Leslie who had never had had his foot on a train the road was still a real terra nova.
At that time the Leslie family lived at Gloucester station, his father, the late George Leslie, being then a section foreman on the road, with headquarters at Gloucester Station.
There was a steep grade at that period south of Gloucester Station, calles Spratt's Grade. When the B & P mixed trains struck this grade they always slowed up greatly - so much so that almost anybody could board them without having to actually stop the train. The trains nearly always stopped at Gloucester Station, but if the conductor knew that there was no one on the train who wanted to get off and no one was seen on the platform, the train would not be stopped, particularly if it was behind time.
One day young Joe Leslie decided to board the train and ride the mile and a half to Gloucester Station. He chose a bad day. It so happened that that was one of the non-stop days. The nearer the train got to the station platform the faster it went.
When the station was reached the train was going so fast (in Joe's imagination) that he dare not jump. So he remained sitting on the rear platform and wondering what was going to happen to him.
He had never been away from Gloucester Station, had no money in his pockets, and had a deep rooted fear of Conductor Daniels and his gold braided cap.
After sitting on the steps Joe decided to go into the train and find out what was in store for him. He entered the rear car and took a seat quietly in a nice soft seat. He looked out of the window and decided it was a good thing he hadn't jumped.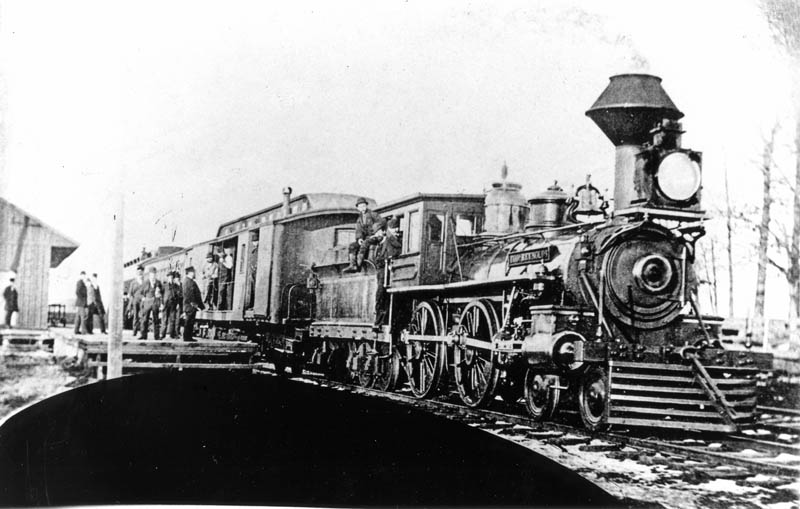 Bytown and Prescott 4-4-0 No. 6 - "RThomas Reynolds" was built by the Canadian Locomotive Company in Kingston, Ontario

and was delivered in September 1866. (Library and Archives Canada PA-207337

In due time came Conductor Daniels.
"Hello." he said. "Wher'd you get on. I didn't see you before."
"No sir." said Joe, and then the pitiful details of the story came out.
"Got any money?" the conductor demanded austerely.
"No sir."
"I should throw you off." said the conductor. Joe quailed.
"My father could pay you later." Joe ventured. And it came out as to who Joe's father was and that he had been section boss from the start. Joe noticed a more friendly glint in the conductor's eye.
"Hah, so you are George Leslie's son, eh! Well stay where you are. You will have to go into Ottawa with me and I will bring you back this afternoon". It was the morning train the youth had boarded.
In due time Ottawa was reached by way of the old station on Sussex street.
The conductor gave Joe a quarter to get a dinner at a nearby restaurant (there were a score of them) and told him to return to the train and wait there, and not to attempt to go up town.
Joe had no intention of going into town. He was too scared. But in the yards of the B & P he could glimpse in every direction the evidence of a big and busy place.
When, on the return journey Gloucester Station was being approached Conductor Daniels came to the boy and said. "Look here, young fellow, if you ever get on this train again, I'll put you where you can't get back so easy, remember that.
It developed later that when Ottawa was reached Mr. Daniels had a wire sent to Gloucester Station to tell Joe's father where the boy was which showed that under his official sternness Conductor Daniels had a most kindly spirit.

Bytown Railway Society, Branchline, May 2010.