Central Railway. The model has been highly detailed and has been lightly "weathered" to simulate road dirt. Sergio comments "Y
es, I know OCR didn't have any ex-CP GP38-2 locomotives......but artistic freedom let's me decide that it did."
There are a number of railway modelers in the
Ottawa
area, many of whom have layouts in their own homes. These can become pretty sophisticated with well-crafted models and scenery and operating methods similar to those used by the real railways. However, some people do not have room at home or who wish to operate their models on a really large layout and this is where the Ottawa Valley HOTRAK club comes in.
HOTRAK organizes set-ups every six week or so from September to May. Members own modules which are typically two feet wide and two, three or four feet long. They are made from lightweight materials and constructed to a set of standards so as to be interchangeable. About six weeks before the set-up members are asked what modules will be available. From this, a track plan is devised. As well, an operating plan is developed for both freight and passenger trains while the Roadmaster plans the electrical arrangements for the layout which is typically 80 feet by 40 feet.
Members bring their modules from 16:00 on the Friday and assembly and placement commences under the direction of a Set-up Foreman. The layout is normally completed by around 21:00 but there is time off for pizza and a chance to shoot the breeze.
The fun really begins early on Saturday morning when members return, bringing freight and passenger cars and locomotives to haul them. Some 150 freight cars have to be distributed to the various sidings before operation can commence. Each car has its own card in a clear plastic sleeve into which is inserted a waybill giving movement instructions.
A track cleaning train is normally the first to be run. This uses a roller soaked in isopropyl alcohol to clean the rails and it also verifies track and electrical continuity. Trains will start running around 10:00 under the control of a Superintendent who makes crew assignments and the Yardmaster who ensures that the right cars are on the right trains. As many as eight freight trains can be out at a time, all with switching assignments to complete. At the same time a number of passenger trains may be on the layout and these may vary from long transcontinental trains to short Budd car or gas electric trains on a commuter run.
As the operation begins to hot up, a Rail Traffic Controller (Dispatcher) will direct main line train movements. Train crews talk to the RTC with radio headsets. Depending upon the layout and the amount of traffic, the work of the RTC can be very demanding. There are a number of Operating Rules which must be observed such as right hand running on double track and all main track switches MUST be left in the normal position. All operating members must undergo a detailed training program which ensures that they are fit to operate on the layout. New members are allowed to operate under the supervision of a qualified engineer.
The operation continues all day Saturday until around 17:00 when there is a "union meeting" at the Prescott Hotel (we do not observe rule G). Saturday evening is an unsupervised, more relaxed time when members can experiment a bit and run longer trains that would otherwise create havoc on a crowded set up.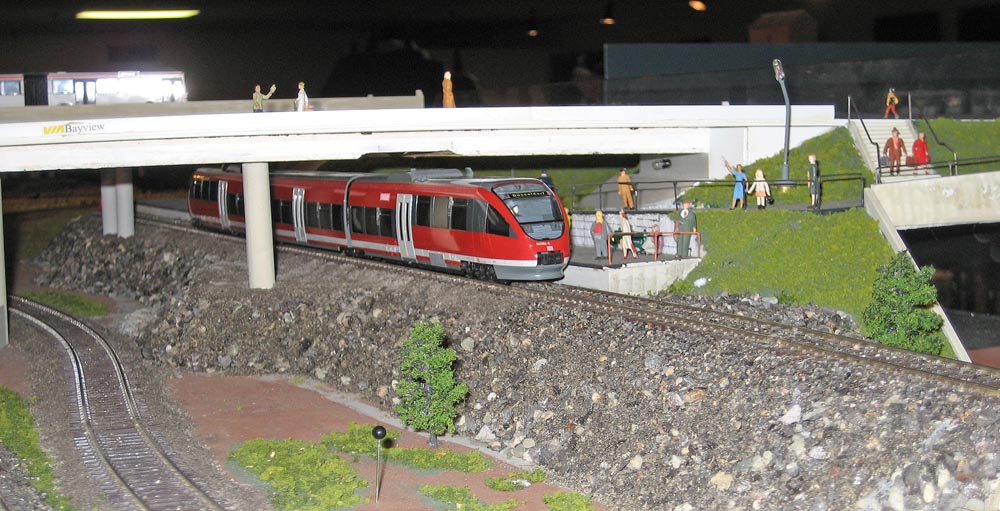 One module demonstrates the OC Transpo O Train station at Bayview and there is a good model of the O Train waiting to leave with a train-load of passengers.
The HO scale locomotives and equipment can be any make, era and from any country. They are all Digital Command Control (DCC) equipped using the Digitrax DCC system with both tethered and radio throttles. The modules vary greatly both in the amount, type and completeness of scenery. The era depicted can also vary so that, for example, freight trains may operate with and without cabooses.
Operations continue on Sunday until about 15:00 when we commence tear down. The freight, passenger cars and motive power are collected up and the modules are taken apart under the eye of a Tear-down Foreman. The logistics of getting the modules out through the back door and ensuring that the right vehicles are available for loading can become quite complex.
It can be a long and tiring weekend with a great deal of time spent ducking underneath to ensure that connections are properly made etc. It does give members an opportunity to operate their equipment on a large layout in company with a lot of friends. Members are generous with their models and there is frequently an opportunity to operate somebody elses equipment. At lunch time members may give a "clinic" on an aspect of the hobby such as scenery, electronics or car painting and maintenance. In this way specialized knowledge is passed on and everyone is able to benefit.
This is a very short overview of HOTRAK activities. For more information on the club please see the web site at http://www.hotrak.ca/.
HOTRAK weekends can be very exhausting indeed but it is an opportunity to get together to operate a large layout which is different every time. Is it worth the trouble?

We keep coming back for more, so the answer is a resounding "Yes".