Dr. Darby Bergin, member of parliament for Cornwall, had a dream. He would build a railway from Cornwall to Sault Ste. Marie. With a bridge across the St. Lawrence River at Cornwall he would carry traffic from the American mid-west and Sault Ste. Marie would become as important as Chicago. In 1882 he chartered the Ontario Pacific Railway.
However, Dr. Bergin was overtaken by events, notably the opening of the Brockville, Westport and Sault Ste. Marie Railway from Brockville to Westport in 1888, but more important, the construction of the Canadian Pacific branch to Sault Ste. Marie in 1889. With his dreams dashed, Dr. Bergin got out his map and sketched in a route between Cornwall and Ottawa. New funding was obtained as well as a new charter in the name of the Ottawa and New York Railway (O&NY). The scheme included an international bridge connecting to the New York and Ottawa Railroad in the United States.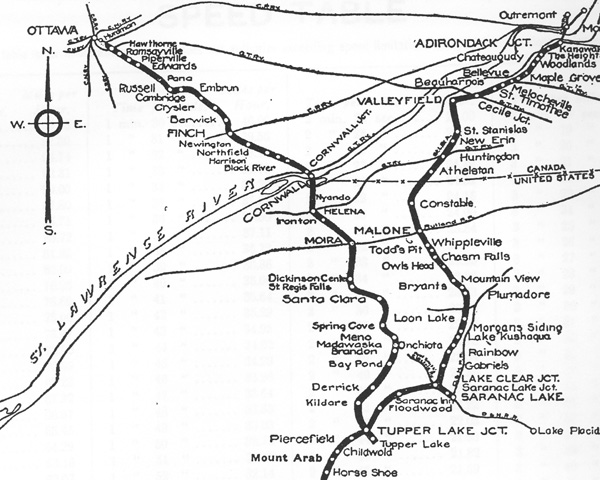 The first sod was turned on Monday 23 August 1897. No engineering difficulties were encountered and traffic commenced to run between Cornwall and Ottawa on 29 July 1898. There was, however, a serious problem with the bridge over the St. Lawrence River which collapsed on 6 September 1898, a day after the railway had been blessed by the Roman Catholic Archbishop of Ottawa at Embrun. The collapse was caused by poor work by the contractor and the structure had to be rebuilt. Through running was not started until 11 December 1900.
The company had serious problems gaining access to Ottawa. J.R. Booth, the lumber baron, owned the Canada Atlantic (CAR) and he was not to be treated lightly. The O&NY first purchased land close to the CAR Central Depot and intended building a station there. It was naively assumed that the CAR would allow them to run along their track from Hawthorne into Ottawa, using the CAR bridge over the Rideau River. Not only did the CAR refuse use of its tracks but it constructed a warehouse blocking access to the O&NY land. The government worked out a compromise route, but the O&NY then found the CAR had built a coal trestle which completely blocked this route as well. The O&NY was forced to sell the land and acquire an alternative plot further out of town. Because of this animosity the O&NY was forced to alter its route and come into town on running rights over the Canadian Pacific Railway. At first, the Canadian Pacific Sussex Street station had to be used. This had not been used for passengers since August 1885. Agreement was finally made to use the CAR Central Depot from 20 March 1900. The downtown Ottawa freight station at Mann Avenue was not opened until October 1901.
The company settled down to a branch line type of existence. There was talk of purchase by several of the major Canadian railways but the O&NY came under the control of the New York Central Railroad on 31 January 1905. This was done through a series of annual leases and it was not until 1915 that a longer term (twenty-one year) arrangement was concluded. Although performing a mainly local function, through service was run to Tupper Lake, NY where connections were made for New York City.
When opened, the local road network was poorly developed and the line performed a vital function in moving passengers, mail and freight - coal inbound and cheese, milk, agricultural products and bricks outbound.

In Ottawa the railway used the same station as the Canadian Pacific and Grand Trunk luxury trains and there were frequent complaints about the poor NYC trains.

The company replied that most of its passengers, being either farm or brickyard workers, had dirty clothes, and the accommodation was as good as could be expected.


Through traffic was interrupted in June 1908 when the Cornwall canal bank gave way causing the NYC bridge to fall.

This time the fault was not the with the railway but through traffic was not resumed until that November.
The international bridge at Cornwall was planked over and used for road vehicles effective 30 June1934. The Tupper Lake section was abandoned in the late 1930's and the passenger service was cut back to Helena, NY.
Traffic dropped off as the road network developed and in 1939 the passenger service was halved to one train per day in each direction. To reduce costs, on 1 January 1941 passenger trains began to start and terminate in the NYC Mann Avenue yard instead of the Ottawa Union Station. There was a brief resurgence during the Second World War but traffic continued to decline and in 1951 passenger service was eliminated in the summer months and completely in 1954. The line was abandoned throughout on 15 February 1957.
Although the line lost money directly, the NYC maintained that it made a positive contribution to system revenues through the value of its interchange traffic.

There had been negotiations with Canadian National (CN) but CN did not want to take over the line as a going concern.

The construction of the St. Lawrence Seaway would have entailed the building of a new and expensive high level bridge over the St. Lawrence and it was advantageous for the NYC to get out of the line.

CN purchased the track bed, rails, ties etc. between Ottawa and Cornwall mainly in order to prevent Canadian Pacific from so doing and thus acquiring access to switching facilities in Ottawa and Cornwall.

CN quickly started lifting rails and ties to ensure that service could not be reinstated.
Throughout its life the NYC Ottawa line was a 40 m.p.h. branch line.

The largest steam locomotives used were NYC 4-6-0's because of weight restrictions on the international bridge. Towards the end, Alco road switchers and also FM diesels were used.

The line were relaid with good second hand rails in the 1914-1935 period while tie replacement was carried on pretty well until the end.

In all, CN reused about 23 miles of ties and 47 miles of rails, much of them in the Montreal hump yard which was being constructed at that time – not bad for a 56 mile line.
The line lead a very quiet existence. There were a few derailments, but very few fatalities. However, it had the rare distinction of being one of the very few cases where a train hit a station building without first derailing. A siding had been built too close to the Crysler station and the first train to use the siding took off the corner of the building!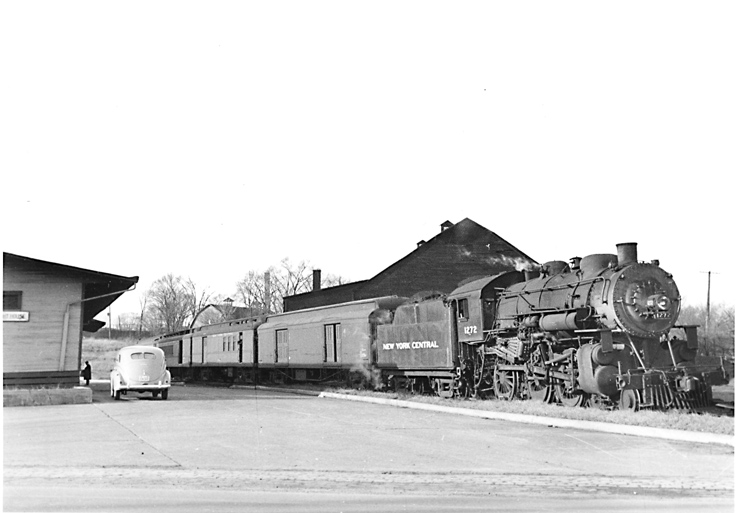 NYC 4-6-0 1272 in
Mann Avenue
station,
Ottawa
with a typical consist. Credit Patterson-George collection


What is left today? A short section in Cornwall is retained as a CN switching lead.

The right of way between Cornwall and Ottawa has been used, in the main, as a Bell Telephone right of way.

A short stretch in Embrun is now a cycle path.

In Ottawa the down town lands were used in the beautification of the capital.

Part of the main line became the CN North Freight Shed Lead and was used to service industry until recently.

These rails were torn up in the summer of 2002.
The New York Central line to Ottawa never lived up to the dreams of its creators.

It was built too late in a period of intense competition that relegated it to the status of a minor branch line.

Nevertheless, for just under 60 years its small branch line trains performed a transport service to the small agricultural communities it served.


Ottawa
and New York Railway
Significant Dates

1882 - Incorporated as the Ontario Pacific Railway.

1897 -The Ottawa and New York Railway is chartered.

1897, August 23 – first sod is turned at Cornwall.

1898, July 29 - Ottawa and New York Railway opens between Cornwall and Ottawa. Agreement could not initially be negotiated with the Canada Atlantic Railway on the use of Central Depot and trains ran to and from the Canadian Pacific (former St. Lawrence and Ottawa Railway) station at Sussex or McTaggart Street.

1898, September 6 - St. Lawrence River bridge falls down while under construction.

1899, March 20 – Ottawa and New York passenger trains commence using the Canada Atlantic Railway Central Depot in Ottawa.

Mixed trains continued to use Sussex Street.

1900, December 11 - the bridge over the St. Lawrence River at Cornwall is opened. A formal inspection had taken place on 11 October 1900.

1901, October 1 - Ottawa and New York Railway starts to use its freight station at Ann (Mann) and Nicholas Streets for its mixed trains which had used the Canadian Pacific Sussex Street station until this time.

1905, January 31 – Ottawa and New York Railway comes under the control of the New York Central Railroad.

1908, June 23 - the bridge over the Cornwall Canal collapses.

A temporary bridge was opened on 30 November 1908 and a permanent structure was brought into service in 1909.

1915, September 27 - Ottawa and New York Railway is leased to the New York Central Railroad for 21 years. The lease was subsequently renewed for 99 years in 1936.

1934, May 29 - the Cornwall-Northern New York International bridge Corporation is authorized to use the Ottawa and New York (NYC) railway bridge across the St. Lawrence River between Cornwall and Nyando, NY, for pedestrian and vehicular traffic.

1939, August 3 - NYC is authorized to discontinue trains 60 (depart Ottawa 07:55) and 63 (depart Helena 15:55).

This leaves one passenger train per day in each direction.

1941, January 1 - New York Central commences to use its own Mann Avenue Station instead of the more expensive Union Station for its passenger trains.

1951, July 17 - New York Central Railroad is authorized to reduce passenger service between Ottawa and Helena, NY to the months of November to April, inclusive, in each year.

1954, July 15 - New York Central is authorized to discontinue passenger services between Ottawa and Helena, NY.

1957, February 15 - The New York Central Railroad is abandoned between Ottawa and the international border at Cornwall.

1957, October 10 - Canadian National Railways is authorized to operate trackage in the Ottawa and Cornwall area, having purchased the line for $680,000.

Ottawa
and New York Railway
Main locations – miles from Ottawa
Mileage

Location
0

Ottawa, Mann Avenue station.
1.74

Hurdman Interlocking – interlocked crossing with Canadian Pacific and Canadian Northern (CN).

2.04

Enter NYC trackage proper, running rights up to this point.

5.45

Hawthorne, flag station, interlocked crossing with Canada Atlantic (CN).

7.11

Ramsayville flag station.

10.51

Piperville flag station.

13.33

Edwards flag station.

16.35

Black Creek bridge (five span pile trestle replaced by double plate girder).

16.75

Pana flag station.

20.07

Russell station.

23.68

Embrun station.

23.87

Castor River bridge (125' deck lattice girder replaced in 1922 with 127' steel double plate girder).

25.7

Little Castor River bridge (seven span pile bridge).

26.02

Little Castor Branch bridge (seven span pile bridge, replaced in 1916 by steel double plate girder)

27.43

Cambridge station.

29.84

St. Albert station.

31.1

Crysler station (second).

31.2

Little Nation River bridge (150' steel Pratt truss).

31.41

Crysler station (first).

34.73

Berwick station.

37.09

Finch station, interlocked crossing and interchange with Canadian Pacific.

41.22

Newington station.

44.28

Northfield station.

47.06

Harrison flag station.

48.54

Black River bridge (12 span pile trestle, replaced 1907 by 39' steel double plate girder).

48.71

Black River station.

55.87

Cornwall Junction station, interlocked crossing and interchange with Grand Trunk (CN).

56

Interlocked crossing with Cornwall Street Railway Light and Power.

56.71

Cornwall station.

57

Cornwall Canal drawbridge.

57.1

St. Lawrence River North Channel bridge.

57.9

Uscan station.

58.72

International boundary.

58.9

St. Lawrence River South Channel bridge.

63.39

Helena, NY.