Sir John A. MacDonald's Funeral Train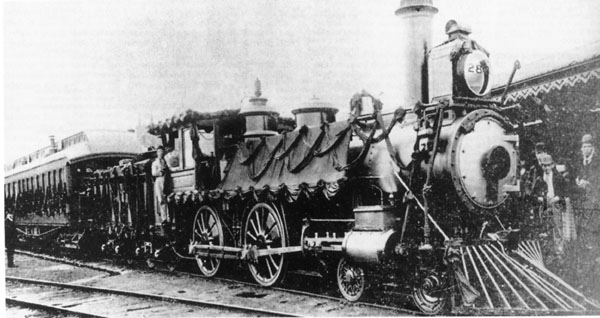 Funeral trains were very much in the thoughts of people interested in the railways of the Ottawa area in the fall of 2000 with the operation of a funeral train for the Right Honourable Pierre Elliott Trudeau. This is the train which conveyed the casket containing the remains of Sir John A. Macdonald from Ottawa to Kingston, Ontario, on June 6, 1891. It is standing in the Canadian Pacific Queen Street or Broad Street station, originally opened by the Canada Central Railway on September 15, 1870, and which was subsequently destroyed in the great Ottawa-Hull fire of April 26, 1900.

The locomotive, #283, was a 4-4-0 built by Hinckley in August 1883. It was subsequently wrecked in a collision with #354 at Stittville, Ontario, in October 1897. On this auspicious occasion Jack Hollyoak was the engineer and Harry Fraser the fireman. This train ran to Kingston via Smiths Falls and Perth. However, a second train went by Renfrew and over the Kingston and Pembroke. That day all engines on Canadian Pacific were decorated with black crepe. The casket was conveyed in an express car which was completely covered with black crepe, both inside and out.



Photo from the collection of Colin J. Churcher, National Archives of Canada PA-207507.

Bytown Railway Society, Branchline, November 2001.